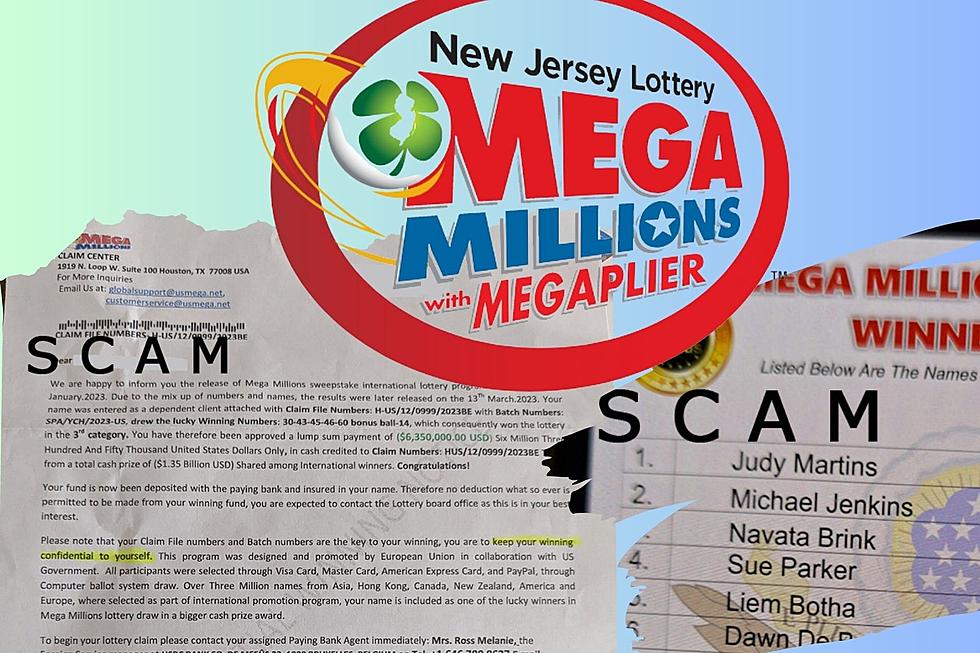 Don't fall for it – New wave of lottery scams in New Jersey
Mega Millions Lottery/Townsquare Media illustration
🎟 A new wave of lottery scams is hitting New Jersey
🎟Lottery officials issue warnings connected to Mega Millions
🎟How to protect yourself and spot a scam
---
You may dream of winning one of those huge Mega Millions Lottery jackpots, but lottery officials are warning of a new wave of scams seeking to cash in on those dreams.
With bogus texts, emails and even phone calls, New Jersey residents are being promised big winnings from an international Mega Million lottery.
Unfortunately, there is no such thing.
"The Mega Millions game is sold only in the United States, and the ONLY way to win Mega Millions is to first purchase a ticket from one of our participating American lotteries," Mega Millions said in a statement.
It's a new twist on an old swindle. You're told you need to pay money to claim you big prize.
If you look or listen closely, you can spot the scam. Messages being sent are misspelled or sound a bit 'off.'
For example, scammers are using language like "Mega Millions sweepstake international lottery program" and the "Mega Million Jackport [sic] Winners List."
Texts and emails include the actual Mega Millions logo and sound official.
If you get a phone call, the person on the other end can sound quite convincing and are very persistent.
Once you know, you know, and it seems obvious. For many, however, it may not seem so.
Why do scammers keep trying this? In short, because it works.
"Once again, we warn consumers that these scams are not connected in any way to the real Mega Millions game despite their use of our name and/or logo," Lottery officials said, "Ignore these scammers, who only want to steal your money. If you have any questions about the legitimacy of any website, email, text message or phone call, that uses the Mega Millions name and/or logo, please contact us or the lottery in your jurisdiction."
Eric Scott is the senior political director and anchor for New Jersey 101.5. You can reach him at eric.scott@townsquaremedia.com
Click here to contact an editor about feedback or a correction for this story.
Insane! The Top 10 Biggest Lottery Wins For People In New Jersey
These Are The Steps Experts Say To Take If You Win The Lottery
After getting over the initial shock,
Moneycrashers.com
says you should do these things immediately if you win the lottery!
10 Ways To Spend Your 100K Lottery Jackpot!
Here's what you can buy if you're lucky enough to win a lottery jackpot worth $100,000!
More From New Jersey 101.5 FM