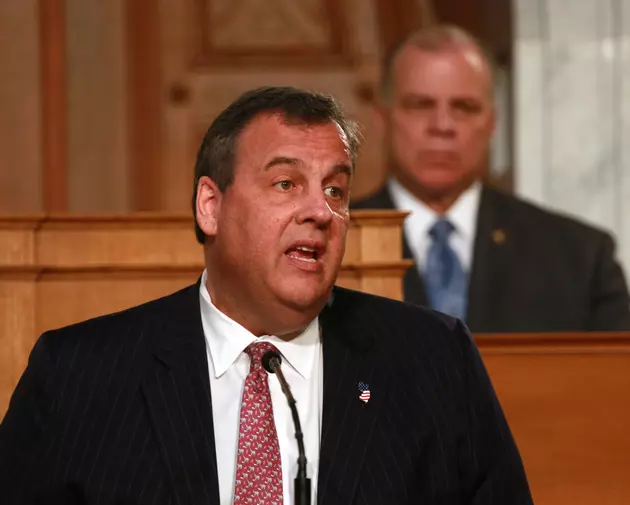 Christie creates task force to tackle heroin epidemic, orders prescription limits
Governor Chris Christie gives the State of the State Address in the Assembly Chambers at the Statehouse (Governor's Office/Tim Larsen)
Less than a week after making the opioid epidemic one of the focal points of his State of the State Address, Gov. Chris Christie has signed an executive order declaring the problem "one of the greatest challenges facing this state."
Christie announced the formation of a Governor's Task Force on Drug Abuse Control. The task force will have eight members, including the attorney general and the commissioners of the Department of Health, Department of Human Services, Department of Corrections, Department of Children and Families, and the Department of Banking and Insurance. All of the department heads can appoint their own designees to the task force and the governor will appoint a chairman.
The group will be charged with "developing and executing on a comprehensive, coordinated strategy to combat the drug epidemic by working with all areas of the state government." They will also be tasked with reviewing laws and regulations about treatment and ways to remove barriers for getting care.
With its wide reach, the members will be able to tap into the resources of other parts of the state government to achieve its goals and mandate compliance.
The order also directs the attorney general to "take all steps necessary to limit the initial prescription of opioids for acute pain." This will include standards on prescription quantities "only after further consultation with the patient and an evaluation of the need for such prescription."
This is Christie's way of working around the Legislature, which has not been able to pass legislation limiting new painkiller prescriptions. 
Also as part of the plan laid out by the governor, the Department of Education will create a new curriculum focused on teaching the dangers of substance abuse.
There is no set date for the first meeting of the task force which will report directly to the governor on its progress made.
More from New Jersey 101.5
Contact reporter Adam Hochron at 609-359-5326 or Adam.Hochron@townsquaremedia.com
More From New Jersey 101.5 FM