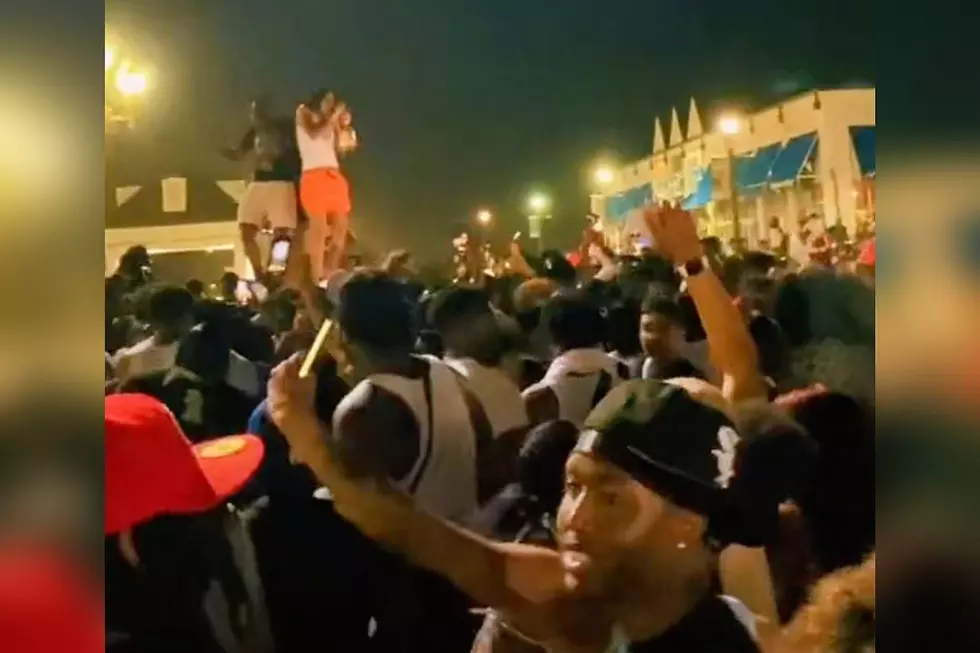 You party, you pay: NJ shore city stops another illegal mass gathering
Long Branch chaos on May 21, 2022. (TikTok user ogden1)
🔴 A pop-up party promoted for this week in Long Branch was canceled
🔴 The city threatened to make organizers pay for extra expenses
🔴 Other NJ towns have used Long Branch as an example of how to legally cancel a party
---
LONG BRANCH — A planned pop-up party scheduled for Friday was threatened with legal action and was canceled by its organizers.
Mayor John Pallone said the party was promoted on social media where organizers encouraged those attending to bring liquor and marijuana.
Paid fights and "lewd dancing" would also would have been part of the party.
After the city threatened to hold the organizers financially responsible for the police response and cleanup, all the posts and invitations came down, according to the mayor.
"These events necessitate a large police response and eventual clean up of public areas costing city taxpayers hundreds of thousands of dollars. Their actions also harm our city's businesses and reputation. So, they should be held responsible," Pallone said in a written statement.
Long Branch found the legal way
Pallone said there will be a large police presence in the city all weekend.
"Our city is open to all kinds of events but we also have rules to keep people safe. If you want to have a gathering, apply for a special event permit. Don't drink alcohol or smoke on our beaches and don't engage in disorderly conduct," Pallone said.
After a pop-up party in Long Branch drew 5,000 to Pier Village in May 2022 the city successfully stopped another party scheduled for June.
Seaside Heights Mayor Tony Vaz cited Long Branch as the blueprint for the legal action his borough attorney used to stop a planned party for the first weekend in May.  A party in the Wildwoods planned for this weekend was also canceled.
Dan Alexander is a reporter for New Jersey 101.5. You can reach him at dan.alexander@townsquaremedia.com
Click here to contact an editor about feedback or a correction for this story.
NJ teachers and educators caught in sex crime busts
Over the past several years, state lawmakers have taken on the challenge of dealing with accused child predators among the ranks of teachers and educators.
In 2018, the so-called "pass the trash"
law
went into effect, requiring stricter New Jersey school background checks related to child abuse and sexual misconduct.
The follow individuals were arrested over the past several years. Some have been convicted and sentenced to prison, while others have accepted plea deals for probation.
The 30 worst rated schools in New Jersey
Here are the 30 lowest-rated schools statewide, based on their 2021-2022 New Jersey School Performance Reports — involving scores for language arts, math and attendance. (For an explanation of how the state calculates the "accountability indicator scores" and overall rating for each school,
see page 90 of this reference guide.
)
Offbeat adventures: Travel to the coolest hidden wonders in every U.S. state
Fuel your offbeat travel dreams.
Stacker
found the coolest hidden wonders in all 50 U.S. states (plus D.C.) using data from
Atlas Obscura
.
[WARNING: Under no circumstances should you enter private or abandoned property. By doing so you risk bodily harm and/or prosecution for trespassing.]
More From New Jersey 101.5 FM