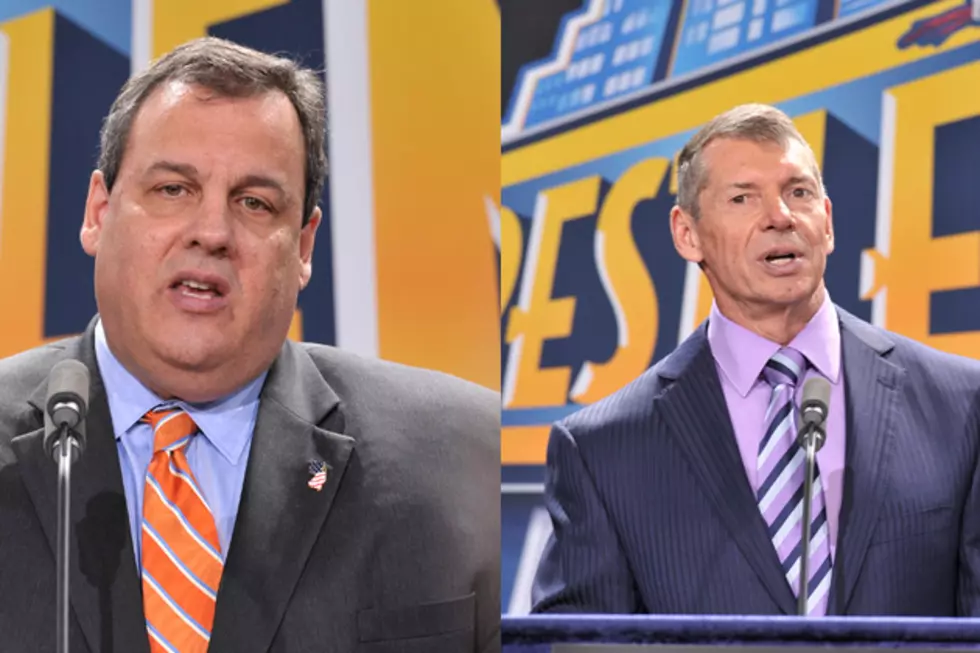 Wrestlemania 33 — 10 NJ politicians who would make great WWE wrestlers
Michael N. Todaro/Getty Images
Pro wrestling fans wait with excitement every year for the WWE's biggest event known as Wrestlemania. While this year's star-studded event takes place in sunny at the Camping World Stadium in Orlando, Florida, there are plenty of ways to celebrate locally here in New Jersey.
NJ politics can be a rough business. Jersey politics have a lot more in common with the WWE than some may think. Like the WWE, in NJ politics there are the fan favorites and villains, story lines and epic battles between good and evil.
Wrestlemania 33 is being billed as "The Ultimate Thrill Ride," and you could pretty much say the same about living in the Garden State. You never know what's going to happen or what turn may come up next. In celebration of he WWE's premiere event taking center stage this weekend, we look at 10 NJ politicians that would make fantastic WWE superstars.
10

Mayor Steve Fulop

Finishing Move: 'The Jersey City Jacknife'

For up and coming wrestlers in WWE, there is the NXT division, that's where Jersey City Mayor Steve Fulop would probably find himself. Not quite on the main card yet, but an young up-and-coming talent that looks to be a mainstay in the NJ political landscape for a long time to come.

9

Assembly Minority Leader Jon Bramnick

Finishing move - 'The Bramnick Body Drop'

Trying to build a sense of unity among Republicans in a Democratic state isn't an easy task but that's what Bramnick currently faces. If Bramnick is tough enough to take on the Democrats, he could definitely face off against the likes of a professional wrestling stable like "The Authority" of the WWE.

8

Congressman Donald Norcross

Finishing move: 'The South Jersey Shooting Star Press'

Congressman Norcross may be part of one the most powerful political families in the state. His brother George has been a one of the most influential and powerful non-elected political figures in the state. Not much happens in South Jersey without a Norcross being behind it. Norcross could be the closest comparison in NJ politics to the McMahon family running WWE.

7

Senator Loretta Weinberg

Finishing move: ' Weinberg Whiplash'

Legendary WWE Superstars like the Fabulous Moolah and Mae Young graced the brutal ring for over  50 years. That could seem like a vacation compared to being in NJ politics where Loretta Weinberg holds her own and grapples with the best of them, including a few bouts with Gov. Christie.

6

Newark Mayor Ras Baraka

Finishing move: 'The Barak-Bottom'

The mayor of one the largest cities in the Garden State has to be on the list. From budget issues to problems with the schools, Newark has its share of problems, but the mayor of a tough town would make a classic in-ring superstar.

Steven Henry Getty Images

Steven Henry Getty Images

5

Richard Codey

Finishing move: 'The Codey Chokeslam'

Codey is the longest serving state legislator in history. He's served as acting governor and as state Senate president. If you can serve in NJ politics for as long as Codey, there surely is a place for him in the WWE. Codey may not be prepared to hit the mats anytime soon but a role as a diabolical manager calling the shots like "Classy" Freddie Blassie or Jimmy Hart could certainly be in order.

4

Lt. Gov. Kim Guadagno

Finishing move: 'The Lieutenant Leg Drop'

The WWE is known not only for their male superstars but also for their Divas division. Could Lt. Gov. Kim Guadagno give wrestlers like Natalya, Charlotte and the other ladies a run for the the top spot in the female division? She's a Jersey girl AND she's running for governor, so of course she can!

3

Assembly Speaker Vincent Prieto

Finishing move: 'The Last Word'

Assembly Speaker Prieto may look like the long-lost twin of 2017 Hall of Famer "Ravishing" Rick Rude but anyone that grapples regularly with Gov. Christie and other NJ lawmakers over topics saving Atlantic City, pensions and other hot-button topics, could stand on their own in the WWE.

2

Senate President Steve Sweeney

Finishing move: 'Steel Cut Stunner'

State Senate President Steve Sweeney could probably step in the WWE ring just on the fact that he was the head of the iron workers' union. But being head of the state Senate and being the No. 1 adversary of Gov. Christie easily catapults Sweeney into instant WWE superstar status.

1

Gov. Chris Christie

Finishing move: 'The Boss Bearhug'

The boss' job isn't always easy. Just ask the head of the WWE, Mr. McMahon. Governor Christie is a similar boat. Sometimes running a politically dysfunctional landscape like New Jersey makes you the automatic villain. With an approval rating hovering around 17-18%, Christie proves to be the quintessential bad guy. If Christie can take the onslaught of boos from fellow politicians, union workers and state residents, Vince McMahon would be salivating at the thought of adding an ultimate love-to-hate character like Christie to the WWE.
More From New Jersey 101.5 FM