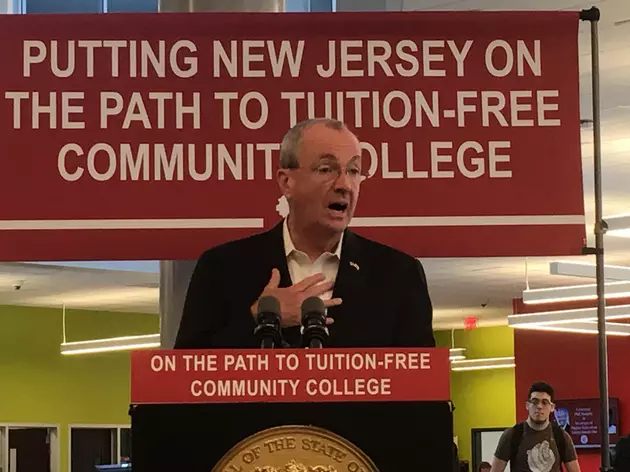 Tuition grants for 13,000 students — NJ's first step to free college
David Matthau, Townsquare Media NJ
Gov. Phil Murphy has kicked off a pilot program he's calling New Jersey's first step toward free community college.
During his campaign and after he was elected, Murphy trumpeted the idea of free community college.
Starting in January, 13,000 students will be able to get additional financial assistance to attend community college as part of the Community College Innovation Challenge program.
New Jersey's current state spending plan includes a $25 million allocation for the program.
During an event at Union County College on Thursday, Murphy said if you're a student enrolled at least half-time at any one of 13 community colleges who comes from a family with an adjusted gross income of up to but not over $45,000 per year, "you'll receive grants which will cover the remaining costs of tuition and fees after other aid is applied."
He noted to remain eligible for the grants, students must maintain satisfactory grades.
All 19 community colleges in New Jersey applied to be part of the Community College Opportunity Grants pilot program, and 13 were selected: include Atlantic Cape Community College; Bergen Community College; Camden County College; Cumberland County College; Hudson County Community College; Mercer County Community College; Middlesex County College; Ocean County College; Passaic County Community College; Rowan College at Gloucester County; Salem Community College; Union County College; and Warren County Community College.
Murphy said all 19 of Jersey's community colleges will receive a $250,000 grant for student outreach, recruitment and support services.
"New Jersey's community colleges play a critical role in building the skill-set needed to meet the demands of a growing, diverse and innovative economy," Murphy said.
The governor said his goal is to set the Garden State on a new economic trajectory, one that creates good jobs that will strengthen the middle class, and is based on innovation and forward-leaning companies.
"These companies will need a skilled workforce, the workforce being built at our county colleges," Murphy said.
He said community colleges give all New Jerseyans an equal opportunity to pursue their dreams, "whether it be the high school graduate looking for her first break or the older student returning to gain new skills for a new career."
Murphy added we need to return to the ideal "that if you work hard you can get ahead and achieve your greatest potential — things like your background or your current economic status should not ever be a roadblock to success."
In an emailed statement released after the event, Zakiya Smith Ellis, New Jersey's secretary of higher education, said "all 19 community colleges will benefit from learning during this pilot phase."
"Every college submitted a unique, thoughtful, and creative application, with many good ideas for increasing access and affordability tailored to the students and communities that each college serves," Smith Ellis said. "Each and every college identified students within their communities who could be eligible for assistance through this program, and I hope we are able to learn from the pilot cohort so that we can extend the opportunity to students at every community college come fall 2019."
You can contact reporter David Matthau at David.Matthau@townsquaremedia.com
More from New Jersey 101.5:
More From New Jersey 101.5 FM