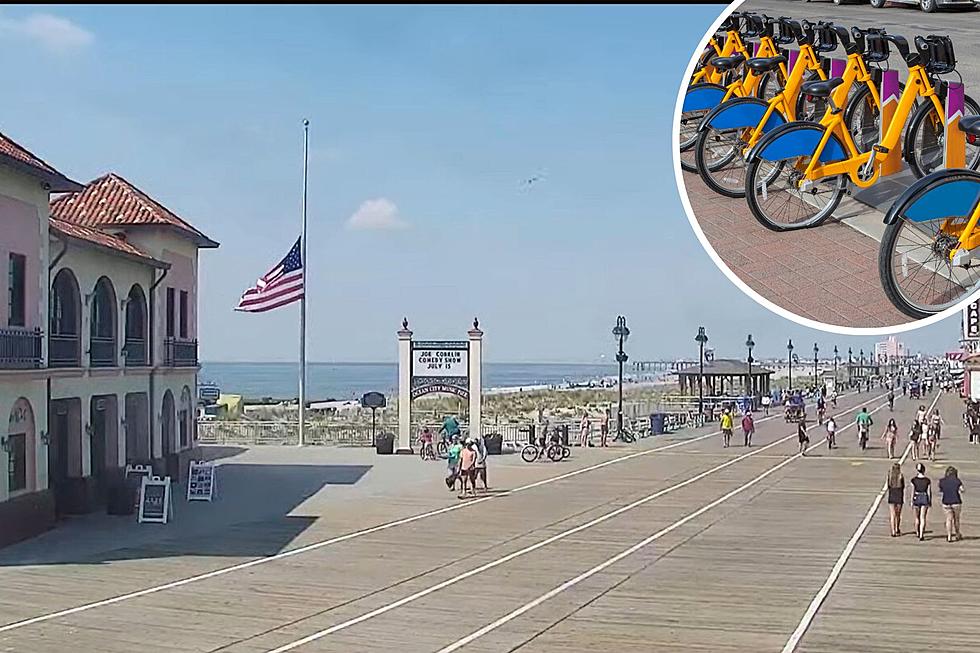 Senior citizens stop NJ shore town from banning vehicle used by teens
Ocean City boardwalk (iGotView via YouTube), E-bikes at a bike rack (Canva)
🔴 Ocean City's mayor proposed the ban to help control crowds
🔴 It's a "sledgehammer" solution to the problem according to one resident
🔴 Other ordinances get a second reading at the next meeting
---
You can still bring your e-bike to Ocean City and ride it on the boardwalk this summer, for now.
One of the proposals by Ocean City Mayor Jay Gillian to control crowds of rowdy teens was to ban the use of motorized bicycles that can typically hit speeds of 20-30 mph after complaints of riders weaving in and out of walkers. No license is required to operate them.
An ordinance banning e-bikes from the boardwalk but allowing them on city bike paths had a first reading at Thursday's meeting. It was met with pushback from several residents, which led to the matter being tabled.
As a result, e-bikes will continue to be allowed on the boardwalk. Summer restrictions of 5 a.m. - noon start June 15 as usual.
Public comment was both for and against the ordinance.
Bill Eberle, a 73-year-old resident with a heart condition, told the council he rides his e-bike every morning as part of his exercise regimen. He called the ordinance a "sledgehammer" approach" to a problem that punishes all age groups year-round.
David Spengler said a ban was a necessary risk to keep Ocean City family-friendly for visitors to walk on the boardwalk.
"Walk is the operative word. You get below 14th Street where it's narrow, you try to walk when a bike is coming at you at 40 feet per second behind you, you don't stand a chance," Spengler said, adding that e-bike operators should be licensed by the state.
Support for e-bikes
Bernadette Bechta said she had double-knee surgery and uses an e-bike to get around. She suggested that police monitor offenders and that there is a bias against users.
"All winter I have experienced harassment when I am riding at 8 miles per hour. People will call me a cheater and say 'why don't you pedal' and worse, to which I simply reply, 'Mind your own business,'" Bechta said. "E-bikes ae here to stay so why not find a way to embrace them?"
BOE member Robin Shaffer was concerned that an outright ban could mean the city is in violation of the Americans With Disabilities Act.
The City Council wlll form a committee to further discuss e-bikes and how to handle problem riders.
After several thousand teens gathered on the boardwalk and beach during the Memorial Day weekend Gillian ordered beaches to close at 8 p.m. for all ages. An ordinance ban on backpacks on beaches and boardwalks after 8 p.m. for all visitors of any age and moving the teen curfew to 11 p.m. from 1 a.m. — require adoption by the city council and has already passed its first reading.
Report a correction 👈 | 👉 Contact our newsroom
NJ's crazy haze, choking smoke, and sinister sky
How to pronounce these 20 town names in NJ
How many of these New Jersey municipalities and neighborhoods have you been pronouncing wrong?
More From New Jersey 101.5 FM