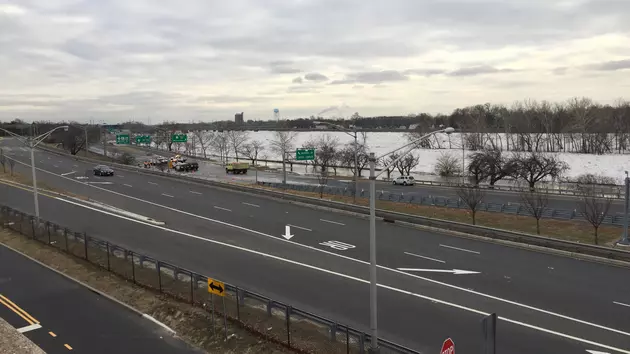 Route 29 ramp closure affects inaugural traffic
Route 29 along the frozen Delaware River on Monday (Michael Symons, Townsqaure Media NJ)
TRENTON — Mother Nature has thrown a wrench into Phil Murphy's inaugural plans.
Ice jams on the Delaware River have created flooding on two key exits off the southbound side of Route 29.
"DOT crews were able to reopen the mainline after the waters receded; however, the exit ramps for Memorial Drive and Market Street still have some flooding and are closed," New Jersey Department of Transportation spokesman Steve Schapiro said, adding that the ramps from the northbound side are still open.
Memorial Drive leads right into the War Memorial, where Murphy takes the oath of office as New Jersey's 56th governor on Tuesday morning.
Schapiro suggested those who would use Route 29 to get into Trenton take Route 95 north to Route 1 south instead.
He said local traffic from Route 29 south can use the Sullivan Way or Calhoun Street exits as alternate routes into Trenton, but should expect congestion. In addition, he said southbound traffic is being directed to the signalized intersection at Cass Street to make a U-turn onto Route 29 northbound to get to the Capitol Complex.
"We should not get a full repeat of the precarious Delaware River flooding situation that occurred along Route 29 yesterday. Water levels have dropped even faster than forecast, and are not expected to reach flood stage again," Townsquare Media New Jersey Chief Meteorologist Dan Zarrow said.
Schapiro said crews are monitoring Route 29 southbound for any potential flooding.
NJDOT is working with the New Jersey State Police to minimize congestion and to assist those heading to the inauguration.
More from New Jersey 101.5:
More From New Jersey 101.5 FM