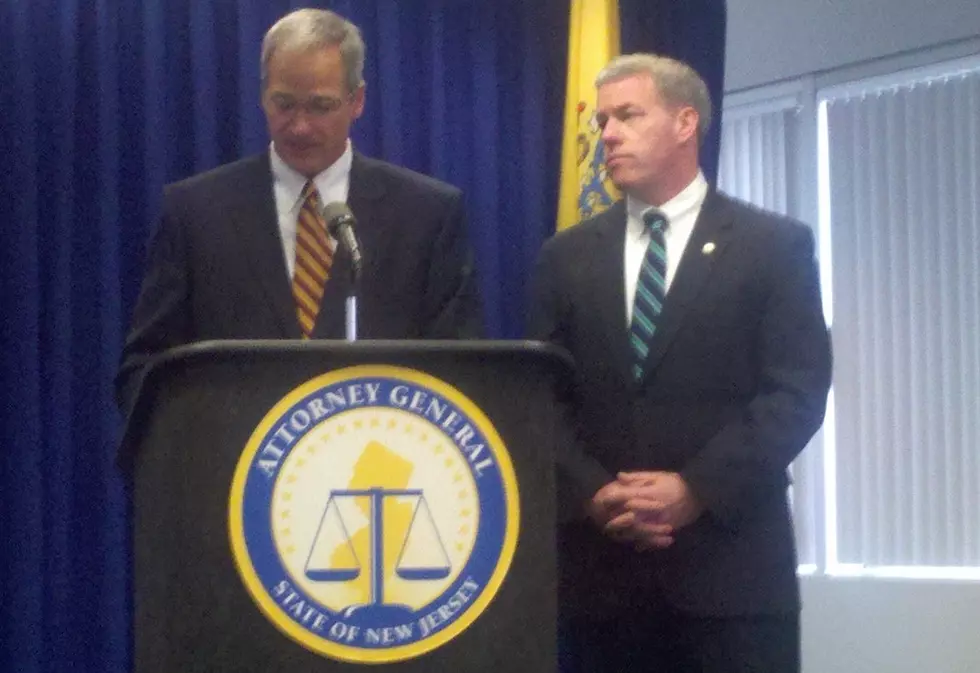 River Water And Rubbing Alcohol Found In Restaurant Booze Bottles [AUDIO]
From left to right: Division of Alcoholic Beverage Control director Michael Halfacre. State Attorney General Jeff Chiesa. (TownsquareMedia)
Confidential informants, undercover agents, high-tech gadgetry, customer complaints…"Operation Swill" had it all.
The investigation has led to allegations against 29 New Jersey restaurants accusing them of filling empty premium brand liquor bottle with cheap booze and sometime even stuff worse than that. What do you think of the idea of drinking river water or rubbing alcohol?
Operation Swill focused on the 29 establishments because of information from confidential informants, consumer complaints and testing of samples conducted by both the ABC and the manufacturers of the brands. The samples were taken in January and February when ABC investigators visited 63 licensed establishments across the state and covertly took 150 samples.
The undercover Division of Alcoholic Beverage Control (ABC) detectives visited these restaurants and secured samples of premium brand spirits by paying for drinks ordered "neat," which means with no ice or mixer. Some of the locations visited had previous complaints against them, and some were chosen at random.
The ABC tested the 150 samples using a new testing technology, a device called the True Spirit Authenticator.
This machine provides a preliminary analysis of samples in a short span of time. In addition, the samples were sent to the laboratories of the brand manufacturers where additional testing of the samples was conducted. It was found that of the 150 samples 30 were not the brand they purported to be.
Two samples were particularly egregious, according to State Attorney General Jeff Chiesa.
"One was described to me as essentially river water. They didn't even think it was actual tap water," explains Chiesa. "Another one we believe was rubbing alcohol and caramel color. I believe Operation Swill will go a long way towards restoring that peace of mind and will also serve as a warning to anyone currently engaging in, or thinking about engaging in, this fraudulent practice. This alleged scheme is a dishonest ruse to increase profits, and it is a slap in the face to the consumer."
There were some obvious red flags, says Chiesa. In one case the writing was literally on the wall. One restaurant displayed a sign directing employees not throw away empty premium liquor bottles.
"The establishments raided by the Division of Alcoholic Beverage Control were targeted because we are taking this type of fraudulent business practice seriously," says ABC director Michael Halfacre said. "This practice affects the entire alcoholic beverage regulatory system. Manufacturers, wholesalers, retailers and consumers are all victims of this scam."
At the time of the seizure Wednesday morning, investigators took statements from employees and also served demands for sales records. The establishments will have seven days to provide sales and invoice records that include information about the 20 brands of interest. They will also have to provide to the ABC information about the employees that were working the day samples were taken and the retail prices from the last nine months of the targeted brands.
Penalties for serving a drink other than ordered range from a 5-day suspension for the first offense to a 15-day suspension for the third offense. If further testing proves any of the seized bottles did not contain the correct labeled alcohol, that bottle could have multiple violations based on the potential drinks that could have been poured.
ABC regulations could also allow for a 30-day suspension for any illegal activity on the licensed premise and those locations could also face a 30-day suspension for not cooperating in the investigation. License revocations are possible if there are enough violations.
The following establishments were targeted in Operation Swill:
Railroad Café, East Rutherford
The Brick House, Wyckoff
Sunset Tavern, Burlington
Graziano's Ristorante, Chesilhurst
Villari's Lakeside, Gloucester Township
Yesterdays, Marmora
TGI Fridays, West Orange
Italian Affair, Glassboro
Bells Tavern, Lambertville
TGI Fridays, East Windsor
Brunswick Grove, East Brunswick
TGI Fridays, Old Bridge
TGI Fridays, North Brunswick
TGI Fridays, Piscataway
TGI Fridays, Freehold
TGI Fridays, Marlboro
TGI Fridays, Hazlet
Murray's, Dover
TGI Fridays, East Hanover
Sona Thirteen, Morristown
Blackthorn Restaurant, Parsippany
Ruby Tuesday, Bridgewater
TGI Fridays, Linden
Café 34, Matawan
Applebee's, Kearny
Cucina Calandara, Fairfield
TGI Fridays, Hamilton
TGI Fridays, Springfield
TGI Fridays, Clifton
Thirteen of the restaurants cited are TGI Fridays located in central and northern New Jersey. In a written statement, TGI Fridays Inc. says it's working with the franchisee and owner of the restaurants (The Briad Group) to investigate the "serious" allegations.
The owners of Cucina Calandra, Anthony and Lou Calandra also sent an emailed statement.
"We are cooperating fully with authorities. We do not believe that these allegations are accurate, and we have already begun our own internal investigation. The Calandra family and top level managers had no prior knowledge whatsoever of any wrongdoing and will do everything possible to get to the bottom of these allegations."
More From New Jersey 101.5 FM