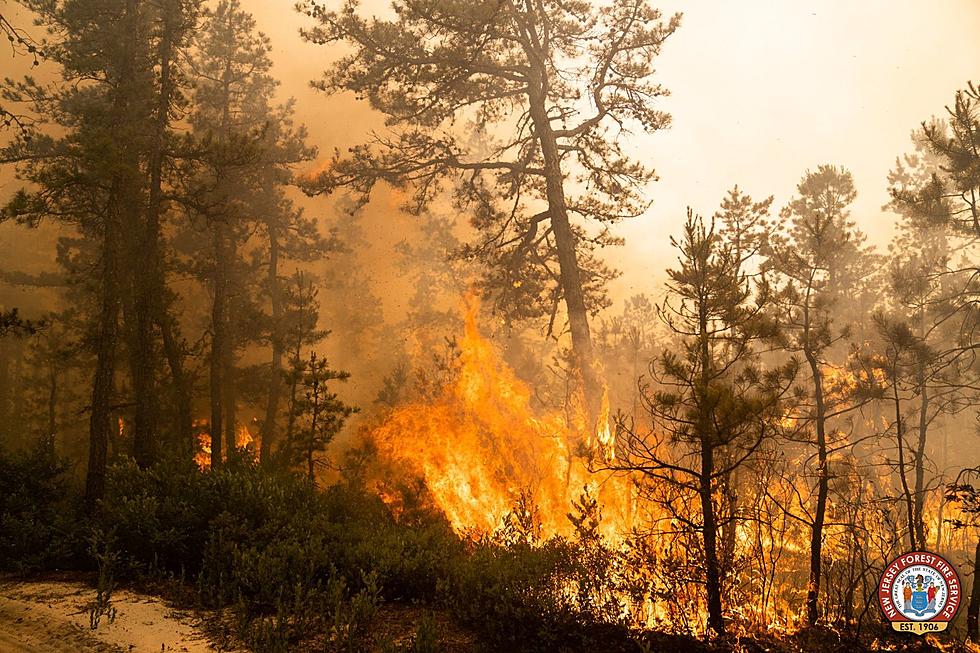 NJ officials issue wildfire alert
Flames from the Mullica River wildfire 6/21/22 (NJ Forest Fire Service)
🔥 Please help us - NJDEP issues a wildfire alert to the public
🔥 Hundreds of wildfires have already been reported this year
🔥 Most wildfires are caused by carelessness, negligence and arson
---
As temperatures start climbing, the New Jersey Department of Environmental Protection (NJDEP) has issued a statewide warning about wildfires.
Now that New Jersey is in what is considered to be peak wildfire season, the NJDEP is imploring all state residents to exercise caution when dealing with outside fires, particularly in forest areas.
So far this year, the state Forest Fire Service has responded to 315 wildfires which have burned about 920 acres. The largest of these fires was the Governors Branch Wildfire which sparked on March 7 in the Stafford Forge Wildlife Management Area in Little Egg Harbor.
The blaze, which burned 418 acres of forest, remains under investigation.
Many people are careless with fire
According to Greg McLaughlin, administrator and chief of the Forest Fire Service, "Ninety-nine percent of wildfires in New Jersey are caused by humans through accidents, carelessness, negligence and even arson.
He says the Forest Fire Service is constantly working to education people about wildfire risks.
"The Forest Fire Service works diligently with local communities to educate residents how to keep their homes 'Firewise' in areas with high wildfire risk," McLaughlin.
Severe weather is a factor
"The continuing impacts of climate change mean our state is experiencing more severe weather conditions, storms, wind and drought that can result in a longer wildfire season, which is why it is more important than ever that the public exercise caution and take steps to help protect their homes and property," said NJDEP Commissioner Shawn LaTourette.
Wildfire concerns heighten at this time of year because trees and bushes do not yet have full leaves, which leads to more sun reaching the forest floor. When coupled with windy days, dry underbrush acts as kindling for wildfire growth.
State records indicate February was the 11th driest on record in the Garden State since recordkeeping started in 1895. The lack of snow in southern New Jersey this winter means ground fuels such as pine needles and leaves have not compacted, allowing fuels to rapidly dry out on breezy or windy days that are at high risk for wildfire.
Wildfire Prevention
NJDEP officials stress most wildfires are preventable. Here's how to help reduce wildfire risk:
• Don't discard cigarettes, matches or smoking materials on the ground
• Contact your nearest Forest Fire Service office for information on how to obtain a campfire permit
• Don't leave fires unattended. Douse them completely, until cold to the touch
• Keep matches and lighters away from children. Teach kids about fire safety
• Protect your home and other structures from wildfire by creating defensible space
• Ensure fire trucks can access driveways
• Report suspicious vehicles and individuals to authorities
• Use wood stoves and fireplaces carefully, since both can emit embers that spark fires. Fully douse ashes with water before disposal
Last year the Forest Fire Service responded to 1,175 wildfires which burned 12,664 acres – including the 11,129.5-acre Mullica River Wildfire in Wharton State Forest, the largest wildfire in the state since 2007.
To learn more about wildfires in New Jersey, you can click here.
David Matthau is a reporter for New Jersey 101.5. You can reach him at david.matthau@townsquaremedia.com
Click here to contact an editor about feedback or a correction for this story.
Biggest NJ company layoff notices in 2022 and 2023
In some cases, workers may be offered back their jobs or transfers to different locations.
Here's a look at more than a dozen of the biggest announcements within two years.
Weird things NJ taxes - and some they don't
In general, New Jersey assesses a 6.625% Sales Tax on sales of most tangible personal property, specified digital products, and certain services unless specifically exempt under New Jersey law.
However, the way the sales tax is applied in New Jersey sometimes just doesn't make sense.
New Jersey puts out an itemized list for retailers that spells out what is, and what is not, taxed.
Perhaps because this is New Jersey, there are some bizarre and seemingly contradictory listings.
More From New Jersey 101.5 FM