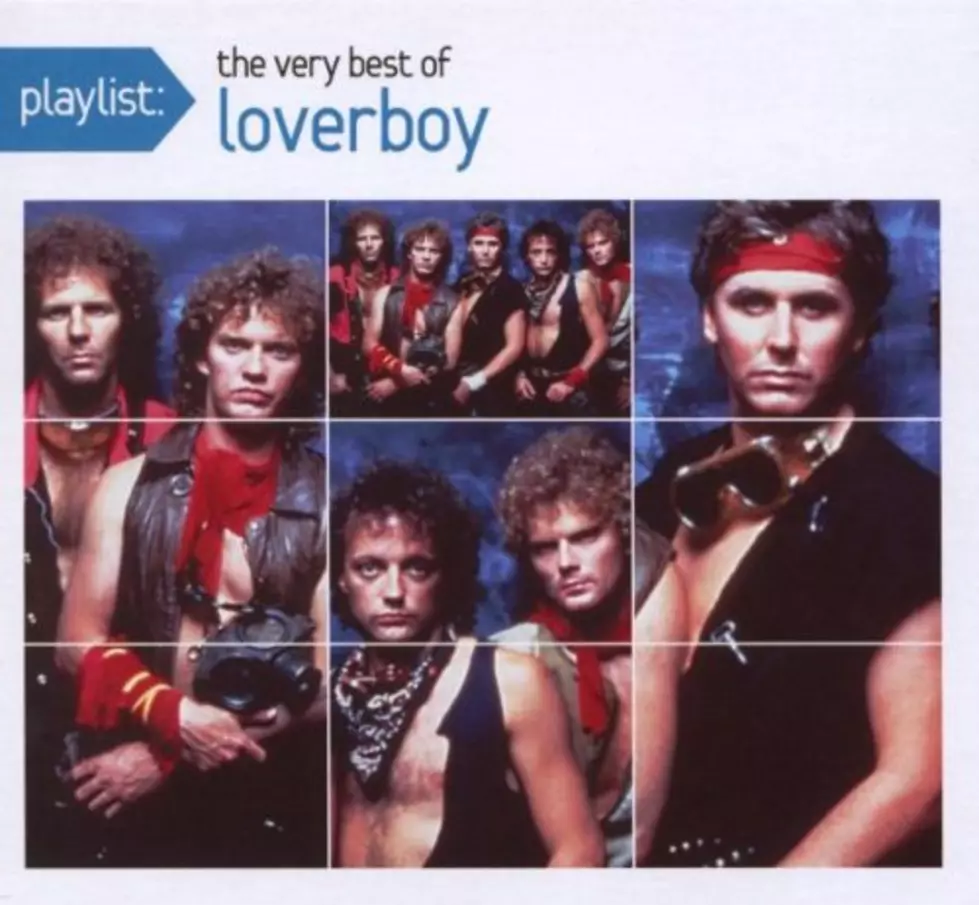 Meet Loverboy [PHOTOS, VIDEOS]
(amazon.com)
You probably know "Loverboy" best for "Working For The Weekend!" Seeing as the band is from Canada, and people all over the world made it a hit...its the "Multi-National Anthem" devoted to Saturday and Sunday!
Loverboy formed in 1979 in Calgary, when Mike Reno was introduced to Paul Dean at "The Refinery Night Club."  The Canadian rockers racked up numerous hits in Canada and the United States through the 1980's, earning four multi-platinum albums and selling millions of singles!
Band lore has it that the name was chosen while browsing through a magazine, where the guys spied a "Cover Girl" ad! Cover Girl became Cover Boy, and then...Loverboy.
After being rejected by ALL the American record labels, the new band signed with Columbia/CBS Records Canada. They went into the studio in March of 1980, to record their first album...with Mike Reno on lead vocals, Paul Dean on vocals and guitar, Jim Clench (who was quickly replaced by Smith), Scott Smith on bass guitar, Doug Johnson on keyboards, and Matt Frenette on drums.
The self-titled debut album, "Loverboy" sold so well in Canada in the summer of 1980...that an American release could not be denied! The "Loverboy" album debuted stateside in November 1980...and it would go gold, selling 2 million copies. In my opinion, two stellar singles were released:
http://youtu.be/TnHm4ro_l8s
"Turn Me Loose," (#35/1981)
http://youtu.be/IS8YD7Tld6A
"The Kid Is Hot Tonite" (#55/1981).
In the meantime, Loverboy hit the tour circuit in a major way...putting on over 200 shows with the likes of Cheap Trick, Bob Seger, ZZ Top, Kansas and Def Leppard!
In October 1981, while Loverboy was opening for Journey, their followup album, "Get Lucky," debuted. It put Loverboy back on the radio, and on the singles charts:
http://youtu.be/zL8G5pBZ5CI
"Working For The Weekend," landed at #29 on the singles charts in early 1982...and has become a Classic Hits and Album Rock staple in the years since! Of course, its one of "Jersey's Favorite Hits!"
http://youtu.be/nMLHPnxkOwA
"When Its Over,"  (#26/1982).
"Get Lucky" would go on to become Loverboy's best selling album in the U.S., reaching #7 on the Billboard album charts, and selling over four million copies.
In Canada, Loverboy would earn 6 "Juno Awards" (Canada's highest award for music) in one year, a record that still stands today. The band would later pick up 3 Juno Awards, bringing their total to nine, which is the most received by a single group or individual!
Loverboy released their third album, "Keep It Up," in 1983.
http://youtu.be/KW22JDVEejk
"Hot Girls In Love," the first single, became their most successful to that date, reaching No. 11 on the U.S. charts. The video for the song as well as for the follow-up single...
http://youtu.be/hWSLgpQGw3I
"Queen Of The Broken Hearts" were hugely popular on MTV!
And, Loverboy hit the concert circuit again...this time as headliners!
http://youtu.be/rDYh1b9fiZ0
In 1984, Loverboy recorded the United States Team theme for the 1984 Summer Olympics, "Nothing's Gonna Stop You Now". The song appeared only on The Official Music of the 1984 Games.
Loverboy also contributed the song "Destruction"  to the soundtrack of a re-edited version of the 1927 film "Metropolis."
http://youtu.be/JiqvnYDxFXY
Loverboy album #4, "Lovin' Every Minute Of It," came out in 1985...
http://youtu.be/bohVV_KlSHw
"Lovin' Every Minute Of It" (#9/1985)
http://youtu.be/4qa2Ol6BHd8
This Could Be The Night (#10/1986).
In 1986, the band recorded "Heaven In Your Eyes," (#9/1986).
http://youtu.be/v2CazT63ez0
The song was featured in the smash movie "Top Gun." In an interesting side note, Doug Johnson refused to appear in the video, as he felt that the film glorified war.
The "Wildside" album hit store shelves in 1987.
http://youtu.be/6AeRtYEtRX8
"Notorious," a minor hit (#38/1987),  has a Jersey connection, as it was co-written by Jon Bon Jovi and Richie Sambora!
The "Wildside" album was a sales disappointment...
Loverboy broke up in 1988, due to the departure of Johnson, and creative and personal differences between Dean and Reno.
But...that is certainly not the end of our rock and roll story!
"Big Ones," Loverboy's first Greatest hits compilation was released later in 1988, fulfilling the band's obligation to their label, Columbia Records. The group briefly reunited in late 1989 to tour to promote "Big Ones," (with Geraldo Valentino Dominelli on keyboards in Johnson's place). But, they broke up...again...as soon as the promotional tour ended.
In 1992, the guys reunited for a Canadian charity concert, later saying that the concert was the most fun that they had had in years. Loverboy would go on to tour throughout the rest of the 1990s (without Doug Johnson, who would rejoin in 1998). Sadly, in late 2000, bassist Scott Smith was declared dead after being lost at sea.
On the album front, several Greatest Hits compilations would be released through the 1990s, to wide acclaim...
...plus, a live album, "Live, Loud And Loose" in 2001, consisting of early live concert recordings from the band's intense touring years, from 1982 to 1986.
2001 also brought another round of touring, this time dedicated to the late Scott Smith.
Loverboy celebrated 25 years together in 2005...on the road, touring.
2007 brought a new studio album, "Just Getting Started."
The band was inducted into the Canadian Music Hall Of Fame during the 2009 Juno Awards.
Loverboy's latest album, "Rock 'n' Roll Revival," was released last year...
...and the band continues touring...with some road dates already set for 2014!
The Loverboy of today features all the original members, except for Scott Smith, who was replaced on bass in early 2001 by Ken Sinnaeve (formerly of the Guess Who).
Currently based in Vancouver, British Columbia, check out Loverboy's official site here!