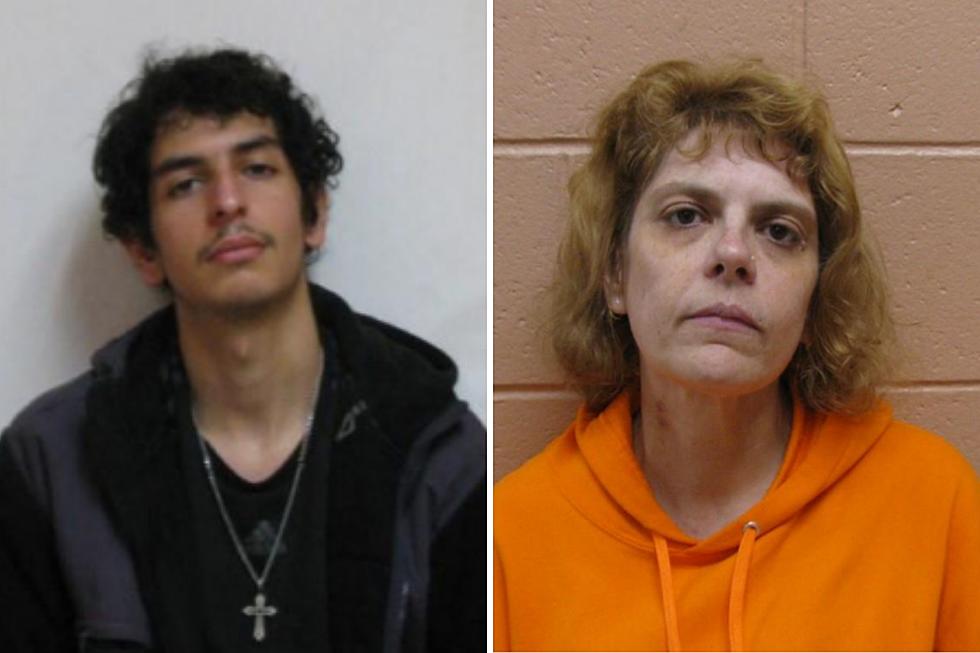 Man, wife plotted to kill Evesham, NJ police officers, cops say
Marc Ferraiolo and Ruth Patton (Evesham police)
🚨 Police tried to arrest an Evesham man on a warrant early Sunday morning
🚨 He is accused of trying to run over several cops and ramming police vehicles in trying to get away
🚨 Officials said the man and his wife plotted to kill random Evesham police officers
---
EVESHAM — A man and wife are accused of planning to kill police officers, leading to an incident that left two cops and a police dog injured.
The Evesham police said that officers were at the scene of a crash on Taunton Lake Road around 1 a.m. Sunday when a white Hyundai Genesis headed west sped past them. It's believed the car was going 80 mph or faster in a 45 mph zone.
A few minutes later, the same car was spotted on Willowbend Road at the intersection with Evans Road. An officer tried to pull the vehicle over but it instead ran a red light and drove away, according to police.
Police said they knew the vehicle from "numerous recent contacts." The driver was identified as Marc Ferraiolo, 33, of Evesham and a judge issued a warrant for his arrest.
Officers went to his home on the 100 block of Marlborough Avenue and saw the same vehicle pulling into the driveway, police said. Ferraiolo's wife, 42-year-old Ruth Patton, got out of the car while Ferraiolo did not. The cops pulled into the driveway behind his car and told him to get out of the vehicle.
Instead, police said Ferraiolo put his car into reverse and stepped on the gas. He's accused of nearly running over two cops before striking a K9 police vehicle with a police dog named Tango inside.
Ferraiolo then drove right at the pair of cops who had managed to not get run over the first time, according to police.
"Ferraiolo continued to drive across neighboring lawns and purposely rammed his vehicle into the K9 vehicle with maximum force three more times before attempting to flee again," police said in a statement. The collisions left Tango injured. He was undergoing veterinarian care as of midday Sunday.
Headed east on Marlborough Avenue, he hit two other unoccupied police vehicles, police said. Finally, Ferraiolo struck a parked car near Azalea Terrace and disabled his own Hyundai.
The officers had to break the Hyundai's window to get Ferraiolo out of the car. He was taken to a hospital to be evaluated.
His wife, Patton, is accused of interfering with the officers and threatening to kill them while they removed Ferraiolo from the car. She was arrested and charged with third-degree terroristic threats and fourth-degree obstruction of justice.
Ferraiolo is charged with two counts of first-degree attempted murder of a police officer, two counts of third-degree aggravated assault on police, two counts of third-degree eluding, four counts of fourth-degree criminal mischief, and fourth-degree injuring a police canine.
Both Ferraiolo and Patton are being held at Burlington County Jail.
🚨 'Retribution' plot to kill Evesham police
Police Chief Walt Miller at a press conference Sunday said that Ferraiolo and Patton had hatched a plan earlier in the evening to kill any two Evesham police officers.
"We believe the plan was in retribution to ongoing enforcement actions that had been taken at the Ferraiolo home against both Mr. Ferraiolo and Ms. Patton," Miller said. He said he was unable to expand on the nature of those incidents for legal reasons.
Miller said a 26-year-old female officer and a 27-year-old male officer were injured but the injuries were not significant. He added their injuries could have been much worse if they hadn't been able to jump out of the way.
"We were lucky," Miller said. "This could have been really, really bad."
Rick Rickman is a reporter for New Jersey 101.5. You can reach him at richard.rickman@townsquaremedia.com
Click here to contact an editor about feedback or a correction for this story.
Most affordable places to live in New Jersey
SmartAsset released a study analyzing the
most affordable places to live in New Jersey
. The eighth annual study weighed several factors, including taxes, homeowners' insurance, and home costs relative to the local median income.
Up or down? Average property tax changes in NJ in 2022
Below are the average property tax bills for every municipality in New Jersey last year.
The towns are listed from the biggest cut in the average bill to the highest increase. On the county maps, the deeper red color means a higher increase above 2% whereas the darker green signifies a smaller increase or a reduction.
Each listing also shows how the average tax bill is split among the county, school and municipal governments.
LOOK: Food and Personal Care Shortages We Could See In 2023
Learn about the 13 potential shortages that could impact stores in 2023, from produce and meat to snacks and beverages.
More From New Jersey 101.5 FM