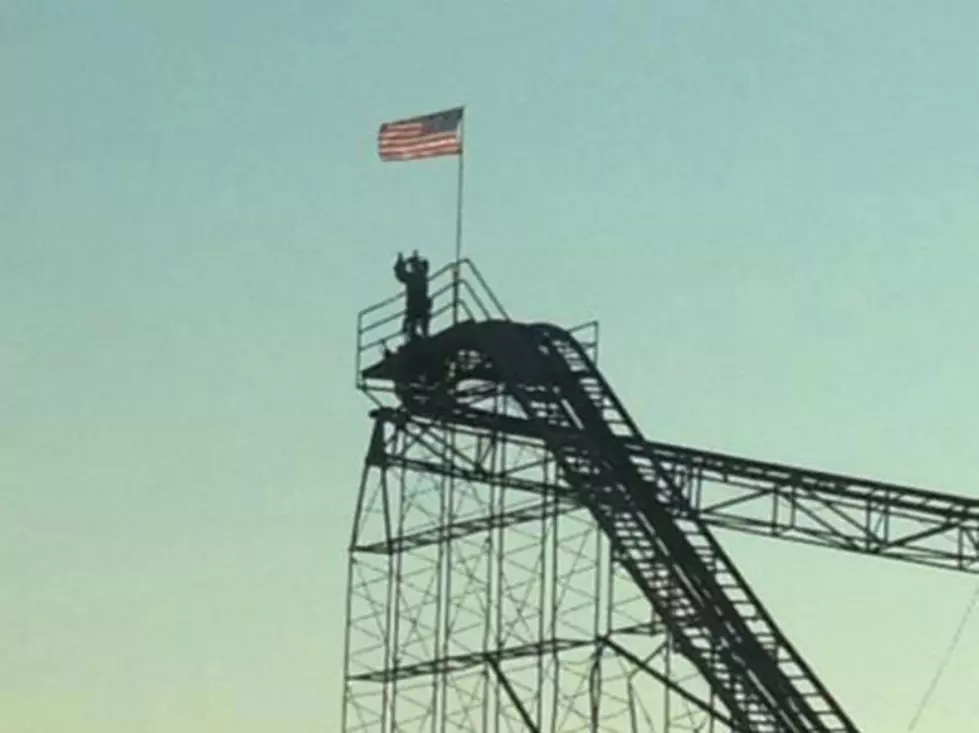 Man Climbs Onto Submerged Seaside Heights Roller Coaster
Christopher Angelo after climbing onto the Jet Star roller coaster in Seaside Heights (Ocean County Police Blotter via Facebook)
A man arrested after climbing onto the submerged Jet Star roller coaster in Seaside Heights has been taken to a hospital for a psychiatric evaluation.
Christopher Angulo, 38, of Lavallette was arrested by Seaside Heights police on Tuesday morning and charged with disorderly conduct after rowing a small boat to the roller coaster  which became submerged during superstorm Sandy and has remained there ever since.
When Seaside Heights Police arrived Angulo  walked from the top of the coaster and hopped into a police boat. He was handcuffed, walked through the surf and escorted to a police car on the beach in Seaside Heights.
News 12 showed the man at the very top with an American flag and says he is there to call attention to Sandy recovery.
His mother says the 38-year-old lives at his grandmother's home in Lavallette. Diane Angelo says her son is a bit of a daredevil. He is reportedly a surfer and rock climber.
Angulo reportedly runs Tsunami Tree Care of Lavallette according to WABC TV.
Jason Allentoff, Tom Mongelli and The Associated Press contributed to this report.
More From New Jersey 101.5 FM