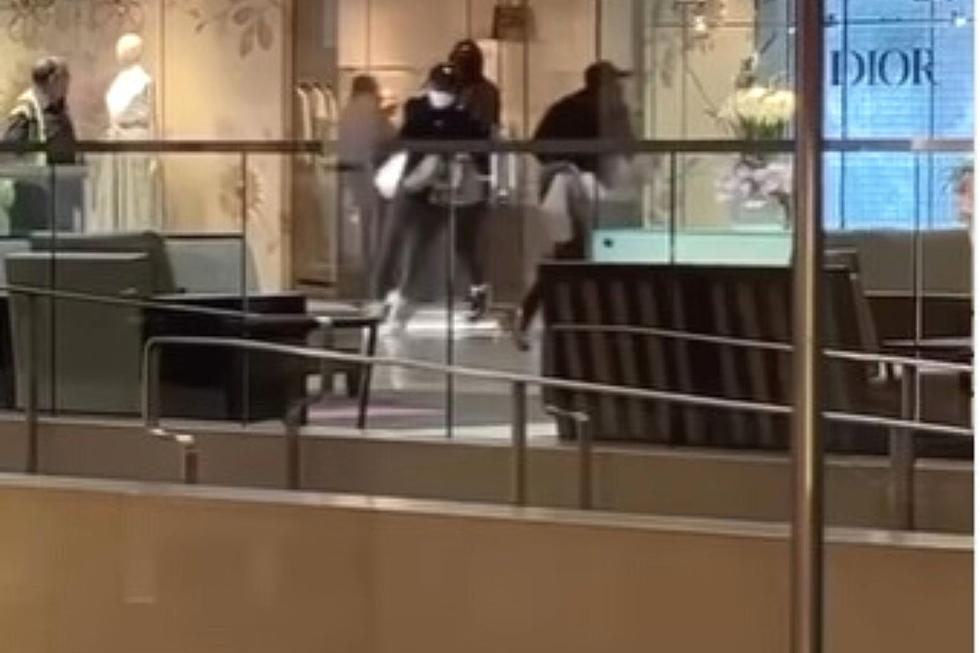 Video: Thieves brazenly steal luxury purses from Short Hills, NJ mall
Group suspected of stealing purses from the Dior store at the Mall at Short Hills 5/15/23 (w00yeng via Instagram)
🔴 A group took 25 purses displayed on a wall at the Dior store
🔴 Purses sold at Dior stores are priced at nearly $5,000 each
🔴 A bill in the state assembly would make gang shoplifting a separate crime
---
MILLBURN — Four men ran from the Dior store at the Mall at Short Hills after stealing $120,000 worth of purses Monday morning.
Millburn police said in a statement that the group took 25 purses on wall displays inside the store on the mall's second floor around 10:45 a.m.
Video captured from a store across the mall shows the group dressed in black wearing face masks clutching the purses as they exited the mall.
WARNING: Video contains profanity
The four made their escape in a waiting black SUV, Bonney told NJ.com.
Several employees ran to the store's backroom and called police.
Millburn police on Wednesday morning did not respond to New Jersey 101.5's request for more information.
Purses sold at Dion stores are priced at nearly $5,000 with some costing almost $7,000, according to the store's website. Many are handmade using top-of-the-line materials.
Bill would make gang shoplifting a crime
Sen. Jon Bramnick, R-Union, said Wednesday the theft is an example of why he is sponsoring a bill that would make gang shoplifting a crime.
The bill would create the third-degree crime of gang shoplifting. It would be punishable by at least a year in jail during which the person would not be eligible for parole.
"We're seeing more and more instances where flash mobs of shoplifters run through high-end stores where they smash and grab anything that isn't bolted down," Bramnick said in a statement. "If people want to do these crimes, they need to get the message that their next flash mob will be in jail."
The bill was introduced in September and was referred to the Senate Law and Public Safety Committee.
Dan Alexander is a reporter for New Jersey 101.5. You can reach him at dan.alexander@townsquaremedia.com
Click here to contact an editor about feedback or a correction for this story.
NJ county fairs are back! Check out the 2023 summer schedule
A current list of county fairs happening across the Garden State for 2023. From rides, food, animals, and hot air balloons, each county fair has something unique to offer.
(Fairs are listed in geographical order from South NJ to North NJ)
Top 20 highest average property tax bills in NJ for 2022
Based on the average residential property tax bill for each town in New Jersey in 2022, these are the 20 highest.
How much your school district gets under Murphy's proposed 2024 budget
Gov. Phil Murphy's porposed 2024 budget includes $1 billion in new spending for school funding including pre-K funding, pension and benefits, and an additional $832 million in K-12 aid, which is listed below by county and district.
More From New Jersey 101.5 FM