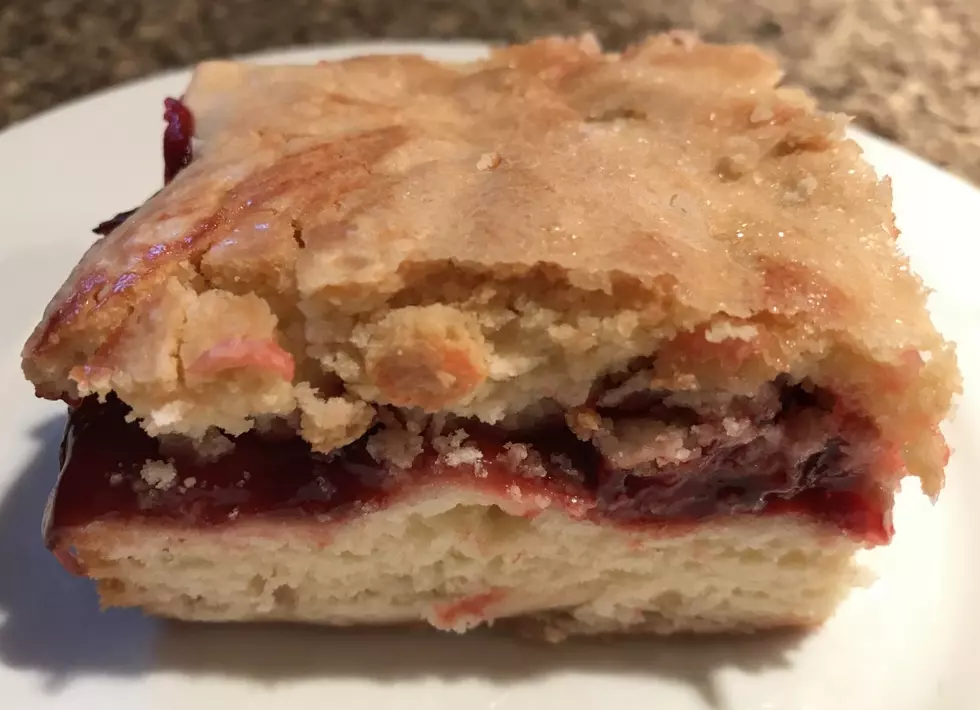 (Craig Allen photo)
Here's an easy dessert that will be a favorite with your family, too.
Back in the '90s, at the radio station in Philadelphia, from time to time we'd have a staff lunch, where everyone would bring something. Once, I made these "fruit squares."
They were a huge hit. From then on, I'd be asked: "Are you bringing that great apple thing that you make?"
Now, you can make it, too. And, you don't have to limit yourself to apple.
1 C shortening (melted butter is better)
1 can pie (apple, cherry etc.) filling (Note: I make mine with 2 cans of fruit).
Cream shortening (or melted butter).
Add vanilla, flour (Note: the batter is heavy).
Pour fruit filling over all (this time, I'm using strawberry).
(NOTE: when making with apple filling, I add/stir in some cinnamon and sugar to taste. The canned apple filling is rather bland if you do not "doctor" it a bit).
Drop rest of batter on top of fruit filling, by the spoonful.
Bake at 350 degrees, for 55 minutes.
This "fruit squares" recipe has been in my family for years. A family favorite.
Here's the backstory: One year, my mom wanted a new dessert for a social occasion, so she sent a note into school with my sister, asking her 2nd grade teacher if she had a dessert recipe that she would be willing to share.
Now, I'm sharing it with you.
Fruit Squares dessert
More From New Jersey 101.5 FM