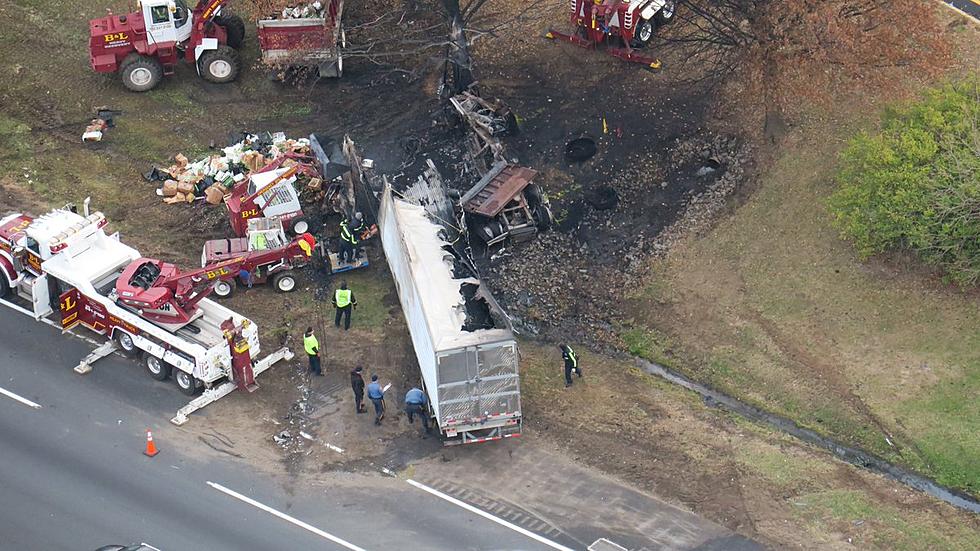 Fatal Turnpike crash and truck fire slows morning commute
(Courtesy Tom Kaminski WCBS Chopper 880)
EAST BRUNSWICK — A fatal crash and truck fire plus a disabled vehicle slowed the Thursday morning commute on the New Jersey Turnpike.
A tractor trailer went off the highway's outer lanes around 3:50 a.m. in front of the Joyce Kilmer service area and burst into flames, according to State Police spokesman Sgt. Lawrence Peele. The truck's trailer also overturned.
Peele said the driver of the truck died at the scene while the occupants of a Hyundai Accent involved in the crash were treated for non-life threatening injuries.
The cleanup and investigation kept the right lane closed as for the morning commute. The ramp into the service area from the outer roadway was also blocked.
The northbound outer lanes were closed down between exit 6 for the Pennsylvania Turnpike and exit for Route 18 with all traffic diverted to the inner lanes.
Southbound traffic was no better as a crash at exit 8A for Jamesburg, around 5:30 a.m. in the inner lanes, also created a rubbernecking delay.
More rubbernecking developed for a dump truck fire south of exit 9 for Route 18 in the outer lanes around 6:30 a.m. that blocked a lane for about 45 minutes.
Patrick Lavery contributed to this report.
More from New Jersey 101.5:
More From New Jersey 101.5 FM