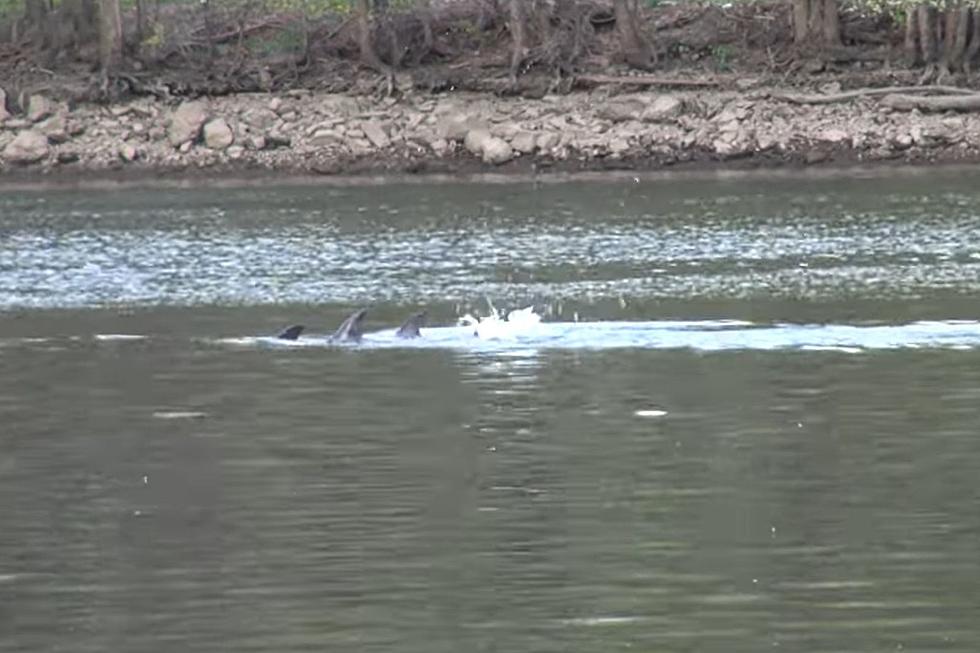 Dolphins in NJ: You can now see them in the Raritan — and that's not good
Dolphin in the Raritan River 4/11/23 (New Brunswick Today via YouTube)
A pod of common dolphins caught on video playfully swimming in the Raritan River may bring a smile to New Jersey residents who've been following the news of dead and stranded mammals winding up on the state's beaches.
But this may not be good news after all.
The seemingly happy group of dolphins swimming in the New Brunswick and Highland Park area was first spotted Tuesday.  They have not been seen since Wednesday, according to the Marine Mammal Stranding Center.
Andrea Gomez of the NOAA Greater Atlantic Regional Fisheries Office said it's common for dolphins to be in the northwest Atlantic Ocean. However, it is unusual for the species to be found in inshore waters and rivers. It can be harmful.
"Extended exposure to freshwater environments can cause skin lesions on dolphins and other potential direct and indirect impacts. However, it takes weeks, sometimes months in freshwater environments before these types of symptoms start to occur," Gomez said.
Two types of dolphins frequently seen in New Jersey
Except for chasing prey, it's not clear why a common dolphin would swim into a river.
Bottlenose dolphins, the other type of dolphin most frequently seen on the East Coast, are found in harbors, bays, gulfs, estuaries, and sometimes rivers of temperate and tropical waters.
A bottlenose dolphin swam into the South River in August 2015 and drew crowds to the Old Matawan Road bridge hoping to grab a look.
New Brunswick Today was first to report about the dolphin pod in the Raritan River.
A 26th dolphin washed up along the Jersey Shore Tuesday with the discovery of a badly decomposed dolphin near the Oceanic Bridge in Middletown Township.
Dan Alexander is a reporter for New Jersey 101.5. You can reach him at dan.alexander@townsquaremedia.com
Click here to contact an editor about feedback or a correction for this story.
LOOK: Here are the states where you are most likely to hit an animal
Hitting an animal while driving is a frightening experience, and this list ranks all 50 states in order of the likelihood of such incidents happening, in addition to providing tips on how to avoid them.
LOOK: 20 American foods that raise eyebrows outside of the US
Stac



ker
compiled a list of 20 unusual and uniquely American foods that might raise eyebrows outside the U.S.
Biggest NJ company layoff notices in 2022 and 2023
In some cases, workers may be offered back their jobs or transfers to different locations.
Here's a look at more than a dozen of the biggest announcements within two years.
More From New Jersey 101.5 FM