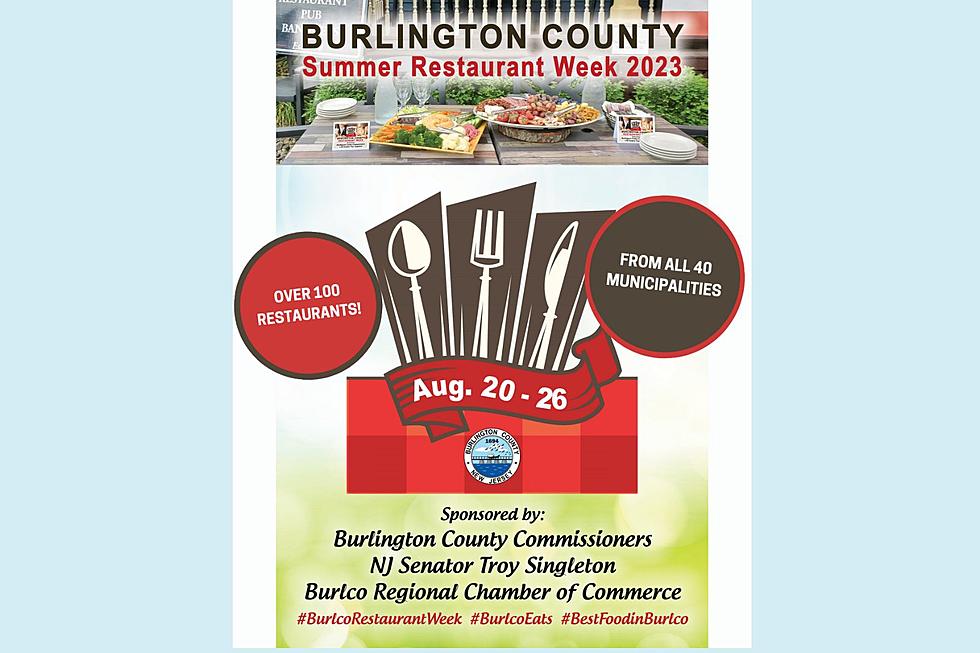 More than 100 restaurants to take part in Burlington County Restaurant Week
Burlington County Summer Restaurant Week will kick off Sunday with more than 110 restaurants participating, including at least one from all 40 Burlington County municipalities. (Burlington County)
🍝 More than 100 Burlington County eateries will take part in Restaurant Week
🍔 At least one from all 40 municipalities will be represented
🍗 Look for great discounts and special menus
---
This year, foodies will have even more choices than ever during Burlington County Summer Restaurant Week.
The celebration, which kicks off on Aug. 20 and runs until Aug. 26, of Burlington County restaurants, taverns, food trucks, and even craft beverage businesses includes more than 115 participants, at least one from all 40 of the county's municipalities.
"From Bass River to Bordentown and everywhere in between, Burlington County's Summer Restaurant Week features more restaurants and delicious specials than ever before," said Burlington County Commissioner Director Felicia Hopson.
Throughout the week, Burlington County Commissioners, in partnership with state Sen. Troy Singleton, D-Burlington, and the Burlington County Regional Chamber of Commerce will highlight participating restaurants by making visits and posting spotlights about them on social media.
Many of the participating restaurants have created Restaurant Week menus, specials, and discounts to mark the event.
For example, Gaetano's of Willingboro has created "Gaetano's Fusion Feast" – a fixed-price menu featuring a mix of the restaurant's famous cheesesteak subs.
Others are offering three-course or four-course menus, including Iron Hill Restaurant and Brewery in Maple Shade, Braddock's Tavern in Medford, Luna y Sol Mexican Restaurant in Moorestown, Estia Taverna in Marlton, Joe Italiano's in Moorestown, Red Lion Diner in Southampton, and Capt'n Chucky's Crab Cake Co. in Cinnaminson.
Marblehead Chowder House in Westhampton is also offering lunch menus, as well as dinner menus during Restaurant Week.
"Restaurant Week was a great idea when it started and its growth has been phenomenal. In just a few years, we've become one of the biggest restaurant weeks across the region, and that includes Philadelphia and Atlantic City," said Burlington County Commissioner Deputy Director Tom Pullion.
The first Winter Restaurant Week was held in March 2023 and featured more than 60 restaurants in the county. The summer event surpasses that number with dozens of places participating for the first time.
A complete list of participating restaurants can be found here.
Report a correction 👈 | 👉 Contact our newsroom
The top five best places for the best gnocchi in New Jersey
Bill Spadea's callers gave Bill the top five places for the best gnocchi in New Jersey
More From New Jersey 101.5 FM