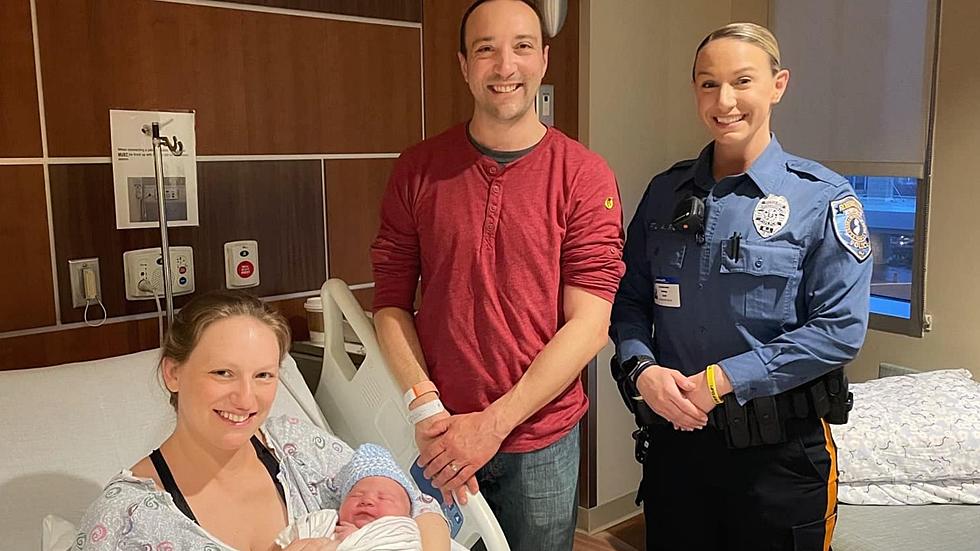 Baby boy enters the world with the help of Robbinsville, NJ officer
Welcome Baby Oliver (Robbinsville Township PD Facebook page)
Police Officer Allison Ricci is our #BlueFriday honoree for this first Friday in April. Adding Officer Ricci to the long list of officers who have been honored on my show for the past seven years.
The #BlueFriday honors started in December 2015 during a live broadcast. Then Lt. Governor Kim Guadagno, a retired county sheriff, challenged me to pick a New Year's Resolution. It's something I never do, so I pushed back. She was relentless, so I agreed that I would resolve to honor law enforcement every week that I was fortunate enough to have a mic. And it started.
It's been a real honor to speak out on behalf of our heroes in Blue and recognize the efforts they make on our behalf every single shift. From helping disadvantaged kids to the community to keeping violent criminals off the streets, law enforcement officers do it all.
Today's honoree is no different. Officer Ricci was a part of a team who were dispatched to a home in Robbinsville with a woman in labor. Upon arrival, it was clear that mom was going to have the kid right then and there. Officer Allison Ricci sprang into action and helped bring Oliver Chase into the world a little after 4 in the morning.
Congrats to the family and to the officers in the Robbinsville Police Department. We appreciate all that you do every day for the rest of us. Remember, there is a thin line between civilization and savagery and that line is Blue.
The post above reflects the thoughts and observations of New Jersey 101.5 talk show host Bill Spadea. Any opinions expressed are Bill's own. Bill Spadea is on the air weekdays from 6 to 10 a.m., talkin' Jersey, taking your calls at 1-800-283-1015.
Enter your number to get our free mobile app
How the world saw New Jersey — 1940s to 1980s
This is how New Jersey saw the world from 1940-to 1980. All these photos are from AP and Getty publications, meaning they were used in a magazine or newspaper. There has been plenty of inventions and history made in New Jersey. Check the photos below.
New Jersey's new legislative districts for the 2020s
Boundaries for the 40 legislative districts for the Senate and Assembly elections of 2023 through 2029, and perhaps 2031, were approved in a bipartisan vote of the Apportionment Commission on Feb. 18, 2022.
The map
continues to favor Democrats, though Republicans say it gives them a chance to win the majority.
More From New Jersey 101.5 FM