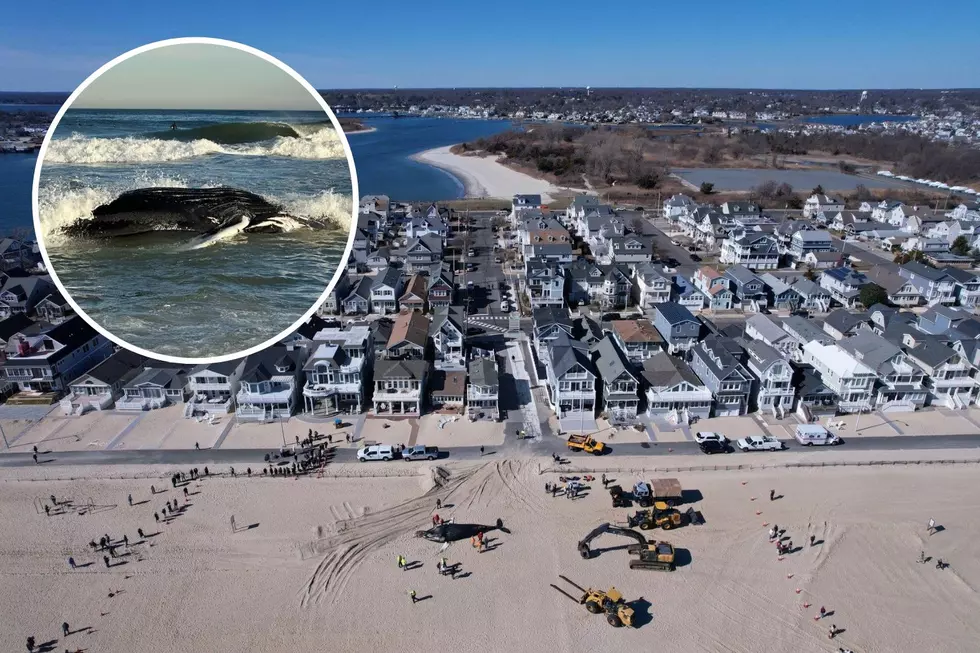 'Alarming & unprecedented' — Why did whale wash up on Manasquan, NJ beach?
Whale on Manasquan Beach (Marine Mammal Stranding Center) (Paul Kanitra)
🐳 It is the ninth whale to wash up onto a New Jersey or New York beach since December
🐳 The 35-foot juvenile female whale is being moved to the Monmouth County landfill in Tinton Falls for a necropsy
🐳 Environmentalists are split over whether wind energy it to blame for the whale deaths
---
A whale floating in the ocean off Manasquan Inlet Monday washed ashore late in the afternoon and reignited the debate over why it's happening and whether or not work related to wind turbines is to blame.
Necropsy teams from the Marine Mammal Stranding Center and Atlantic Marine Conservation Society were on Manasquan Beach Tuesday morning. They identified the whale as a 35-foot juvenile female that was first seen along the Jersey Shore on Jan. 7, according to NOAA Fisheries.
The whale is being moved to the Monmouth County landfill in Tinton Falls where the whale will be examined, tissue samples taken and a necropsy will be performed.
Whales looking for food come to the Jersey Shore
It is the ninth whale to wash up on a New Jersey or New York beach since December. NOAA Fisheries didn't offer a reason for any of the washings but pointed out that whales are not strangers to the Jersey Shore.
"Humpback whales are frequent visitors to New Jersey waters, where schools of small bait fish are a good food source," NOAA said in a statement.
Since the whales began washing up environmentalists are pitted again over the cause.
"This alarming number of deaths is unprecedented in the last half-century. The only unique factor from previous years remains to be the excessive scope, scale, and magnitude of offshore wind powerplant activity in the region," Clean Ocean Action wrote on its Facebook page.
Call for a Pause
Point Pleasant Beach Mayor Paul Kanitra who was on the beach in Manasquan Monday is one of a dozen Jersey Shore mayors from Deal to North Wildwood who signed a letter to President Joe Biden seeking an "immediate moratorium" on offshore energy development
"We're past the point of coincidence now and we need to actually figure out what's happening. And I'm just wondering how many more it's going to take before the state does what they need to and looks into it more deeply," Kanitra told New Jersey 101.5.
Standing on the beach Kanitra is skeptical about whether or not a boat strike is responsible.
"I don't see a single boat in sight. And I know that in a couple of days somebody's gonna tell us 'this was a boat strike.' And that's infuriating," Kanitra said.
Rep. Chris Smith said Tuesday in a statement the Biden Administration has not responded to the letter.
"The Biden Administration and Governor Murphy continue to ignore the resounding calls for an investigation to address the historic surge of dead whales while offshore wind development ramps up off our beaches," Smith said. "How many more whales have to die before there is a serious and thorough investigation into the cause of these deaths?"
Don't blame the wind turbine
Gov. Phil Murphy and the Association of New Jersey Environmental Commissions say suggestions that the Garden State's plan to construct a huge wind farm out in the ocean have anything to do with the whale tragedies are misguided.
Greenpeace's ocean director, John Hocevar, told USA Today that it's a "cynical disinformation campaign" not based on scientific evidence.
The Ocean Advocacy group Oceana said groups that are opposed to wind power have found a "convenient line of opposition to development."
The American Clean Power Association in a statement Tuesday said there is no evidence wind power has anything to do with the beached whales and accused opponents of running a misinformation campaign.
"The recent whale strandings are tragic and it's disheartening to see this tragedy being used as an excuse by clean energy detractors trying to stop the growth of a new energy source for Americans," spokesman Jason Ryan said in a statement.
Ryan said proposed offshore projects are being designed in a way that promotes the conservation of marine mammals and other protected species.
No matter the argument Point Pleasant Beach photojournalist Ryan Mack, 27, said he's never seen more whales close to shore.
"I've been in these waters since I was a kid surfing and this past summer I have seen more whales than I've ever seen in recent years. In the last four months I've seen the most wash up in a short span," Mack said.
Dan Alexander is a reporter for New Jersey 101.5. You can reach him at dan.alexander@townsquaremedia.com
Click here to contact an editor about feedback or a correction for this story.
More cute pet photos from NJ!
Scroll down to add yours!
Jersey Pizza Joints' Pizza Bowl III
Every NJ celebrity with a star on the Hollywood Walk of Fame
More From New Jersey 101.5 FM