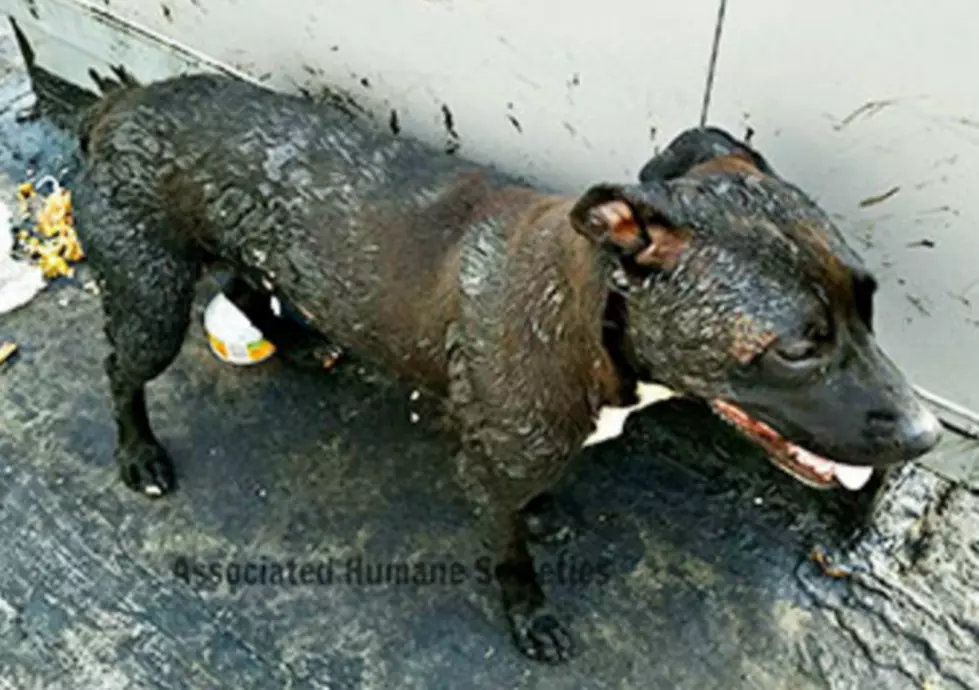 2 dogs burned by 'bubbling, boiling tar' on hot rooftop in Newark
(Credit: Associated Humane Societies)
As temperatures inched closer to 100 degrees in the midst of a heatwave on Friday, authorities rescued two badly injured dogs that were found on a Newark rooftop, with hot tar burning their paws and sticking to their fur.
The Associated Humane Societies Newark branch learned about the dogs after receiving a call and Facebook message from a "Good Samaritan" who saw the dogs "in severe distress" on the rooftop late in the afternoon heat as temperatures approached 96 degrees.
Niki Dawson, associate director of the Associate Humane Societies said when animal control officers and local police arrived they found a Yorkie and a pit bull "frantically dancing" on the roof, trying to keep the pads of their feet off the melting tar.
"The tar was bubbling, boiling and burning these helpless dogs," the AHS said in a statement on its website. "The Yorkie continuously ran to the edge of the roof to try to find an area that would not burn her further while the pit bull, covered in hot tar, had nearly given up hope. No one was at home at the residence and while there were trays of chicken legs and rice on the roof, there was not a drop of water in sight. Feces covered the roof as well so apparently, this is where these poor dogs live."
The dogs were immediately removed from the hot roof and taken to Animal Emergency Referral Associates - a 24-hour veterinary care center in Garfield - where they've been in treatment for the past few days "at great medical expense," Dawson said.
Both animals suffered burns to their paws and the Yorkie, who Dawson said sat down in the tar at one point, also suffered burns to her tail area. She said the AHS is hoping the dogs will make a full recovery but the exact extent of their injuries is still being determined.
Dawson said authorities are still investigating the situation in an attempt to find out who left the dogs on the roof. She said they plan to "partner with the ASPCA to pursue charges" when they determined who was responsible for the dogs.
The Associated Humane Societies is asking for the public's help in caring for the dogs, as well as the animals that were brought in over the past several weeks due to animal cruelty and hoarding incidents. AHS is asking for donations through it's fundrasing page. Donations can also be sent via texting HumaneHelp to 41444.
Toniann Antonelli is a social content producer for NJ 101.5. She can be reached at toniann.antonelli@townsquaremedia.com, or on Twitter @ToniRadio1015.
More From New Jersey 101.5 FM