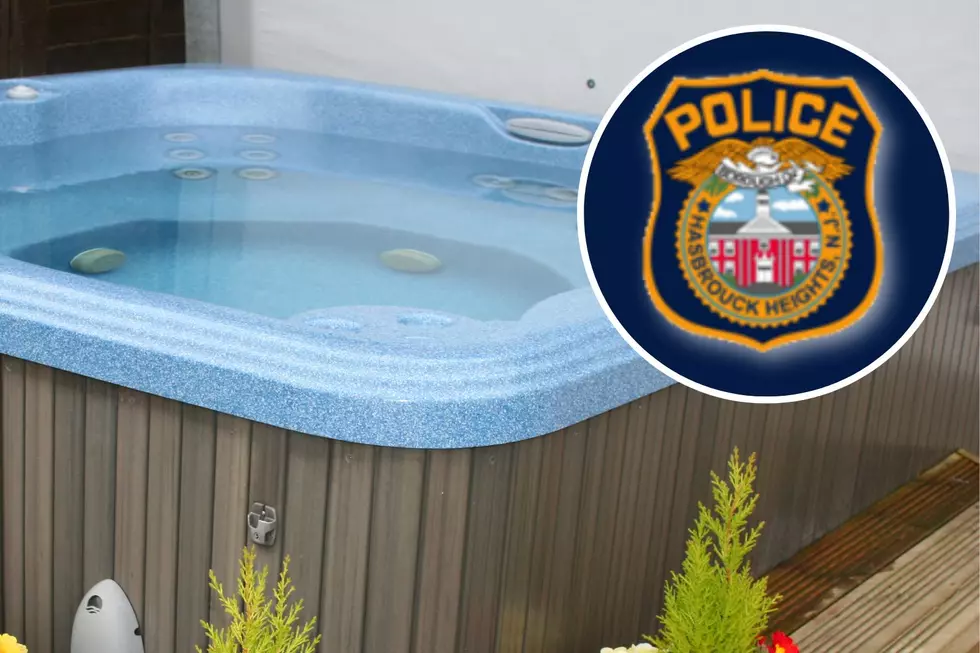 Woman drowns in Hasbrouck Heights, NJ hot tub
Hot tub (Canva), Hasbrouck Heights police shield (Hasbrouck Heights police)
HASBROUCK HEIGHTS — A woman drowned in a hot tub on Tuesday.
Hasbrouck Heights police were called to a house and found an unconscious woman lying on the ground. First responders administered CPR in an attempt to revive the woman but pronounced her dead at the scene.
Investigators determined that no foul play was involved but they continue to investigate the circumstances of the drowning. Police did not disclose the woman's identity or the address of the home.
Hot tub safety
According to the Jacuzzi brand, hot tub bathers should observe certain precautions:
Staying in the tub for more than 20 minutes at a time can cause the body to overheat.
People with high blood pressure or heart conditions should consult with a doctor.
Drinking too much alcohol can cause people to pass out and dehydrate.
Not drinking enough water can cause dehydration and overheating.
Medications that cause drowsiness can result in bathers passing out and overheating.
Drownings in New Jersey
The drowning was at least the 16th across New Jersey since April.
The most recent was a 7-year-old Newark girl who police found drowned at the bottom of a pool that was being rented for a family party in Teaneck. Her mother, Kaylah Johnson, angrily blamed her cousin for not keeping an eye on her daughter during the party.
A 47-year-old Pennsylvania man was pronounced dead at Community Medical Center in Toms River after being pulled from the ocean off Sheridan Avenue in Seaside Heights on Saturday night, according to Seaside Heights Police Chief Tommy Boyd.
Dan Alexander is a reporter for New Jersey 101.5. You can reach him at dan.alexander@townsquaremedia.com
Click here to contact an editor about feedback or a correction for this story.
9 dumb NJ laws they say actually exist
Here's where NJ legal weed is sold
The number of recreational cannabis dispensaries continues to grow, with close to two dozen state approvals given since the first adult recreational sales in the state back in April. Here is where the open sites are located.
These are the best hiking spots in New Jersey
A trip to New Jersey doesn't have to be all about the beach. Our state has some incredible trails, waterfalls, and lakes to enjoy.
From the Pine Barrens to the Appalachian Trail to the hidden gems of New Jersey, you have plenty of options for a great hike. Hiking is such a great way to spend time outdoors and enjoy nature, plus it's a great workout.
Before you go out on the trails and explore some of our listeners' suggestions, I have some tips on hiking etiquette from the
American Hiking Society.
If you are going downhill and run into an uphill hiker, step to the side and give the uphill hiker space. A hiker going uphill has the right of way unless they stop to catch their breath.
Always stay on the trail, you may see side paths, unless they are marked as an official trail, steer clear of them. By going off-trail you may cause damage to the ecosystems around the trail, the plants, and wildlife that live there.
You also do not want to disturb the wildlife you encounter, just keep your distance from the wildlife and continue hiking.
Bicyclists should yield to hikers and horses. Hikers should also yield to horses, but I'm not sure how many horses you will encounter on the trails in New Jersey.
If you are thinking of bringing your dog on your hike, they should be leashed, and make sure to clean up all pet waste.
Lastly, be mindful of the weather, if the trail is too muddy, it's probably best to save your hike for another day.
I asked our listeners for their suggestions of the best hiking spots in New Jersey, check out their suggestions:
More From New Jersey 101.5 FM