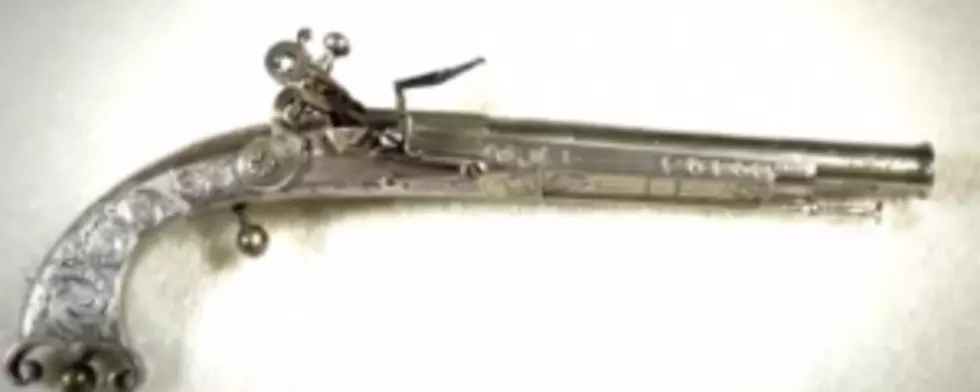 Weapons charges dropped against NJ man stopped with antique pistol
Youtube
Question: if stopped by a cop in New Jersey, are you required to inform as to whether or not you are transporting a legally owned firearm?
I would imagine that if asked, you would do well to tell the cop "yes!"
However doing so might get you arrested. Even if you are licensed to carry a weapon!
Just ask Shaneen Allen of Philadelphia – who while traveling on the Atlantic City Expressway from Philadelphia, where she is a licensed gun holder – was pulled over for a minor traffic infraction – and willingly told the police officer she had a licensed handgun in the car.
According to the Graves Act, New Jersey doesn't allow the average citizen to have concealed weapons even if legally registered. Bottom line in her case was that the attorney general released a clarification to the county prosecutor with respect to out of state visitors where their gun possession is legal – and
Allen is now serving PTI.
Cut to the case of Steffon Josey Davis – an armored car driver who legally owned a handgun, with the intention of going to a gun range – and instead went to meet up with his fiancée.
While driving through Highland Park, he was stopped for an expired registration, went into his glove compartment where he'd forgotten he had left his gun, and seemingly wisely told the police about it.
They took it away from him, and when he went to retrieve it the next business day, was arrested for a second degree crime.
I cite this because of the latest case, the one involving 72 year old Gordon Van Gilder of Port Elizabeth, who, back in November was on his way home after retrieving a nearly-300-year-old flintlock pistol from a Vineland pawn shop. He and the driver of the car were pulled over by Cumberland County sheriff's officers in Millville for driving in a known drug infested area.
As a result of the ensuing reaction to Van Gilder's arrest Cumberland County Prosecutor Jennifer Webb-McCrae exercised prosecutorial discretion and dismissed the (unlawful possession of a weapon) charges in the interest of justice in accordance with," the Graves Act governing firearms offenses in New Jersey.
So I casually mentioned in last night's show, that if you're legally in possession of a firearm and are transporting it from one place to another in New Jersey – and subsequently get stopped by police – why bother telling the police you have a handgun at all – if the possible consequence is getting arrested?
Here's a response I got from one gun owner:
Transporting a firearm to and from a range should never be kept a secret from any officer that stops you for a routine vehicle search for whatever reason. If they search the vehicle for alcohol for example and you decided to withhold the fact you are transporting a firearm THAT is something that will get YOU pinched for non-disclosure, regardless what paper you are holding. On the other hand disclosing you are transporting , which is absolutely legal, (and there are some police officers who make their own rules in their head.) are also responsible for passing inaccurate information on an extremely sensitive and dangerous subject.
A person who is transporting a firearm though the State of New Jersey in the manner permitted by person's possession 18 U.S.C.A. 926A, see Section II above, need not give notice.
Procedures for Investigation of Conduct Involving the Possession or Transportation of Firearms

An officer who reasonably suspects that a person is transporting a firearm in violation of New Jersey law should make reasonable inquiries in order to confirm or dispel that suspicion.

In a case where circumstances reasonably indicate that the person's possession and transportation of the firearms my be permitted by 18 U.S.C.A. 926A, the officer should make reasonable inquiries in order to determine whether the person's possession is permitted by that federal law.

If reasonable inquiries lead an officer to conclude that the person's possession is lawful under either New Jersey law or 18 U.S.C.A. 926A, as described above in Section II, the officer should promptly allow the person to proceed.

Whenever an officer has probable cause to believe that a person's possession of a firearm is in violation of New Jersey law and not permitted by 18 U.S.C.A. 926A, as described above in Section II, then the officer should make an arrest.
It's as confusing as hell, but while I'll admit that I was too glib in advising against telling a cop you're in possession of a legally owned firearm – recent events might dictate otherwise.
Given all this, it might be time to completely overhaul the Graves Act, which only seems to ensnare law abiding citizens.
Is it time to amend the Graves Act?