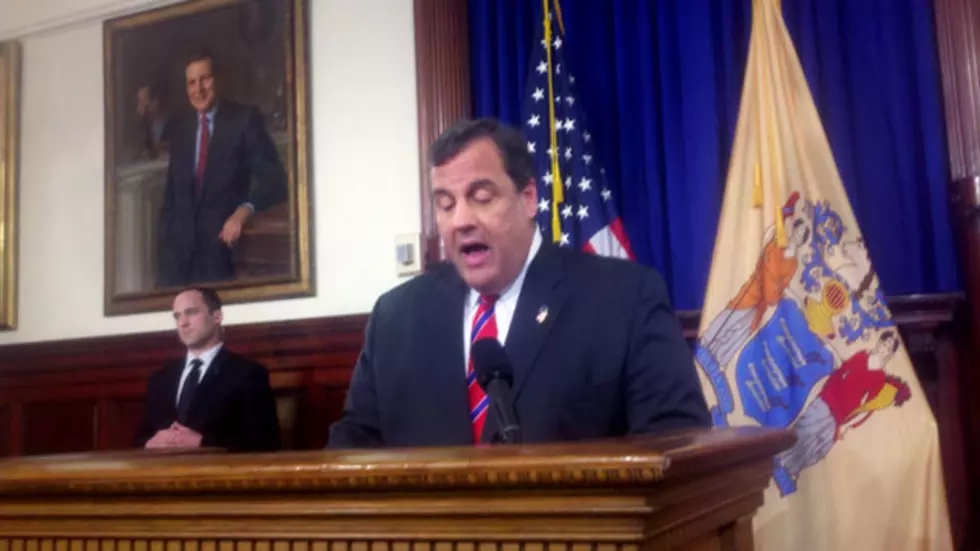 A Combative Christie Meets the Media Again
Gov. Christie at the podium during a press conference at the Statehouse on March 28 (Kevin McArdle, Townsquare Media NJ)
Gov. Chris Christie Friday held his first news conference since his marathon Bridgegate session Jan. 9. Unsurprisingly, Bridgegate dominated this session as well. So the governor brought another headline: The resignation of Port Authority chairman David Samson.

The news conference followed the Thursday release of a report, commissioned by his office, which clears him of any personal involvement in the controversial lane-closings at the George Washington Bridge last September.
"It's an exhaustive report," Christie said. "I told them to find the truth, no matter where it led. . . and to let me know what the truth was. . .  I'm fully embracing reforms as it pertains to my office. . . we owe that to the people of New Jersey and that's what I intend to deliver."
While investigations by the U.S. Attorney and a joint state legislative committee continue, the internal report apparently helped restore the governor's trademark combativeness with the press, as in his response to a question about why he hadn't held a news conference in more than two months.
Christie told the assembled reporters: "My decision was all you would do is ask me about this [Bridgegate]. . . I've held regular press briefings throughout my administration. . . but if I know what you're going to ask and I don't know the answer, why would I submit myself to you?"
As Friday's round of Bridgegate questions turned repetitive, Christie said, "I'm up here trying to very carefully answer your questions, and I don't know whether you can't take notes or you're not listening."
Asked about the impartiality of an investigation conducted by the same law firm that will represent his office in the U.S. Atttorney's inquiry, Christie said it was necessary to bring in an outside law firm to deal with the volume of work required.
"When you have a problem like this, you conduct an internal review to find out what happened and try to prevent these problems in the future," Christie said. "No matter who I chose to do this questions would be raised about objectivity from certain quarters. My answer is, look at the report."
He acknowledged that the report was limited by the lack of access to testimony from several key figures, including his fired former deputy chief of staff, Bridget Kelly, and former PA staffer David Wildstein, who are largely blamed by the report for the lane closing scheme and an ensuring coverup.
"In the end, I don't know if we'll ever know what the motive was," the governor said. "As I said on Jan. 8, it mystifies me on every level, why this was done."
The report seems to indicate there was a traffic study of some kind," Christie said, but added that it seems to have been "blown away" as the actual motivation for the lane closings. Instead, he suggested, the study itself may have been politically motivated, presumably by Wildstein.
The governor said he is likely to be "more searching" about questioning prospective members of his senior staff as a result of the Bridgegate experience.
However, Christie defended his decision not question Kelly directly at the time he fired her, saying it could be viewed as trying to "manipulate or coach" her on potential testimony in ongoing investigations, especially the one still being pursued by the U.S. Attorney. He angrily rebuffed a question suggesting that he "didn't want to know" what Kelly would say.
Kelly's attorney MIchael Critchley Friday issued a statement attacking the internal report and its presentation by Randy Mastro, the attorney who led the review commissioned by Christie's office. He called it a "preemptive strike to isolate Ms. Kelly and impugn her credibility" as the U.S. Attorney continues "the only credible investigation into the lane closings."
"Ms. Kelly is not a liar," Critchley said. "She is a single mother of four children who was deeply devoted and committed to her job at the Office of the Governor. She worked tirelessly to pursue the goals of the Office during her tenure. . . If Ms. Kelly were provided with the appropriate procedural safeguards, she will be fully cooperative and provide truthful and complete answers to any questions asked of her by the appropriate law enforcement authorities."
Critchley also characterized the report and Mastro's Thursday references to a past personal relationship between Kelly and former Christie campaign manager Bill Stepien as "venomous, gratuitous, and inappropriate sexist remarks."
Christie also said Friday: "David Wildstein never was and never has been a close personal friend of mine," adding that Wildstein was brought into the Port Authority by former deputy executive director Bill Baroni. Both men resigned their PA positions in December, as the Bridgegate scandal began to heat up.
"I obviously believe that having David Wildstein at the Port Authority was a mistake," the governor said. "Let's just leave it at that."
Christie said he endorses the internal report's recommendations for structural change at the Port Authority, including "dismantling" the current shared operation with New York in favor of a two separate management structures. The report recommends that a commission be appointed by the two states to study such a change. However, Christie said he had not yet discussed the proposal with New York Gov. Andrew Cuomo.
Christie deflected questions about Bridgegate influencing Samson's decision to step down. He said Samson first raised the possibility of resignation during his re-election campaign last year. "He's 74 years old and he's tired," the governor said. "That's what he told me."
He said he discussed the Bridgegate matter with Samson on Jan. 8 and was satisfied the PA chairman knew nothing about the lane closings. He also defended Samson's handling of the relationships he and his law firm, Wolff & Samson, have with entities doing business with the Port Authority. "I have every confidence in David's integrity," he said. The relationships have been widely criticized as potential conflicts of interest.
In his own statement, Samson said: "Over the past months, I have shared with the Governor my desire to conclude my service to PANYNJ. The timing is now right, and I am confident that the Governor will put new leadership in place to address the many challenges ahead."
However, the governor now appears to be using the internal report clearing him of involvement in Bridgegate to raise his profile in the national spotlight. He did a one-on-one interview in his home with ABC's Diane Sawyer on Thursday night and was scheduled to appear on "The Kelly File" with Megyn Kelly on Fox News Channel on Friday night.
This weekend, Christie will be in Las Vegas at the Venetian resort of 80-year-old GOP super donor Sheldon Adelson who has invited potential candidates to make their pitch to him to win his financial support for a 2016 presidential run. It's a private event except for a question-and-answer session that Christie, Wisconsin Gov. Scott Walker and Ohio Gov. John Kasich will participate.
Adelson and his wife donated more than $90 million to candidates and political groups in 2012, although his total political donations may never be quantified publicly because various politically active groups that operate as nonprofit organizations don't have to report the sources of their funds. He supported Newt Gingrich in 2012 and then shifted to Mitt Romney when the former House speaker dropped out. Also attending: former Florida Gov. Jeb Bush, former Vice President Dick Cheney, former U.N. Ambassador John Bolton and House Speaker John Boehner (R-Ohio).
Christie said Friday he did not know whether he would be meeting with Adelson privately while attending the event.
Kevin McArdle and Associated Press contributed to this report.