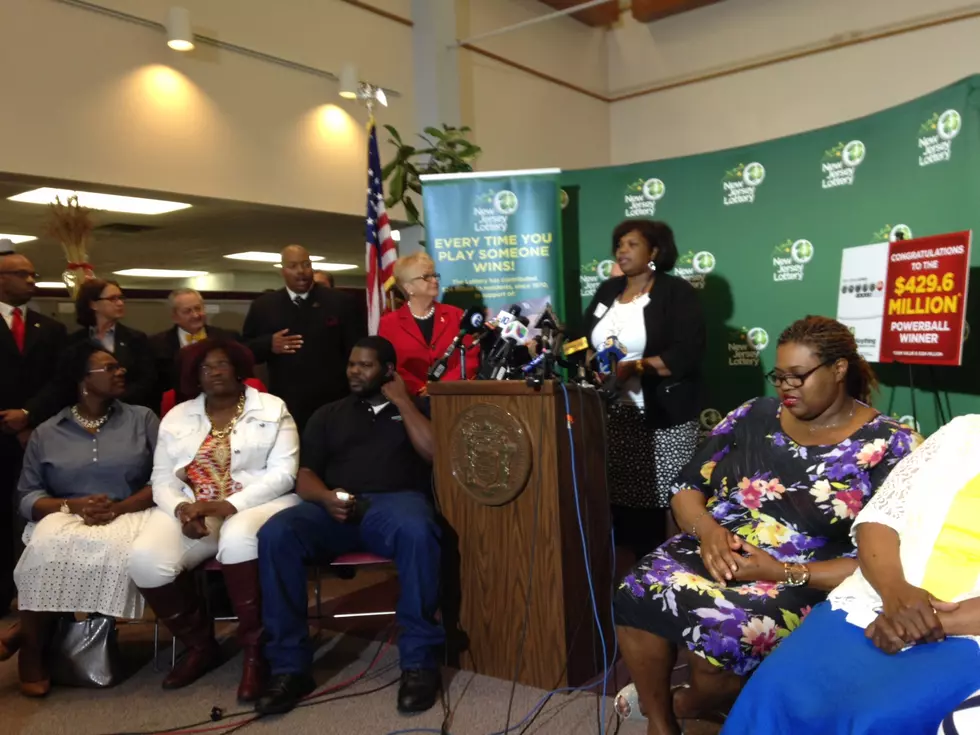 Trenton family wins Powerball jackpot, say numbers came in a dream
The Smith Family of Trenton, winners of the Powerball jackpot, are introduced to the media. (David Matthau, Townsquare Media NJ)
It really does pay to dream!
The winners of the sixth-largest Powerball jackpot ever were revealed Friday afternoon as the Smith family. They will share a $284 million cash-option prize after playing numbers that came to one of the relatives in a dream.
Family spokeswoman Valerie Arthur, the oldest sister, introduced siblings Marsha, Jackie, Tracy, Steven, Rene, Katherine and their mother Pearlie who all come from Trenton. Katherine lives in Newark.
"It was a big shock when we found out we were Powerball winners. It was a bigger shock when we learned we were the only ticket holder," Arthur said during a press conference at New Jersey Lottery headquarters in Lawrenceville.
"It was like an affirmation of the dreams that each of  us have," Arthur said.
Arthur said the family is going to take a long trip and then consider their next move but added  that the family's first priorities are to pay off student loans and mortgages. They plan to tithe 10 percent of the money to their church.
Arthur, who retired after 27 years as a prison administrator for the Department of Corrections, said that once they learned they had won they hired an attorney who assembled a financial team to assess their needs and "help us deal with money." They also wanted to be prepared to face the media and present themselves in the most positive way.
Executive Director Carole Hedinger said that the Smith family turned Friday the 13th from a lucky day into a "blessed day."
7-Eleven owner Andrea Shin received a $30,000 check and status as one of the Lottery's "lucky stores" where a large jackpot has been won.
The $429.6 million annuity prize was the largest jackpot prize ever won by a single New Jersey Lottery ticket. The ticket was purchased as a cash payout and is valued at $284 million.
New Jersey's last Powerball jackpot winner was in 2013 when two of three winning tickets were sold in Monmouth Junction and Little Egg Harbor, sharing a $448 million jackpot with a third winner from Minnesota.  The "Oceans 16" group of  Ocean County employees divided up their share of the jackpot.
David Matthau contributed to this report
More From New Jersey 101.5 FM