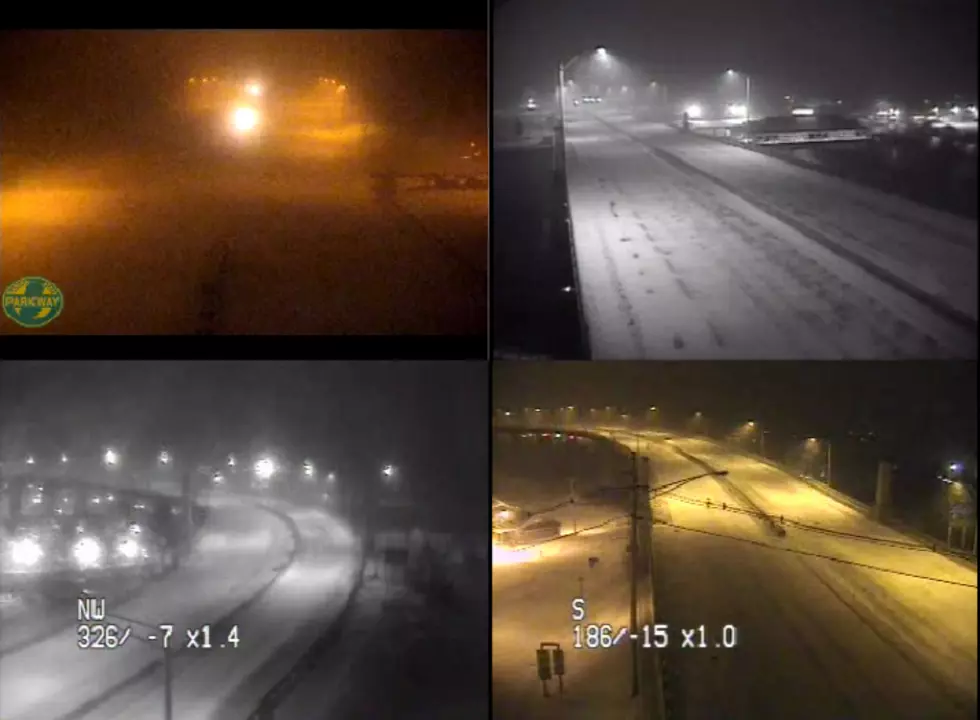 'Blizzard of 2015?' Not so much after all
A series of NJ traffic cameras from the peak of the storm, around 2 AM Tuesday. (NJDOT, NJ Turnpike Authority)
Light snow and a brisk wind will continue for most of Tuesday before quieter and colder weather arrives for the rest of the week.
No, seriously. Every meteorologist from New York to Philadelphia - yours truly included - has their tail between their legs this morning. Double-digit snowfall totals! Measured in feet instead of inches! Well, the highest snow total I've seen so far in New Jersey has been 6 inches... Swing and a miss... By about 50 miles to the east.
The forecast wasn't completely wrong though... Near-blizzard conditions were indeed observed overnight as the heaviest snow band came ashore in Monmouth and Ocean counties. The roads were (and are) downright terrible for a good part of the state, so the State of Emergency, Travel Ban, and NJ Transit shutdown could be justified. And as the snow continues, snow totals will continue to climb... I think we'll see more totals in the 6 to 8 inch range by this afternoon - not an insignificant winter storm.
Sigh... Oh well, live and learn. And there's a lot to learn from this storm and the way yesterday played out. When it came down to it, I tended toward the "worst-case scenario" forecast here. I consider myself a very honest forecaster... but ultimately, I would much rather "bust" a forecast than "miss" a big storm - if I had predicted 3 to 6 inches, and we actually got 3 feet, the public's pitchforks would be even sharper this morning. Nonetheless, I sincerely apologize for letting you down, New Jersey.
Anyway... Onward and upward, and back to the ol' grindstone. Here's a look at today's forecast...
As yesterday's "historic winter storm" pulls away from New Jersey and dumps more snow on New England today, our snow showers will end from south to north by this afternoon. We could still see a few additional inches of accumulation, especially if a heavier snow band decides to push through the state. The wind will not be quite as fierce as yesterday, but a 20 MPH gust will certainly be enough to blow snow in your face and remind you how cold it is.
Skies will gradually clear tonight, and that will lead to some cold temperatures deep into the teens. Wednesday and Thursday daytime will feature mixed sunshine and a cold breeze.
Our next storm system - another Alberta clipper - is currently showing up Thursday evening through Friday morning. At the moment, it doesn't look too impressive. And depending on temperatures, this one may be at least partially rain, especially in South Jersey. Early call is an inch or two of snow at best... but we'll keep an eye on this one as the week progresses.