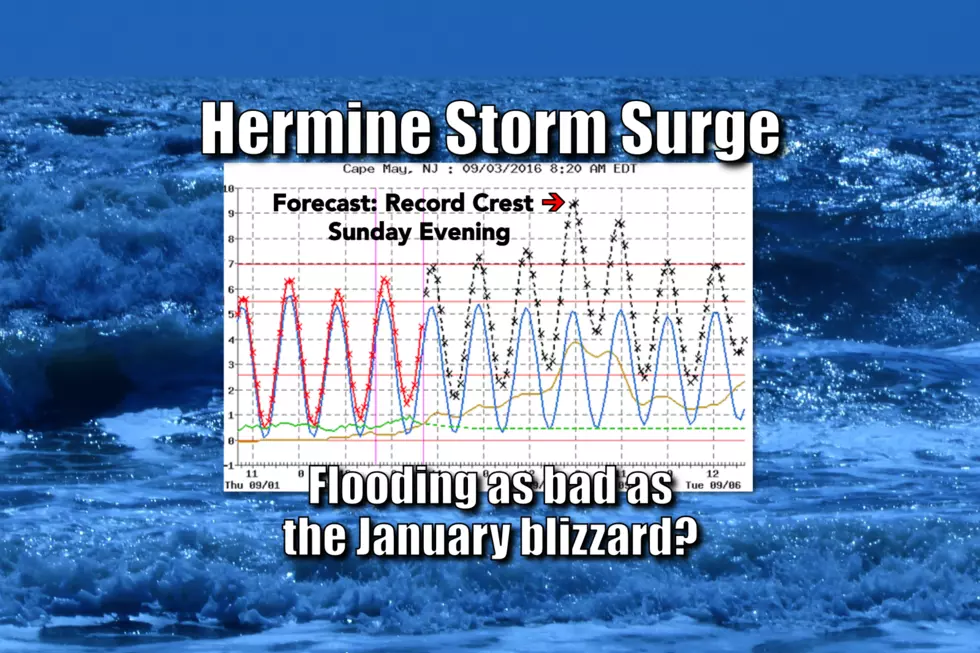 Record surge and flooding expected at the Jersey Shore
The time for hesitation is over: Hermine's storm surge and coastal flooding threat will be severe for the Jersey Shore. (Graph: NOAA / NWS MDL)
As Hermine meanders past the New Jersey coast over the next several days, powerful easterly winds will push a huge amount of water toward the shore.
New Jersey, it is time to get very serious about Hermine's potential impacts along the Jersey Shore, for three reasons:
1.) As Hermine moves over open waters for the next 12 to 24 hours, the storm is expected to re-intensify to hurricane strength.
2.) At the same time, an area of high pressure over New England will "block" the storm, causing it to slow down significantly or stall as it passes the New Jersey coast.
3.) The timing of the storm is awful, coinciding with Labor Day Weekend. The population of shore towns remains swollen from New Jerseyans and tourists alike hoping for one more taste of beach weather before the fall.
Ever since the storm took aim at New Jersey a few days ago, we knew there would be a huge influx of ocean water flung at the Jersey Shore. The latest data suggests that water could cause prolonged major flooding of tidal waterways, 12+ foot ocean waves, and severe beach erosion. In fact, near-record or historic flooding is currently forecast to occur along New Jersey's southern coast, especially in Atlantic and Cape May counties.
Remember the dramatic flooding from January's blizzard? Remember Governor Christie asking if he should bring a mop to flood-stricken South Jersey? No hyperbole in this forecast: That is the magnitude of flooding that is possible from Hermine.
The Bottom Line: The worst coastal flooding will occur at the twice-daily time of high tide. The absolute worst surge and coastal flooding are expected during Sunday evening's high tide cycle.
I'll let the data and forecasts speak for themselves. New Jersey has three oceanfront tide gauges for which the National Weather Service provides comprehensive surge guidance and forecasts: Sandy Hook, Atlantic City, and Cape May. I've put together an analysis of the Hermine forecast for each.
Note: Data and forecasts accurate as of 8:20 a.m. EDT Saturday, and reflects the old datum "Mean Lower Low Water" to make historical comparisons possible.
---
Cape May
Friday 10:12 p.m. (Pre-storm Observation Benchmark) - 6.39 feet
Saturday 10:35 a.m. - 6.85 feet (Surge: 1.0 foot)
Saturday 10:49 p.m. - 7.24 feet (Surge: 1.4 feet)
Sunday 11:12 a.m. - 7.51 feet (Surge: 1.8 feet)
Sunday 11:27 p.m. - 9.41 feet (Surge: 3.9 feet)
Monday 11:50 a.m. - 8.62 feet (Surge: 3.4 feet)
Tuesday 12:06 a.m. - 7.05 feet (Surge: 1.7 feet)
Tuesday 12:30 p.m. - 6.89 feet (Surge: 1.4 feet)
Flood Categories:
Major Flood Stage: 8.7 feet
Moderate Flood Stage: 7.7 feet
Flood Stage: 6.7 feet
Action Stage: 6.2 feet
Historic Crests:
(1) 9.00 ft on 01/23/2016 (Blizzard)
(2) 8.90 ft on 10/29/2012 (Sandy)
(3) 8.80 ft on 09/27/1985
(4) 8.70 ft on 10/29/2011 (Halloween snowstorm)
(5) 8.70 ft on 10/25/1980
Recent Crests:
(1) 8.10 ft on 02/09/2016
(2) 9.00 ft on 01/23/2016
(3) 7.70 ft on 01/10/2016
(4) 8.00 ft on 10/02/2015
(5) 7.80 ft on 12/09/2014
---
Atlantic City
Expected High Tides:
Friday 9:03 p.m. (Pre-storm Observation Benchmark) - 5.55 feet
Saturday 9:29 a.m. - 5.67 feet (Surge: 0.7 feet)
Saturday 9:40 p.m. - 6.24 feet (Surge: 1.2 feet)
Sunday 10:07 a.m. - 6.72 feet (Surge: 1.8 feet)
Sunday 10:17 p.m. - 8.81 feet (Surge: 4.1 feet)
Monday 10:45 a.m. - 7.61 feet (Surge: 3.1 feet)
Monday 10:55 p.m. - 6.35 feet (Surge: 1.8 feet)
Tuesday 11:25 a.m. - 6.65 feet (Surge: 2.0 feet)
Flood Categories:
Major Flood Stage: 8 feet
Moderate Flood Stage: 7 feet
Flood Stage: 6 feet
Action Stage: 5.5 feet
Historic Crests:
(1) 9.00 ft on 12/11/1992
(2) 8.80 ft on 10/29/2012 (Sandy)
(3) 8.80 ft on 09/14/1944
(4) 8.60 ft on 10/31/1991
(5) 8.60 ft on 09/27/1985
Recent Crests:
(1) 7.20 ft on 02/08/2016
(2) 7.80 ft on 01/23/2016 (Blizzard)
(3) 7.20 ft on 01/10/2016
(4) 7.00 ft on 10/02/2015
(5) 7.00 ft on 12/09/2014
---
Sandy Hook
Expected High Tides:
Friday 9:23 p.m. (Pre-storm Observation Benchmark) - 5.97 feet
Saturday 9:53 a.m. - 6.33 feet (Surge: 0.4 feet)
Saturday 10:03 p.m. - 6.27 feet (Surge: 0.6 feet)
Sunday 10:34 a.m. - 6.76 feet (Surge: 1.2 feet)
Sunday 10:44 p.m. - 8.17 feet (Surge: 2.9 feet)
Monday 11:15 a.m. - 6.98 feet (Surge: 1.5 feet)
Monday 11:27 p.m. - 6.16 feet (Surge: 1.1 feet)
Tuesday 11:58 a.m. - 6.94 feet (Surge: 1.6 feet)
Flood Categories:
Major Flood Stage: 8.7 feet
Moderate Flood Stage: 7.7 feet
Flood Stage: 6.7 feet
Action Stage: 6.2 feet
Historic Crests:
(1) 14.40 ft on 10/29/2012 (Sandy)
(2) 10.10 ft on 09/12/1960
(3) 10.10 ft on 12/11/1992
(4) 9.80 ft on 08/28/2011 (Irene)
(5) 9.70 ft on 11/07/1953
Recent Crests:
(1) 8.20 ft on 02/08/2016
(2) 7.90 ft on 01/23/2016 (Blizzard)
(3) 8.00 ft on 01/10/2016
(4) 7.70 ft on 04/29/2014
(5) 7.70 ft on 01/03/2014
---
Data Sources
More From New Jersey 101.5 FM