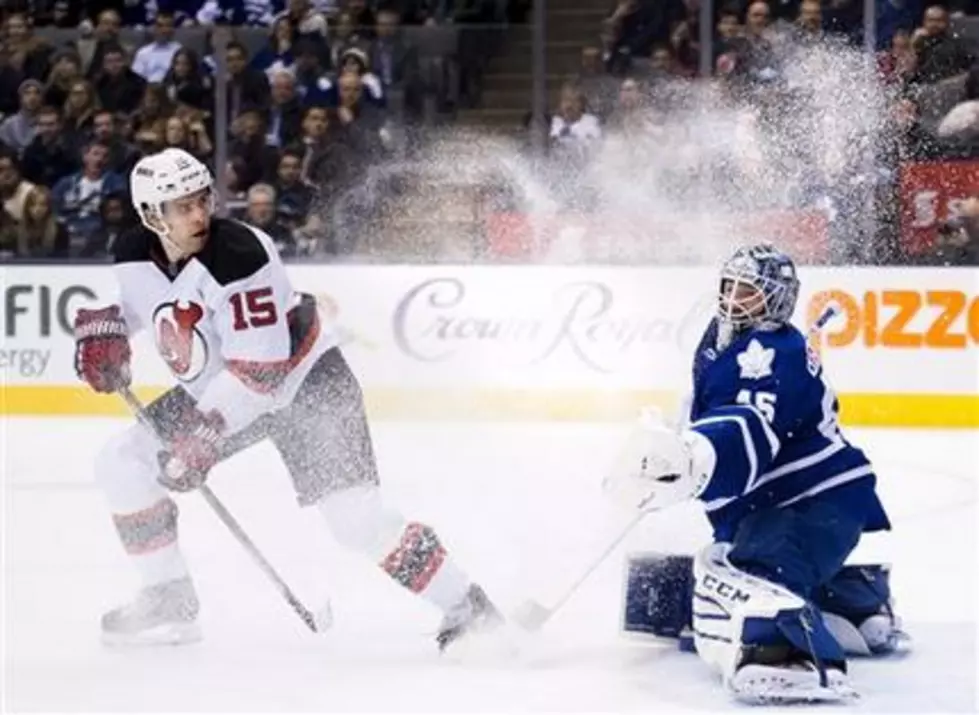 Power-play goals help Devils defeat Maple Leafs
Toronto Maple Leafs goalie Jonathan Bernier, right, gets snowed from New Jersey Devils forward Tuomo Ruutu (15) during the first period of an NHL hockey game, Thursday, Dec. 4, 2014 in Toronto. (AP Photo/The Canadian Press, Nathan Denette)
TORONTO (AP) -- Mike Cammalleri and Eric Gelinas scored power-play goals and the New Jersey Devils defeated the Toronto Maple Leafs 5-3 on Thursday night.
The Maple Leafs had earned points in five straight games. They hadn't lost in regulation since a 9-2 rout by Nashville on Nov. 18.
Stephen Gionta, Steve Bernier and Adam Henrique had the other goals for New Jersey.
Mike Santorelli, Nazem Kadri and Phil Kessel scored for the Maple Leafs.
Gelinas scored the only goal of the first period. With Cody Franson in the penalty box for interference, Gelinas got his third goal of the season at 4:53 with a shot from the top of the faceoff circle that handcuffed Jonathan Bernier.
Toronto tied it early in the second when Santorelli tipped in a floating shot by Joffrey Lupul for his fourth goal.
A few minutes later, Bernier controlled the puck behind the net and made a nice pass to Gionta in front, who scored his first goal.
Kadri made it 2-all with a short-handed goal at 11:14 of the middle period.
Cammalleri's 11th goal put New Jersey ahead for good. He scored at 16:48 after Lupul was sent off for boarding.
In the third period, Bernier gave the Devils a two-goal cushion at 6:12 with his second goal of the season. Henrique added an insurance goal, his seventh, at 11:58.
The Maple Leafs pulled their goaltender and Kessel scored his 13th goal at 19:25.
NOTES: The Maple Leafs continue their five-game homestand Saturday night against the Vancouver Canucks. The Devils return home Saturday to play the Washington Capitals. ... New Jersey forward Jaromir Jagr and defenseman Adam Larsson were scratched due to flu-like symptoms. Devils forward Patrik Elias sat out with a groin injury. ... The Toronto scratches were forward Leo Komarov (concussion) and defenseman Roman Polak (knee).