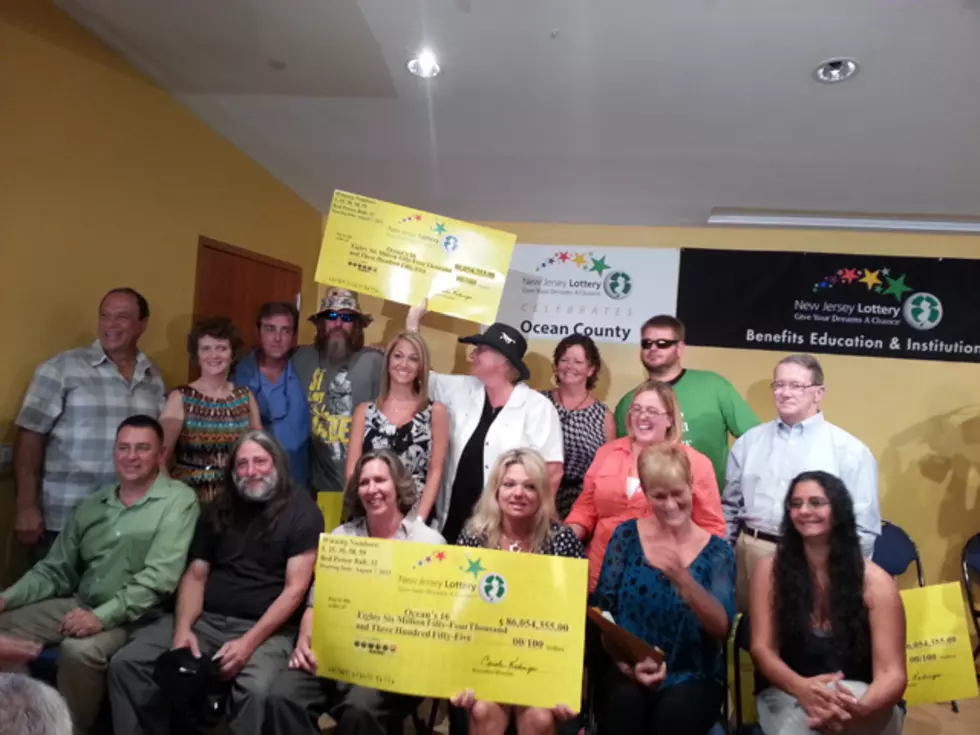 "Ocean County 16" Celebrate Massive Powerball Victory [VIDEO]
"Ocean's 16" Powerball winners at press conference in Toms River (Ilya Hemlin, Townsquare Media NJ)
Sixteen everyday Ocean County residents are finding themselves instant millionaires after discovering they had one of the three winning Powerball tickets.
The group, dubbed the Ocean 16, are all employees of the Ocean County Vehicle Maintenance Center will be splitting a little over sixty eight million dollars-over three million each after state and federal taxes.
The winning ticket was purchased at an Acme Supermarket in Little Egg Harbor by Lisa Presutto, who decided to pick up the fated ticket while running some errands.
"I went to Acme that day to pick up our group tickets because I needed to pick up my prescriptions from the pharmacy and I needed to pick up a few things for dinner. So Acme it was."
Pressutto, who says the group puts in for lotto tickets regularly "whenever the jackpot gets big", was also the first to discover she had the winning ticket.
The majority of the group has no plans to retire early, or even quit their job anytime soon. Joseph Odoardo, so far is the only member to end his working career after winning the money. He said he actually considered filing for retirement last year.
"It's just a miracle and shocking and after thirty four years and almost retiring last year, you just don't have another choice."
Enjoying Their Free Time
While they won't be saying goodbye to their jobs (for the time being), several of the remaining members said they will be enjoying their free time a little bit more. William "Willie" Seeley, a volunteer firefighter, said he will still be watching NASCAR every weekend.
"Maybe I'll be on my log cabin on multiple acres of land." He joked.
The money will also come as much needed relief as several members of the sixteen are still recovering from Superstorm Sandy. Winner Darlene Riccio was displaced from her apartment in Brick Township by the storm, and has big dreams now that she has money to spend.
"I stayed with my brother for a few months and then got an apartment above a store front, so the first thing I'm going to do is buy me and my daughter a home and bring my dog back home."
In a piece of remarkable coincidence, one of the winners, Barbara Jo Riivald, is also the daughter of the late State Senator John F. Brown-known as "the father of the New Jersey Lottery" and an early proponent of casino gambling in Atlantic City.
"When we actually hit this lottery I never in my mind thought about my father being the father of the lottery, and when I called my sister she said 'Oh my gosh Barb, dad is just smiling down from heaven, it's his lottery'".
The Ocean County winners aren't the only lucky Garden Staters after August 7th's $448 million dollar drawing, the state's second winning ticket was sold at a Stop & Shop supermarket on Route 522 in South Brunswick. The third winning ticket was sold in Minnesota.
This continues a streak of luck for New Jersey. The Garden State has seen six winning tickets for multi-state lotto drawings in 2013.
The "Ocean's 16" (Source; NJ Lottery)
Ralston K. Chalfant Jr.
Peter R. Cherkos
Joseph D'Angelo
June M. Delgado
Robert H. Heinen
Dorothy A. Kulina
Tabitha A. Long
Brian W. McCarthy
Susan M. Nickel
Joseph R. Odoardo
Lisa K. Presutto
Darlene M. Riccio
Barbara Jo Riivald
Eleine Sanchez
William L. Seeley
Donna Cinque-Stasse
Neither the winners nor the lottery would provide the hometowns of the winners.
More From New Jersey 101.5 FM