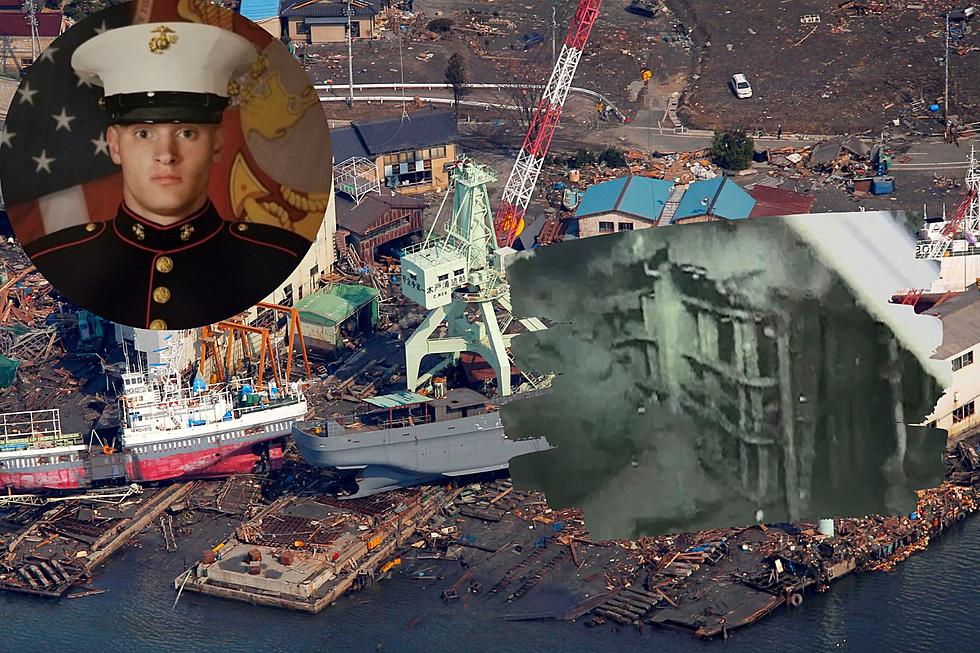 NJ Marine dying of cancer after nuclear disaster – Can you help?
Darren Chambers/AP/Townsquare Media illustration
🔺 NJ Marine struggling with cancer after helping at Fukushima, Japan
🔺 Darren Chambers has an 11-year-old son and an infant daughter
🔺 U.S. Military refuses to cover his cancer treatments
---
A New Jersey Marine is pleading for help as he fights cancer he and his doctor say is from radiation exposure while serving in Japan.
When the Fukushima power plant was hit by a massive tsunami in 2011 it triggered a major nuclear accident. The United States rushed servicemen and women to the area to help render aid.
32-year-old Darren Chambers is from Barnegat Township, but says his mom moved them around a lot. "I didn't have a very good childhood," he recently told former Gov. Jim McGreevey on McGreevey's video podcast "Second Chances."
While he was attending Southern Regional High School in Manahawkin, he confesses to being "misguided" as a youth. "I didn't have a father growing up. I needed discipline and structure," he says, "I looked to the Marine Corps for that."
He was among the Marines who joined the humanitarian response effort to the Fukushima disaster in what was dubbed "Operation Tomodachi," or "Operation Friendship."
Chambers was among a group of Marines who were honored for their service by then-Vice President Joe Biden.
More than a decade later, Chambers is suffering from an aggressive form of skin cancer that is now attacking the organs in his body. The prognosis is dire.
His cancer diagnosis, however, is not unique.
Three years after the disaster, and U.S. relief response, more than 100 Marines and Navy sailors filed a lawsuit alleging exposure to radiation led to a variety of negative health effects. This included thyroid cancer, testicular cancer, brain cancer and more.
Many service members also reported inexplicable health problems including black outs, exhaustion and an overall sense of malaise.
All of those symptoms and diseases could be linked to radiation exposure.
For Chambers, he says his symptoms emerged quickly after exposure. He says felt ill at ease and somehow changed.
Complicating his situation was a downward spiral of self-medication, including drug use and drinking to excess. This severely impacted the performance of his duties.
He was ultimately given an Other Than Honorable (OTH) discharge from the Marine Corps. He is continuing to appeal the classification, claiming it was due to the sickness brought on by radiation exposure.
U.S. military won't cover Darren's treatment
As a result of the OTH discharge, Chambers is not eligible for treatment at a Veterans Hospital. The military has refused to classify his cancer as service related, and private medical costs are mounting. Chambers has been forced to leave his home.
Any hope of beating the cancer will require year-long series of aggressive treatments.
He has started a GoFundMe campaign to help with treatments and to support his children.
"I have a 3-month-old daughter and a 11-year-old son," he wrote, "I really want to be around to raise my family."
In the meantime, his medical team, led by Hackensack Meridian Health oncologist, Dr. Evan Naylor, has petitioned the U.S. military to acknowledge the link between Chambers' cancer and his deployment in Japan.
"There is a clear link between exposure to nuclear radiation and the development of melanoma," Naylor writes in a letter dated March 29, "Nuclear radiation is a type of ionizing radiation that is produced by the decay of radioactive isotopes, such as those found in nuclear reactors or weapons."
Chambers is also being helped by McGreevey's New Jersey Reentry Corporation. They are working to upgrade his discharge classification while working to secure VA health benefits and voluntary contributions, according to McGreevey.
New Jersey 101.5 has reached out to the U.S. military for comment.  As of publication they have yet to respond.
Eric Scott is the senior political director and anchor for New Jersey 101.5. You can reach him at eric.scott@townsquaremedia.com
Click here to contact an editor about feedback or a correction for this story.
What would happen to NJ if we were attacked by nuclear weapons?
We used
NUKEMAP by Alex Wellerstein
to see what would happen if a nuclear warhead hit New York, Philadelphia, Washington or New Jersey.
The models show what would happen in aerial detonation, meaning the bomb would be set off in the sky, causing considerable damage to structures and people below; or what would happen in a ground detonation, which would have the alarming result of nuclear fallout. The models do not take into account the number of casualties that would result from fallout.
How much does the average NJ home cost? Median prices by county
Everything is costing more these days — and housing is certainly no exception in New Jersey.
Data for 2022 from January through August, compiled by New Jersey Realtors, shows that South Jersey has been seeing homes hit the market and sell in less than a month, on average.
Median prices for single-family homes have reached $500,000 and above in nine counties in North and Central Jersey.
All but two counties have seen houses go for more than the list price, on average, this year.
States with the most registered hunters
Stacker
analyzed data from the U.S. Fish and Wildlife Service to determine which states have the most registered hunters. Read on to see how your state ranks on Stacker's list.
More From New Jersey 101.5 FM