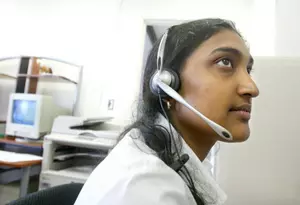 NJ could start prosecuting telemarketers under fraud law
(Mario Tama, Getty Images)
We keep talking about it, but the problem keeps getting worse and worse.
New Jersey residents are being swamped by calls from telemarketers, at all hours of the day and night.
Most of these calls are simply annoying, but some are hostile, misleading and threatening. So lawmakers in the Assembly are pushing a plan in an effort to stop the abuse.
Legislation released by the Assembly Consumer Affairs Committee would establish a telemarketing fraud investigation unit within the state Division of Consumer Affairs.
This special unit, under the control of the Attorney General's Office, would focus on telemarketing fraud and try to identify the perpetrators and bring them to justice, said committee chairman Paul Moriarty, D-Gloucester.
Moriarty said telemarketing fraud is spiraling out of control.
"People are being called up by people posing as IRS agents and being intimidated, and they end up giving information or making payments," he said. "It's really a major problem, especially for people that aren't so sophisticated as to these types of fraudulent activities."
He acknowledged in some cases cracking down on these fraudsters is difficult because they're based in other countries, using technology to disguise their activity. But he said more can and should be done.
"We need to hold press conferences and bring the victims out and alert people to what's going on, how to avoid it and how not to be intimidated," he said. "We need to speak more about this because people are being harmed every day, some people are losing their life's money — I mean their entire worth."
Assemblywoman Nancy Pinkin,D-Middlesex, one of the prime sponsors of the bill, said the issue of telemarketer fraud must be addressed immediately.
"It's really interrupting people's personal lives to the point people are not answering their phone because three quarters of the calls are telemarketers," she said. "The abuse is continuing and expanding, so I think it's important to be able to get back to your right to having a telephone and to be able to use it for your own purposes."
She also noted people are getting these calls even if they're on the Do Not Call registry, and in many cases you can't figure out where a call is from because it's simply listed as "unidentified" or "restricted."
Moriarty added "people are increasingly calling me and everyone else on their cell phones, and perpetrating these same types of frauds. It used to be a safe-zone, the cell phone. No more. People are calling every day."
The legislation specifies the fraud unit would investigate complaints of :
• Unsolicited telemarketing sales calls from unregistered telemarketers
• Telemarketing calls made in violation of the division's no call list
• Telemarketing calls in which the telemarketer does not promptly provide identifying information for the person on behalf of whom the call is made or the purpose of the call
• Telemarketing calls received between the hours of 9 p.m. and 8 a.m.
• Telemarketing calls made using caller identification blocking methods
• Telemarketing calls made to any commercial mobile services device
• Any other consumer complaints related to telemarketing practices as determined by the director.