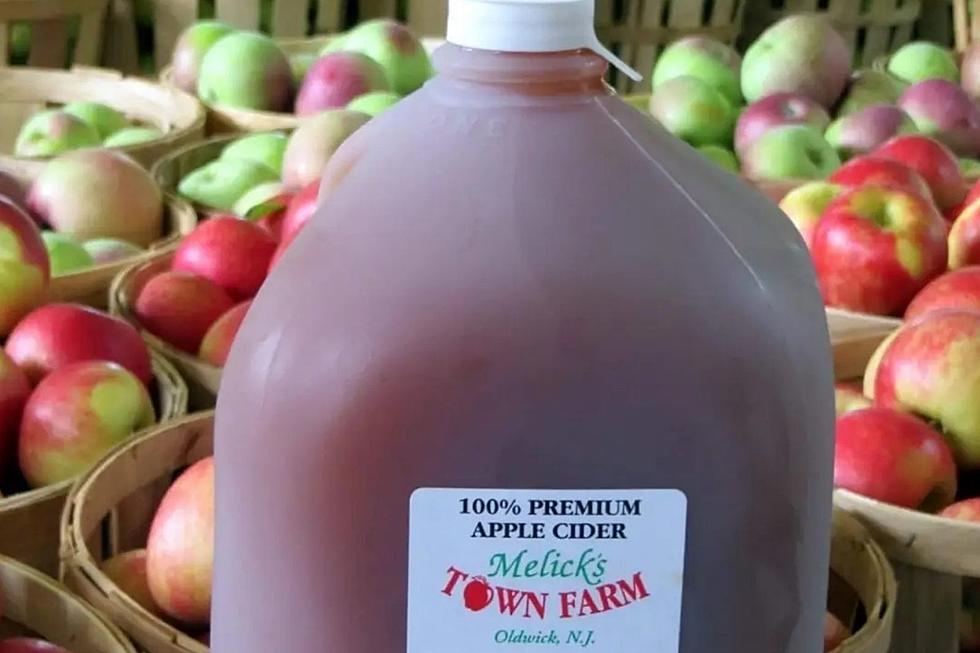 Cool day trip: Check out New Jersey's cider mills this fall
(courtesy Melick's Town Farm via Facebook)
🍎 New Jersey is home to seven cider mills
🍎 Learn how to make apple cider and sample locally made cider
🍎 Many of the cider mills offer seasonal baked goods to compliment the drinks
---
The crisp, fall air is starting to seep into the Garden State. September will soon spill into October. It's the perfect season for hoodies, bonfires, pumpkins, and hot apple cider.
A cider mill or a cidery, as it is called, is the location and equipment used to crush apples into apple juice for use in making apple cider.
While you can visit a New Jersey cider mill all year long, autumn just seems like the cozy, comfy season to go and sample some fresh homemade apple cider.
Hacklebarney Farms Cider Mill
104 State Park Rd, Chester Township
Open 10 a.m. to 5 p.m. Closed Tuesday and Wednesday
If you visit Hacklebarney Farms Cider Mill on the weekends through early November, this seventh generation-owned farm offers a cider hot dog lunch while visiting the cider mill and the farm.
Cider hot dogs are cooked in the farm's fresh-made apple cider. Top it with cider kraut, which has a touch of sweetness from the cider and apples they add. Side dishes include cider baked beans and cider chili. Wash it down with cider by the glass or cider slushies.
After lunch, head to the corn maze, apple orchard or pumpkin patch. Watch the staff press the apple cider and learn more about the farm.
Finish the day with a cider donut, maple bacon cider, or a pumpkin cider donut.
Enjoy other baked delights like apple dumplings, cider mill crumb cake, and pies of every flavor.
In September, enjoy seasonal pies such as peach, peach blueberry, and peach raspberry. In October, look out for Kentucky bourbon pumpkin praline pie, and Kentucky bourbon apple praline pie.
Finish your visit with a cider float!
Burnt Mills Cider
3540 US-206, Bedminster
Open Wednesday through Friday from 4 p.m. to 9 p.m., Saturday from 12 p.m. to 9 p.m., and Sunday from 12 p.m. to 6 p.m. Closed Monday and Tuesday
If hard apple cider is your thing, then Burnt Mills Cider is the place to go.
"In choosing Burnt Mills, which refers to a section of town with an impressive bit of Revolutionary-era history, we drew a connection with the local area and with our state's long history of cider making," according to a statement on the farm's website.
The tasting room is open to the public where you can enjoy crafted-on-site ciders. Gather with friends either inside or in the outdoor space. Play cornhole, make s'mores, or just relax.
There is a core lineup of year-round ciders on tap. From hops-infused series to the ginger cider, there's a great rotation of seasonal and experimental ciders.
Some cider flavors include:
Cider Moon: blood orange, fresh coriander with subtle black pepper finish
Jersey Devil: watermelon, fresh jalapeno, and Tajin seasoning
Sour Cherry: made with Montmorency and Balaton cherries. This cider is tart with balancing sweetness on the finish
Fall Spice: apple pie in a glass
Melick's Town Farm - Oldwick Cider Mill & Orchard
19 King St, Oldwick
Open 7 days a week from 9 a.m. to 6 p.m.
Melick's Farm is the largest apple grower in New Jersey with over 650 acres of land including 120 acres of fruit trees, 4,000 peach, nectarine, and plum trees, and get this….20,000 apple trees!
Melick's Town Farm presses their own fresh apple cider plus they have hard cider and apple wine.
The apples in the hard cider are handpicked and crafted into cider on a traditional rack and cloth cider press. It's then fermented in small batches to preserve the unique character of the farm.
Their Jersey Ginger hard cider combines fresh ginger, a touch of sweetness, and a blend of old and new-world cider apples
The Lemon Shandy hard cider combines a blend of apples, lemons, and pure cane sugar.
George's Tart Cherry is a traditional 1728 hard cider that combines champagne yeast with old and new world cider apples
Ralston Cider Mill
336 Mendham Rd W, Mendham Township
Open by appointment only
Ralston Cider Mill is the only operational cider mill functioning as a privately funded museum and educational experience for students of all ages.
See how water power is transferred by shafts, pulleys, and belts to drive conveyors, choppers and large powerful presses.
A guided tour outlines the history of the mill from a grist mill to a cider mill and applejack distillery.
You'll see a video explaining the step by step process of apple cider production.
Enjoy the tour while enjoying apple cider drinks.
If you dare, ask about their resident ghosts.
Apgars Cider Press
352 Harmony Brass Castle Rd, Phillipsburg
Open seven days a week from 10 a.m. to 5 p.m.
In existence for almost 100 years, Apgars Cider Press offers homemade cider, apples, peaches, pumpkins, mums, corn stalks, and sour cherries. They're open until Christmas Eve.
Alstede Farms Cider Mill
1 Alstede Farms Ln, Chester
Open seven days a week from 9 a.m. to 6 p.m.
Alstede Farms creates fresh-tasting local apple cider right on the farm, starting with a variety of their own fresh-picked apples. They use different varieties of apples in the cider so it's not too tart and not too sweet.
The cider is bottled right on the farm in the cider mill and offered in gallon, half-gallon, and pint-sized bottles.
Cider is pressed weekly.
Public tours are available.
Don't forget to pick your own fruits and veggies on the farm. Alstede also features wine tastings from Tomasello Winery, a farm store, homemade ice cream, and so much more.
Ironbound Farm and Ciderhouse
360 Co Rd 579, Asbury, NJ
Open Thursday and Friday from 4 p.m. to 9 p.m., Saturday from 12 p.m. to 9 p.m. and Sunday from 12 p.m. to 8 p.m.
The Ciderhouse at Ironbound Farm offers artisan hard cider and a menu inspired by the seasonal harvest of the farm. The Ciderhouse is open year-round offering a rotating selection of limited-release hard ciders, as well as other cider cocktails.
The farm's original hard cider is a blend of freshly pressed local bittersweet and sweet apples.
Try the Devil's Devil's Harvest Cider which is infused with tart cherries, wild Pinelands cranberries, and a hint of white pepper.
Ironbound also makes food-friendly ciders that pair with the dishes on its farm-to-table menu.
Be sure to visit one of New Jersey's cider mills this fall, or all seven if you can!
Report a correction 👈 | 👉 Contact our newsroom
NJ street fairs return for the 2023 fall season
All New Jersey street fairs are listed in date order. Please note that some dates may have passed for the fall season.
More From New Jersey 101.5 FM