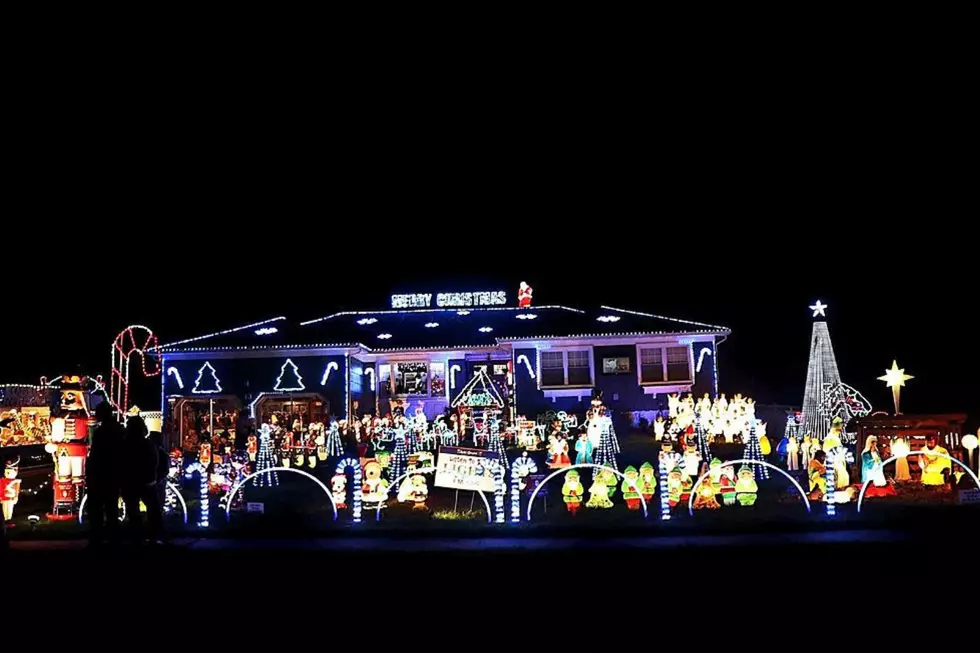 'Lights on Glendale' — this incredible Manalapan Christmas house gets better every year!
Photo: Vanessa Antanies
It's the Christmas house you need to experience, and it's located at 13 Glendale Drive in Manalapan.
Here's where you can join their Facebook group and see all the posted videos.
It belongs to Vanessa & Nick Antanies, and every year they take it to another level making it even better than the year before.
It's become a staple in town that people line up to see, and I spoke with Vanessa by Facebook about this year's version:
When did the decorating begin?
We started putting everything up in the beginning of October; the computer programming gave Nick a run for his money this year for sure. A lot of pixels burnt out and had to be replaced, it wasn't fun lol, but "St Nick" as I like to call him, has the patience of a saint!
What's new this year?
We have everything the same except a few added pieces. I worked on the Disney scene, restoring a few pieces. I had to redress Minnie and touch up some paint. Goofy had a whole epoxy makeover! The whole scene came together nicely with Goofy decorating the tree!"
We added an arch across the driveway that reads "North Pole" and it is in sync with the music. We've added several new pieces to the lawn...the kids love finding all the new stuff!!

 

It's also snowing at Lights On Glendale this year! We added a snow machine for the full effect!

 

We have Santa, Mrs. Claus, The Grinch, and Buddy The Elf this year! They make appearances on the weekends, weather permitting
How do your neighbors feel about your house?
I would say 99% of our neighbors love our display! Some come by on a daily basis, either to watch the progress or to come to see where the "elf" moved that day. Yes, we have one of Santas Elves in our garage scene that moves almost daily, so he can keep an eye on all the kids! We want this to be a positive experience for all kids and adults! We are not looking for any issues, and we would hope that if anyone had an issue they would come to us.
Each year you raise money for a different charity.
This year we decided to raise money for a local charity in Asbury. They help the poorest of poor families and foster children. (They are not allowed to fundraise, so I'm not allowed to post the name) And also, PJs for We Are Loved! Every year we try to change the charity, so we can spread the love around!
You must have some incredibly heartwarming stories of the people who come to see your house.
Stories....oh boy, we have stories for days...
We cry almost on a nightly basis...there are groups that come from foster care with vans full of children, kids that have nothing. Its so sad. The other night, a little boy came by with his family, he had a walking stick (he was blind) but he felt the excitement, listening to the music and feeling the energy.

 

There's another family with 2 grown disabled boys, they come by often. The one boy hugged my husband last week and the mom said, OH my he doesn't hug anyone! They love watching the progress. And then we have Abigayle!!!

 

Abigail is our neighbor that MUST come by every night, either before or after dinner- she is like our little helper. She lets us know if anything is out of place or what songs the kids will like. She's our favorite little advisor!
These children and families bring US as much joy and satisfaction as we bring them.
Putting up this display takes a lot of work, sleepless nights, fights, money, and dedication- but the reward of seeing these children's faces is worth every minute of it!!
Don't forget to drop your Santa letters in the Santa mailbox, Santa writes all the kids back!
Opinions expressed in the post above are those of New Jersey 101.5 talk show host Steve Trevelise only. Follow him on Twitter @realstevetrev.
You can now listen to Steve Trevelise — On Demand! Discover more about New Jersey's personalities and what makes the Garden State interesting . Download the Steve Trevelise show wherever you get podcasts, on our free app, or listen right now.
Click here to contact an editor about feedback or a correction for this story.
PICTURES: Look Inside Dolly Parton's Longtime Nashville Home
Dolly Parton's surprisingly humble former home in Nashville has finally sold, after many years on and off the market. Parton and her husband, Carl Dean, purchased the 4-bedroom, 2-bathroom home in 1980, and they owned it until 1996. It's been on and off the market for 12 years, finally selling for $849,000 in December of 2021.
Best Albums of 2022
Below, check out 2022's best pop albums according to PopCrush.
More From New Jersey 101.5 FM