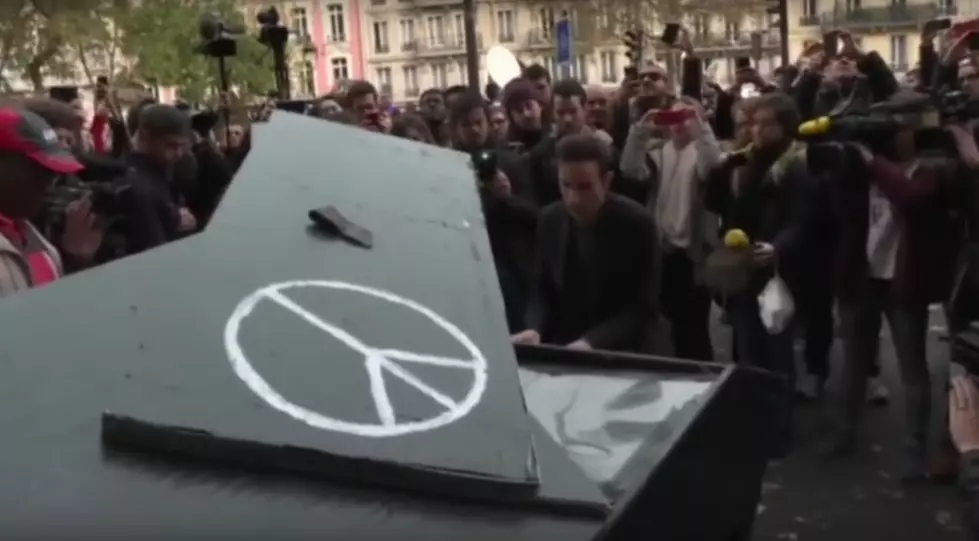 John Lennon's 'Imagine' performed at Betaclan Theatre in Paris
Photo Credit: Screengrab Ron Buser YouTube
"Imagine" by John Lennon is known as one of the greatest songs of all time and a song of peace and hope. One musician decided to perform that legendary song in a place that has been surrounded by tragedy over the past few days.
The presence of John Lennon's peaceful message could be felt outside the Betaclan Theatre which was attacked Friday night by terrorists. A man decided that the area in and around the theatre was not going to be a place of fear and hatred, but one of peace.  Th The man pulled his piano up to the area by bike and started playing the Lennon classic, "Imagine."
Coldplay also performed Lennon's hit Imagine in tribute to the victims of the Paris attacks during a performance in Los Angeles.
A concert to honor the music of John Lennon performed by the likes of Steven Tyler, Sheryl Crow and the Roots will be held Dec 5th at Madison Square Garden with a broadcast on AMC Dec 19.
More From New Jersey 101.5 FM