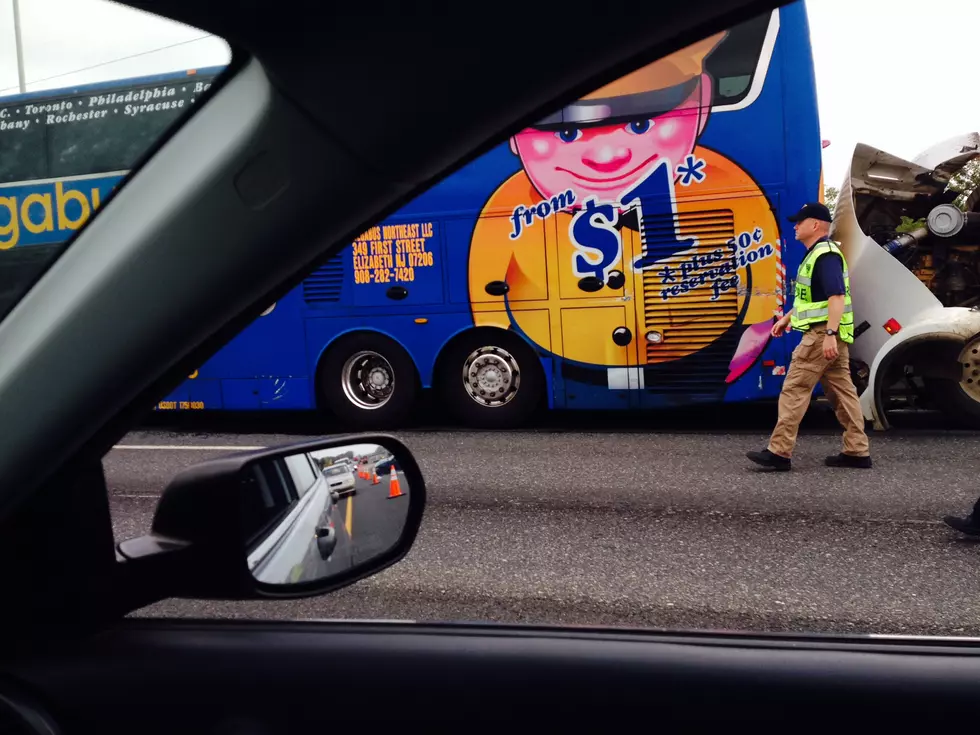 New Jersey Turnpike Reopens Following Bus, Truck Accident [VIDEO]
Bus and dump truck involved in NJ Turnpike accident (Townsquare Media NJ)
The New Jersey Turnpike northbound at #7 (Route 206) has been reopened following a serious accident involving a dump truck that rear ended a Megabus has and involved several cars.

The northbound accident in Hamilton Township just north of  #7 (Route 206)  took place around 9:30 a.m. at milepost 57.7 according to KYW TV. All lanes were closed down for nearly 5 hours as fire and rescue tended to the victims and police began their investigation.
WABC TV reports at least 2 women were trapped and many people complained about back pains. No word of any fatalities.
Domino Effect Of Delays
The domino effect of delays created on several surrounding roads. Rubber necking delays developed on the the southbound side of the Turnpike with delays back to at least #8 (Hightstown). Eastbound I-195 is also experiencing delays from Route 130 to the Turnpike entrance ramp.
The ramp from Route 206 onto the Turnpike was also closed
Drivers got out of their cars and snapping pictures of a rare opportunity to walk on the Turnpike
More From New Jersey 101.5 FM