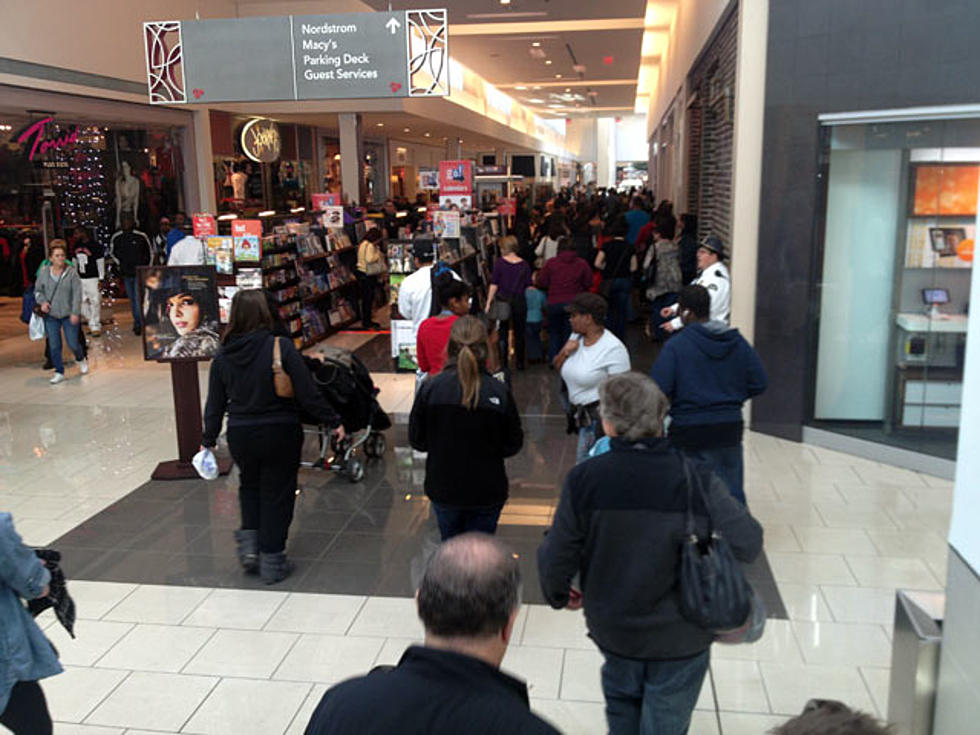 Black Friday In New Jersey [VIDEO/POLL]
Cherry Hill Mall on Black Friday (Stacy Proebstle, Townsquare Media NJ)
This year's Black Friday shoppers were split into two distinct groups: those who wanted to fall into a turkey-induced slumber and those who'd rather shop instead.
In New Jersey, the "Gray Thursday" opening by several stores evened out the shopping leading to lighter crowds in the early morning hours rather than people wrapping about the mall waiting to get it.
One group made an all night excursion out of shopping: Kohls" 5:15: "we started at Target at 9, went to the Freehold Raceway Mall at 12midnight and got to Koh;'s at 4AM" they told Townsquare Media's Dino Flammia.
Early morning shoppers turned at the Jackson Premium Outlets where the parking lot was full of shoppers carrying one load of bags to their cars and then heading back for another round of buying around 4AM.
Around 5AM, when Black Friday in the past meant a rush for the entrance, only a few people were inside the Kohl's and Stapes in search of laptops. The Target and Best Buy in Manahawkin had fewer shoppers at dawn on Friday as well.
Instead, shoppers lined up on Thursday night to make sure they got what they wanted One man lined up outside Best Buy in Manalapan to get his $100 flat screen TV. Another showed up at Target at 3PM to ensure she got a the TV on her wish list.
Shoppers were allowed inside the Freehold Raceway Mall before their midnight opening to warm up and plot their strategy.
A Toys R Us in Deptford Township had a line that stretched outside and around the front of the building -- and that was more than two hours after the store opened Thursday night.
At a Walmart in Secaucus, shoppers began lining up at 1 p.m. on Thanksgiving, and within 10 minutes of the store's Black Friday deals going on sale at 8 p.m., lines at checkout counters were jammed.
Yet at some stores, early birds found themselves nearly alone for much of Thursday afternoon before lines began to form after sunset.
At a Target store in Hackensack, two shoppers who arrived at 2:30 p.m. Thursday said last year's lines were considerably longer.
It is unclear how many shoppers were drawn to the earlier openings versus the traditional Black Friday hours. But according to an International Council of Shopping Centers-Goldman Sachs survey of 1,000 consumers conducted this month, about 17 percent planned to shop at stores that opened on Thanksgiving, up from 16 percent last year when retailers were testing the earlier hours. Meanwhile, 33 percent intended to shop on Black Friday, down one percentage point from last year. Overall, it's estimated that sales on Black Friday will be up 3.8 percent to $11.4 billion this year.
The earlier hours are an effort by stores to make shopping as convenient as possible for Americans, who they fear won't spend freely during the two-month holiday season in November and December because of economic uncertainty. Many shoppers are worried about high unemployment and a package of tax increases and spending cuts known as the "fiscal cliff" that will take effect in January unless Congress passes a budget deal by then. At the same time, Americans have grown more comfortable shopping on websites that offer cheap prices and the convenience of being able to buy something from smartphones, laptops and tablet computers from just about anywhere.
That's put added pressure on brick-and-mortar stores, which can make up to 40 percent of their annual revenue during the holiday shopping season, to give consumers a compelling reason to leave their homes. That's becoming more difficult: the National Retail Federation, an industry trade group, estimates that overall sales in November and December will rise 4.1 percent this year to $586.1 billion, or about flat with last year's growth. But the online part of that is expected to rise 15 percent to $68.4 billion, according to Forrester Research.
As a result, brick-and-mortar retailers have been trying everything they can to lure consumers into stores. Some stores tested the earlier hours last year, but this year more retailers opened their doors late on Thanksgiving or at midnight on Black Friday. In addition to expanding their hours, many also are offering free layaways and shipping, matching the cheaper prices of online rivals and updating their mobile shopping apps with more information.
"Every retailer wants to beat everyone else," said C. Britt Beemer, chairman of America's Research Group, a research firm based in Charleston, S.C. "Shoppers love it."
DIno Flammia and the Associated Press contributed to this story.
More From New Jersey 101.5 FM