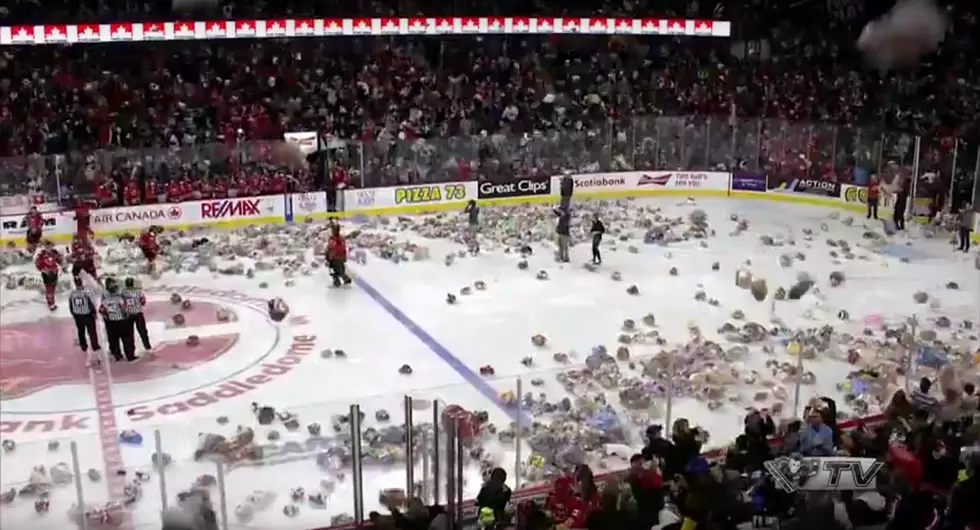 2015 Teddy Bear Toss is a sight for more than just hockey fans
Photo Credit: WHL Hitmen YouTube
Dennis is a huge hockey fan and wanted to share this video as this may be one of the coolest sights during a game. With the all viral videos out there of sports fans exhibiting bad behavior, this is a "feel-good" video for sports or even non-sports fans.
The Calgary Hitmen of the Western Hockey League have a tradition that will make you feel good about the generosity of fans during the holiday season. The team collects teddy bears for local children's groups but they do it in a similar fashion to how fans would celebrate a hat trick.
Normally when a player scores a hat trick, fans throw hats on the ice. In the case of the Teddy Bear Toss, Hitmen fans wait until the team score's their first goal of the game and the fans then toss teddy bears onto the ice that they're donating to these 50 local charities.
How generous were the fans this year? A total of 28,815 bears were tossed onto the ice by the fans, besting the previous record in 2007, when 26,919 teddy bears rained down onto the ice.
Watch the event unfold in the video below.
More From New Jersey 101.5 FM