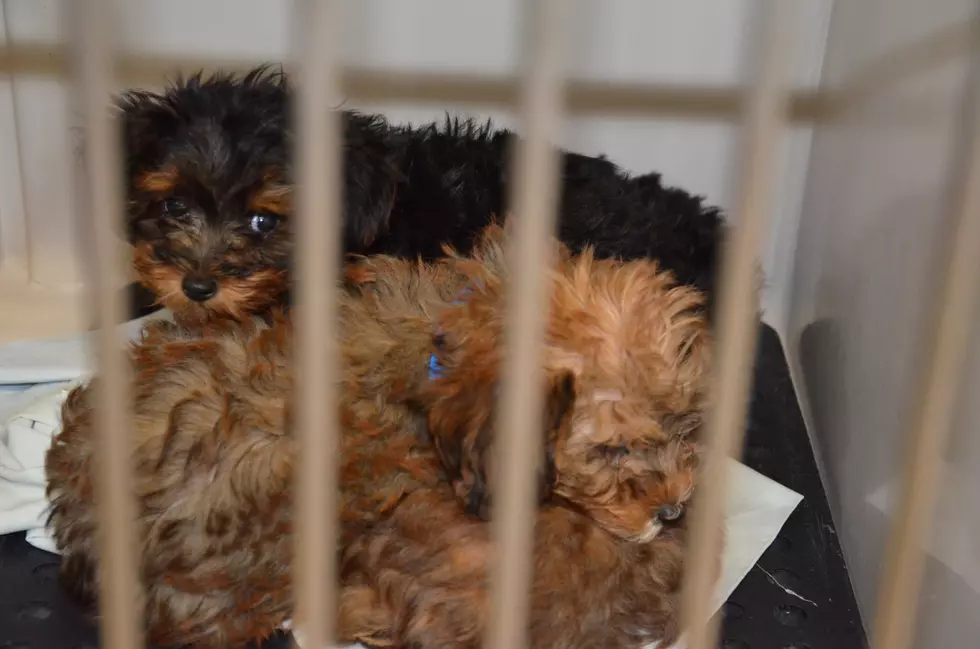 Should selling dogs from 'puppy mills' be banned in NJ?
Puppies after being taken from a van outside Just Pups, Paramus (Credit: Paramus Police Department)
Legislation has been introduced that would stop pet shop owners in the Garden State from selling dogs obtained from so-called puppy mills.
Vincent LoSacco, the owner of the Just Pups pet store chain, has said the 67 puppies found in a Paramus parking lot on April 6 were driven legally from Missouri in a custom van, and they were left outside in the cold because two store employees didn't show up to unload them.
Authorities said the pups were found shivering, and crying locked in small metal crates, many having defecated on themselves.
Assemblyman Joe Lagana (D-Bergen) said his measure aims to stop New Jersey pet shops from getting dogs from out-of-state breeders who are only interested in getting as many dogs as they can, as quickly as they can, many times in inhumane conditions without proper care from veterinarians.
The legislation would prohibit a pet shop from offering for sale or selling any dog that does not have an animal history and health certificate. It would also ban the sale of pups from a female dog that has been bred more than once in a calendar year and originated from a "puppy mill."
The measure defines a puppy mill as a high-volume commercial breeder that sells dogs for profit without providing public access to the site where breeding of its dogs takes place, and that  engages in poor breeding practices.
Lagana said dogs that come from puppy mills frequently have underlying problems.
"We've heard horror stories of people who've purchased puppies and within a few weeks they can tell immediately that the dogs have a whole host of health issues," he said. "Not only is it inhumane for the dog, it's really devastating for the family that purchases the dog. It can become quite costly, so it's really a shame that this even exists."
Assemblywoman Nancy Pinkin (D-Middlesex) who is co-sponsoring the measure, said she was appalled to learn of the alleged Easy Brunswick violations, issued by the ASPCA.
"People have been recommending for quite a while against the use of puppy mills because of the fact that there are more animals than there are to take care of them," she said. "Breeding more animals on purpose, it's kind of like mass producing something that's not meant to be mass produced."