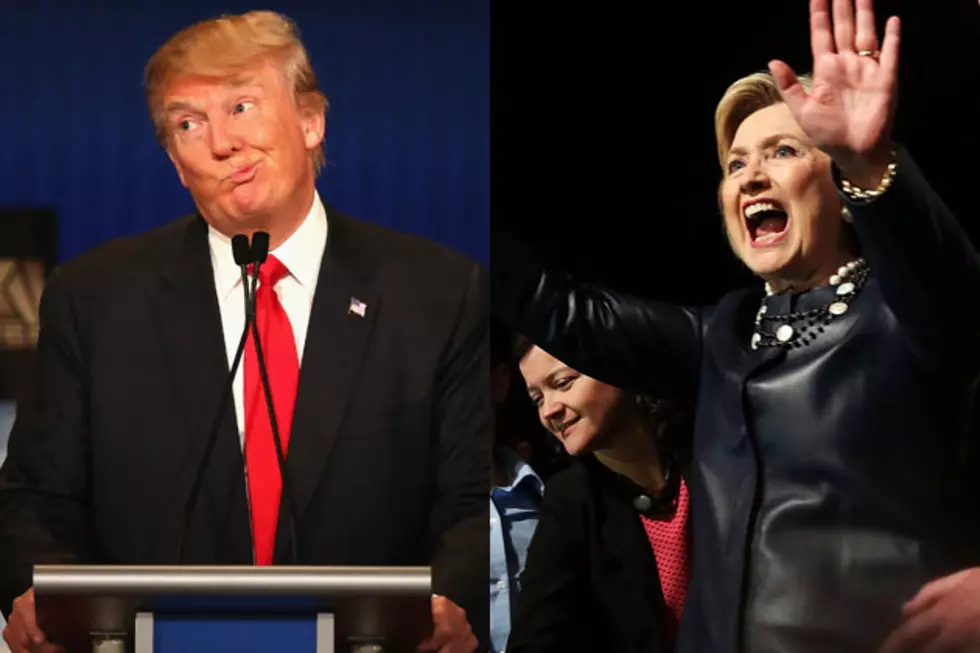 Poll finds Clinton barely leads Trump in New Jersey
Getty Images
Might New Jersey have a competitive race in this year's presidential election?
A new Monmouth University Poll suggests it's possible. It finds that if an election between presumptive Republican nominee Donald Trump and likely Democratic nominee Hillary Clinton were being held today, Clinton leads by just 4 points, 38 percent to 34 percent.
It's early, and neither candidate has solidified support among members of their own political party and traditional constituencies, said Patrick Murray, director of the Monmouth University Polling Institute.
"One of the keys here is that neither Trump nor Clinton has really solidified their partisan base in New Jersey, and that's a key indicator why this race is so close right now," Murray said.
"So as all these partisans start moving into place behind their candidate, it looks likely that that's going to benefit Clinton more than it will Trump, simply because there are more Democrats in New Jersey than there are Republicans," he said.
For instance, Murray said: Twenty-one percent of black voters said they're undecided on a candidate. Sixty-eight percent said they support Clinton and just 1 percent said they're for Trump.
"Now, it's very likely that they're going to become decided and they're going to go to Clinton," Murray said.
Trump leads among independents, 37 percent to 25 percent, though nearly 3-in-8 independents currently say they're either undecided or voting for a third-party candidate.
Among all registered voters ,11 percent said they would support some other candidate, even when that option wasn't provided by pollsters. Another 15 percent said they're undecided.
"When we don't offer it as a response – 'Hey, you want to vote for some other candidate?' – and 11 percent tell us, 'I reject the two choices you gave me. I am voting for a third candidate,' that is a high number," Murray said. "That means that voters really are seriously looking around for that other candidate and will be paying attention to whose name is on the ballot."
"We're talking about historically the two most unpopular major-party nominees that have ever run for president in the modern day," Murray said. "That's why voters are undecided. That's why voters are looking for third candidates right now. It's because they just really are unhappy with the choices in front of them and can't even fathom holding their nose at this point and picking one of them."
When a second poll question was asked in which two third-party candidates were offered as options, Clinton led Trump, 37 percent to 31 percent. Libertarian Party nominee Gary Johnson had 5 percent, Green Party candidate Jill Stein had 4 percent, and 6 percent said they'd back a different candidate. Fourteen percent were undecided.
Results issued nearly two weeks ago from a Quinnipiac University Poll showed Clinton leading Trump by 7 percentage points in New Jersey, 45 percent to 38 percent.
New Jersey last voted for a Republican candidate for president in 1988.
The Monmouth Poll of 703 registered voters has a margin of error of 3.7 percentage points. It was conducted by telephone from May 23 to 27.
More from New Jersey 101.5:
More From New Jersey 101.5 FM