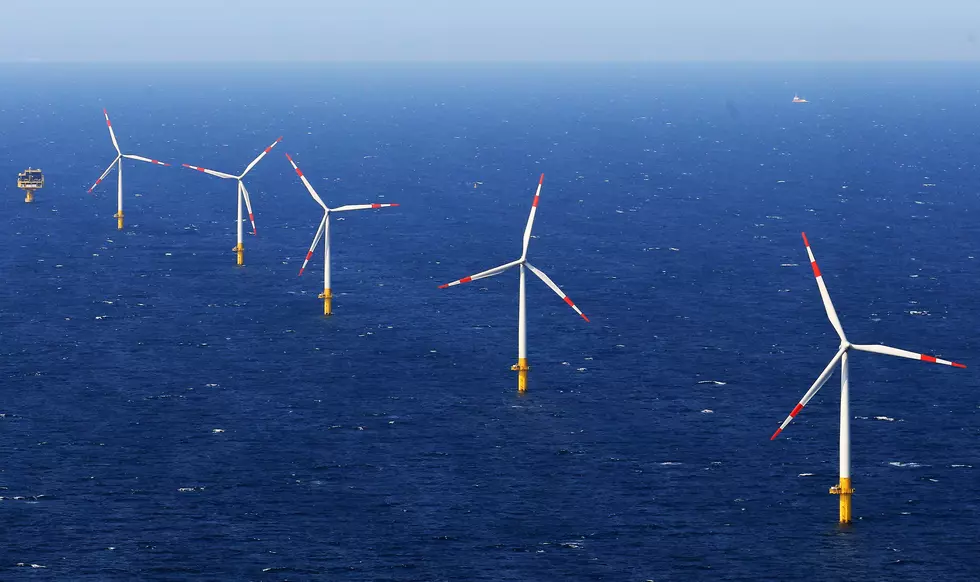 Offshore Wind Farms off NJ Coasts? Assembly Panel Looks to the Wind for Energy
Joern Pollex, Getty Images
Could an offshore wind energy farm be in New Jersey's future?  Many are hoping so as lawmakers continue to weigh the pros and cons.  Yesterday at the Statehouse in Trenton, several lawmakers and stakeholders testified as to why looking towards this natural resource is the best way to go.

A record $180-million-dollars is being pumped into offshore projects over the next six years on a nationwide level and Jersey lawmakers want a piece of the action for proposed wind projects.  A recent proposal for a wind farm off the coast in South Jersey's Atlantic County has hit another setback.  The issue?  There's no concrete figure as to the economic benefit and it could prove to be too costly.
Assembly Utilities Chairman Upendra Chivukula led the panel that is in the process of exploring the potential, progress and possible challenges for the development of a wind farm in the state.  It's all thanks to the landmark Offshore Wind and Economic Development Act which helped the state surpass expectations and will possibly power over a million homes by the year 2020.
Chivulkula is thrilled with the announcement over that federal funding.  He says Jersey is best suited for the job and they will be sending in requests and applying for possible grants. He says "the funding would take the burden off ratepayers in the state."
This is part of a new federal initiative to energize wind power in the country by accelerating the deployment of American-made next generation technologies, that would achieve large cost reductions over existing ones. The funding is intended to help address key challenges associated with installing utility-scale offshore wind turbines, connecting offshore turbines to the power grid, and navigating new permitting and approval processes.
Chivulkula adds "New Jersey is poised to surpass targets by developing 3000 MW of offshore wind by 2020, enough to power more than one million homes and help accelerate the generation of a clean energy economy in our nation."
Others who testified included Stephanie Brand, Director of the N.J. Division of Rate Counsel, Matt Elliott, Global Warming and Clean Energy Associate for Environment New Jersey and Robert Gibbs, Vice President, Garden Shore Offshore Energy and Manager, Development Renewable Energy for PSEG.
More From New Jersey 101.5 FM