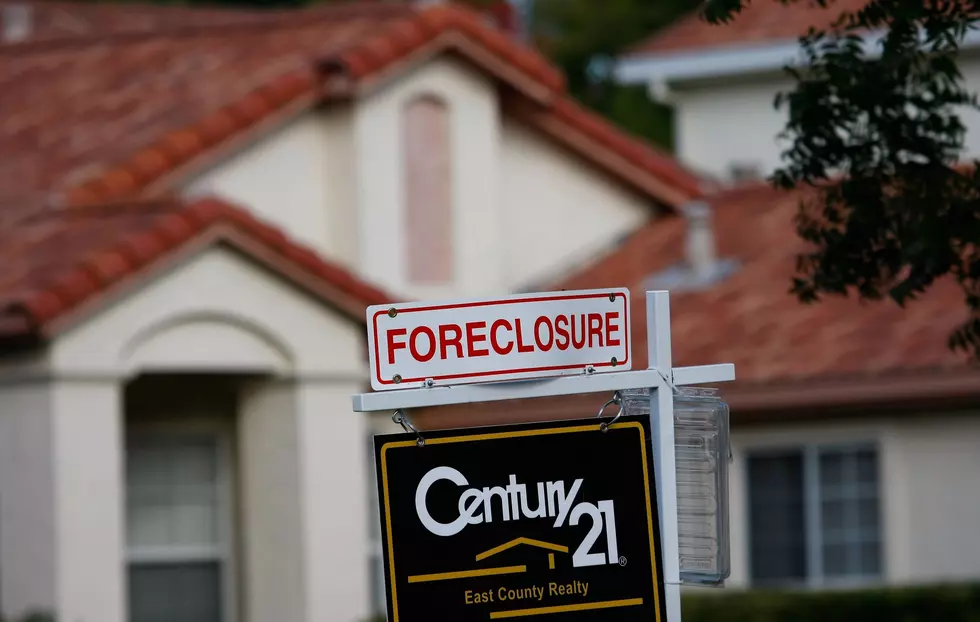 NJ's longest-in-the-nation foreclosure process enables years of free living
Getty Images
The average foreclosure time is longer in New Jersey than anywhere else in the country, according to Daren Blomquist, senior vice president at ATTOM Data Solutions.
And that can be bad news for neighborhood property values and municipal tax collections.
It takes 1,262 days in New Jersey from when the first foreclosure notice is filed to when the bank actually repossesses the property.
"It's more than twice the nationwide average. which was 625 days," Blomquist said.
There are some exceptions involving properties in New Jersey sitting in foreclosure limbo for even longer than those 3 1/2 years.
Although Superstorm Sandy contributed to that to a certain extent, Blomquist says most of the foreclosure moratoriums put in place in Sandy-impacted markets have expired.
"The banks have problems, in some cases, foreclosing because of lack of proper documentation to show that they actually own the mortgage on the property, which may sound crazy," Blomquist said.
He explained banks nationwide got in trouble in 2010 for pushing through foreclosures without proper documentation that demonstrated that they actually owned the mortgage of the property.
"This arose because during the heyday of the last housing boom, banks would package and sell these mortgages without really recording it at the county level. There was not a paper trail showing that this mortgage transferred from one bank to another," Blomquist said.
In New Jersey, particularly, there's been a lot of scrutiny on that, according to Blomquist. "So the banks, in some cases, have trouble pushing through those properties."
Another factor that could be contributing to the problem is when the property has a low value or it has been damaged severely by Sandy and there is no insurance to cover it.
"There may be a decision by the bank not to foreclose because what they would recover by foreclosing is not enough to really offset the losses they would take and the cost they would incur by going through the foreclosure process," said Blomquist.
The property would still belong to the homeowner, but the bank still could have a lien on it. The homeowners would have to pay off that lien if they want to sell.
"If the homeowner has left the property, and it's abandoned, then that becomes a bit of a conundrum because nobody's really taking ownership of the property and claiming the property and taking care of the home, and that's where we result in some of these so-called zombie foreclosures, where the bank's not foreclosing and the homeowner has left.
"That negatively impacts the neighborhood because that property typically is falling into disrepair, and it negatively impacts the property tax base because property taxes probably are not being paid on that property," said Blomquist.
Laws encouraging banks to fast-track foreclosures of homes that are vacant and abandoned have been enacted in New Jersey. Each state has its own set of foreclosure rules, so the amount of time it takes to evict owners varies.
"In some states it's as quick as about 150 days that it can happen. In New Jersey, if we go back to before the housing crisis, we were seeing the average time to foreclose back in 2007 being about 310 days," Blomquist said.
Sandy-impacted areas don't always have the longest foreclosure time in New Jersey.
Bergen County had the longest with 1,451 days on average to foreclose. Hudson County was over 1,400. Ocean County took 1,395. Monmouth County ranks seventh-longest with 1,322 days to foreclose.
Blomquist pointed out that forecloses that have been in limbo in New Jersey are starting to be be worked through. He explained the chart of foreclosure activity in New Jersey, graphically, is very different than the nationwide chart, which showed a peak in 2010 and a gradually fall off from 2011 until now.
"In New Jersey, we saw a dramatic fall off in foreclosure activity in 2011 and 2012, and that was when the state Supreme Court instituted a foreclosure moratorium. But now what we're seeing in New Jersey, which is opposite the national trend, is ... increasing foreclosure activity. It's started to flatten out in the last few months, but the trend has been up, and I think that's an indication that slowly but surely the banks are working through this kind of backlog of so-called shadow inventory of these properties that are in limbo," Blomquist said.
Blomquist noted that data from his company shows New Jersey has the biggest backlog of bad loans originated between 2004 and 2008 that are in foreclosure.
"We're showing New Jersey has over 32,000 of those loans and that's the most of any state, so there's still some of this clean-up from the crisis to work through," he said.
Also on New Jersey 101.5:
More From New Jersey 101.5 FM