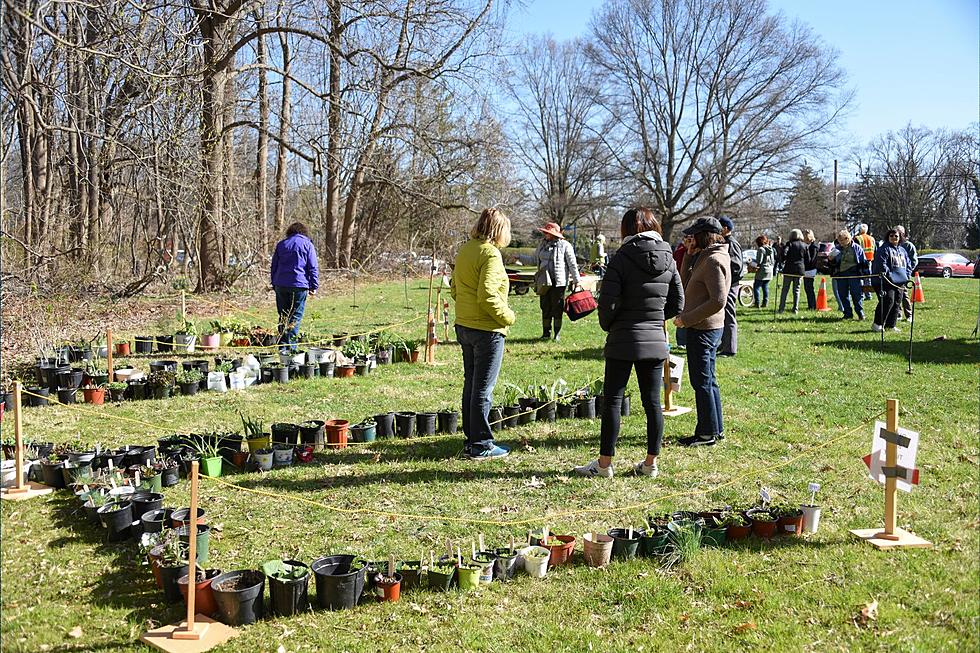 Only native plants accepted at Monmouth County plant swap
Monmouth County Plant Swap, April 2006 (Photo Credit: Maribeth Gardener)
🌳 The annual "Plant Swap" takes place at Tatum Park in Middletown on May 6
🌳 Only native plants will be accepted this year
🌳 There is no limit to how many plants you can bring for an equal swap
---
MIDDLETOWN — Calling all native plant enthusiasts!
The Monmouth County Park System and Deep Cut Gardens in Middletown are hosting a "Native Plant Swap" on Saturday, May 6, at Tatum Park, 151, Red Hill Road in Middletown.
All plants must be dropped off between 8:30 a.m. and 10 a.m. to allow for inspection. The swap will take place shortly after 10 a.m.
The plant swap has been going on for at least a decade. It's a way for gardeners to come together, exchange plant material, and have fun, said Kate Lepis, horticulturist at Deep Cut Gardens.
What will be accepted at the plant swap?
What is different this year is that only native plants will be accepted, she said.
That means plants that have been growing and evolving in the region for thousands, even millions of years, Lepis said. A plant is considered native if has occurred naturally in a particular region, ecosystem, or habitat without any human introduction, she further explained.
There is a full list of accepted native plants that will be welcomed at the swap located on the Deep Cut Gardens website and also at the Native Plant Society of New Jersey site.
But some acceptable plants include Northern Lady Fern, Milkweed (for butterflies), Silky Dogwood, Pink Azalea, Jack-in-the-Pulpit, Seaside Goldenrod, and more.
House plants will also be accepted. They don't need to be native.
What plants won't be accepted?
Plants not native to the region or invasive plants will not be accepted, Lepis said. Just like with the native plants, a list of non-native/invasive plants can be found on the aforementioned websites.
Some examples of non-native/invasive plants include Japanese Painted Fern, vinca vines (Asian origin), Chinese Wisteria, Winged Burning Bush, Norway Maple, Japanese Barberry, and many more.
"As beautiful as these exotic plants are, they don't function ecologically, and they don't feed enough life," Lepis said.
Some plants that were accepted in the past at these swaps, had the potential to become invasive and invade wild places and disturb the ecosystem.
This is also an effort to try and prevent that from happening in the future, Lepis said.
How much should people bring to the swap?
Lepis said people can bring as much as they want. There is no limit. Just make sure to bring well-established plants with roots in one-quart, one-gallon, or two-gallon containers. Please label all plants and if you can provide pictures of the plants, that would be very beneficial.
It will be an even swap. For example, if you bring a plant in a six-inch pot, then you can swap it for someone else's plant in a six-inch pot.
Why are native plants important?
What is being seen in not only Monmouth County but all across New Jersey, nationally, and even globally is a lot of extinctions and a lot of species that are starting to disappear.
Native plants adapt to the local climate and soil conditions where they naturally occur. These native plant species then provide nectar, pollen, and seeds that serve as food for butterflies, insects, and birds.
"We are hoping that by having people plant natives in their yards that they will start creating habitat right in the backyard," Lepis said.
If native pollinators are supported, there will be more songbirds because they feed caterpillars to their babies. The ecosystem will heal just by people planting natives, she said.
In New Jersey and around the world, we've reached a point where the wild pockets that are left are having trouble existing, Lepis said.
"We can't really look to these wild places to be the habitat for other life. We've reached the point where everything is so human-dominated if we want the ecosystem to be healthy, then we need habitat to exist in our backyards, as well," Lepis said.
For more information on the plant swap, please call 732-671-6050.
Some of New Jersey's Native Plants
New Jersey has more than 2,000 native plants in the state. But 350 of them are in a searchable database at www.jerseyyards.org. Here are some native plants you can find in the Garden State, some perfect for hummingbirds and butterflies and others for yard beauty.
Jen Ursillo is a reporter and anchor for New Jersey 101.5. You can reach her at jennifer.ursillo@townsquaremedia.com
Click here to contact an editor about feedback or a correction for this story.
More From New Jersey 101.5 FM