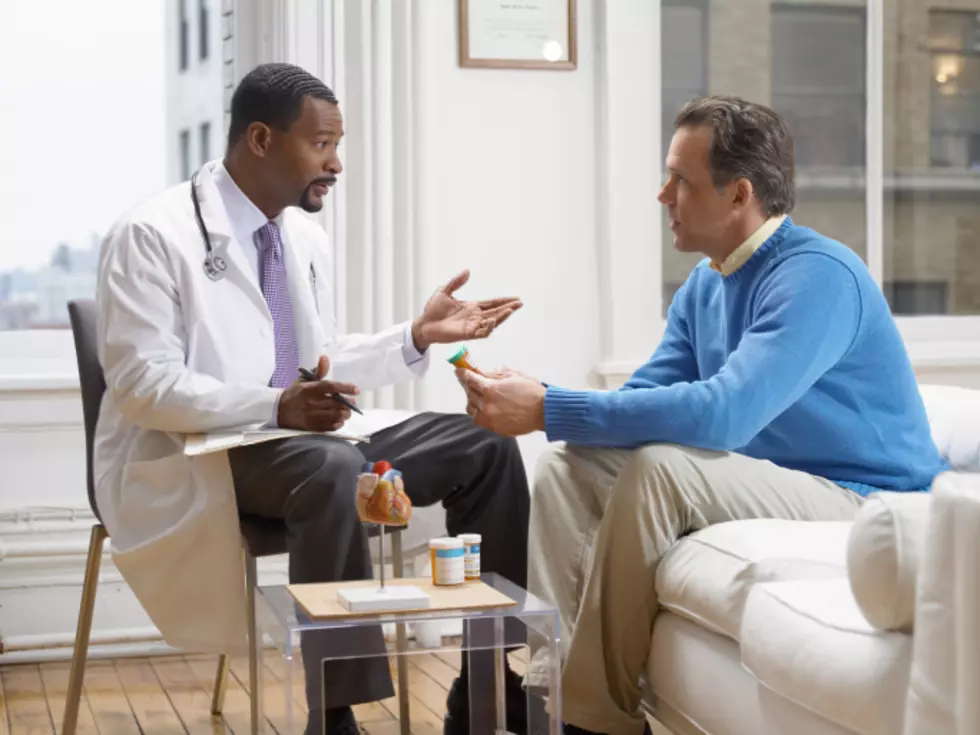 Men and breast cancer: What you need to know
(Digital Vision., ThinkStock)
Like most men, Hazlet resident John Lunardo didn't think of breast cancer as a disease that affects men. That changed five years ago.
Lunardo was working out in the gym when felt like he pulled a muscle in his chest. He dismissed it as a workout-related injury. But it was his dog that ultimately led him to see a doctor a few days later.
"My dog kept on jumping on my chest and sniffing at my left breast and scratching at it, so I finally went to my doctor, and thank God for my puppy," Lunardo said.
When tests revealed Stage 4 breast cancer, Lunardo was shocked.
"For about three days I sat on the couch and watched TV," he said.
That didn't last very long. Soon, Lunardo mustered as much courage as he could and decided to challenge the disease and take steps to live life to the fullest.
After having his cancerous breast removed, Lunardo endured chemotherapy and several other cancer treatments, "but it never really stopped me from doing things I liked."
He continues to get treatment today.
This month, which is Breast Cancer Awareness month, we usually think of the disease affecting women, but that's not always the case.
From 2008 through 2012, the most recent data available, there were 316 male breast cancer cases in New Jersey, an average of 63 cases a year. During the same period for women, the total number of cases was 34,776 - an average of about 7,000 new cases annually.
"Just under 1 percent of all breast cancers in this country occur in males, but it's under-studied because it's so unusual," said Dr. Serena Wong, a breast medical oncologist at Rutgers Cancer Institute of New Jersey.
The doctor said breast cancer in men may show up in several different forms.
"It could be a lump, it could be a firmness, skin changes, nipple discharge or pain," she said. "The biggest problem is there's not as much of an awareness that men can have breast cancer, and so I think some of these symptoms can be easily dismissed for many months until it gets worse."
Dr. Wong said that because males have relatively small amounts of breast tissue "most breast cancers in men are actually felt easily by self palpation."
Dr. Wong says in Stage 4 - which is what Lunardo's diagnosis was - the cancer has already spread to other areas of the body – so it's not curable, but it is treatable.
"The goal of therapy in Stage 4 is to maintain someone on therapy for as long as possible," she said. "To keep the cancer under control.
Wong said doctors are working hard to turn Stage 4 breast cancer into a chronic illness, and if a treatment stops working there are other choices and therapies that may help. New therapies are also being developed.
Lunardo's advice for men is simple.
"Don't be ashamed," he said. "If you feel a lump there or there's discomfort there, make sure you get it checked out."
According to the American Cancer Society, an estimated 231,840 new cases of invasive breast cancer are expected to be diagnosed in U.S. women in 2015, while about 2,350 new cases are expected in men.
The American Cancer Society also estimates 40,290 breast cancer deaths are expected in 2015 for U.S. women, while they project 440 breast cancer deaths for U.S. men this year.
Tomorrow, we'll explore how John Lunardo's point of view is helping him win his battle with cancer.
More From New Jersey 101.5 FM