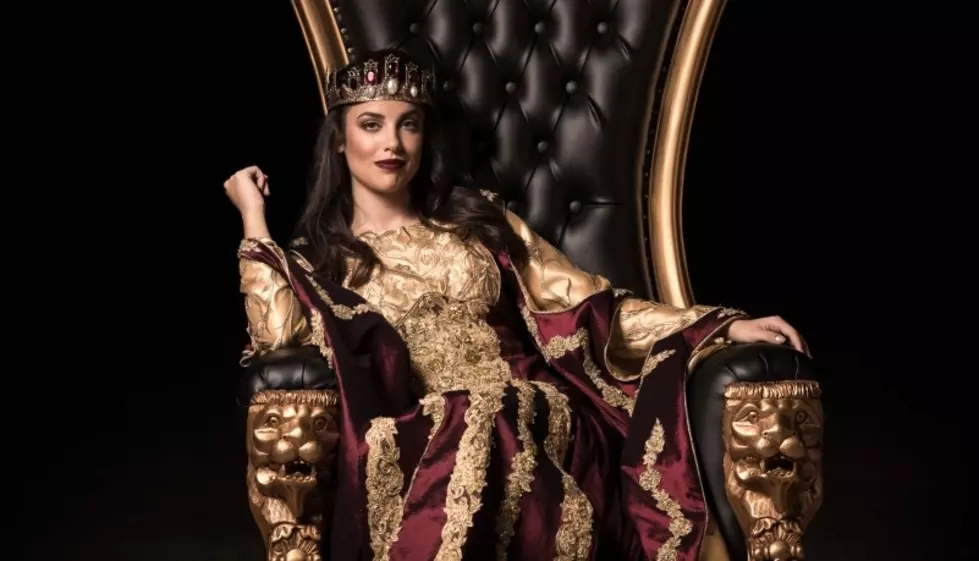 Meet the new queen of Lyndhurst (at Medieval Times)
Photo Courtesy of Medieval Times
Here thee, here thee! The Lyndhurst castle has a new ruler, and we've got the deets.
For the past 34 years, Medieval Times has been ruled by a king, but starting this month, the throne will be inherited by a new monarch—a queen.
Doña Maria Isabella will take on the responsibilities of her father, the previous King, making her the first woman to occupy the throne and a leading role at Medieval Times. Lyndhurst has six actresses playing Queen Isabella, each of whom used to sit beside the King as the show's Princess Catalina. Since the King's passing (in his sle ep), Isabella's succession has been peaceful —but not without its challenges. The Queen is hosting her first tournament, and not every knight is respectful of his new ruler.
The Queen's role is very different from the actress' previous role as Princess Catalina. The Princess wasn't able to make her own decisions, including who she would marry. Queen Isabella is a completely different role, and during the show she points out that she doesn't need to look for a husband at the tournament. She's there to rule, not to find a spouse.
"Where previously our female characters played in more supportive roles, we are now showing a woman fully in charge, a woman whose authority is sometimes challenged, but she quickly rises to the occasion as a strong leader, squelching opposition," says Ingrid Hunt, Medieval Times senior general manager.
A new ruler isn't the only thing that's different at the castle. We got to see the revamped show which features a new script, performers, lights, costumes, suits of armor and music. Between its nine locations you'll find 200 new suits of armor, 225 horses (which take three months to train) and 700 new costumes. It takes two months to teach a queen how to ride the show's stallions.
The show's script took 18 months to complete. Daniel May, a jazz pianist whose work includes scoring Everest, composed new music, which is perfectly synchronized with every element of the show, like the lighting, which just underwent a major upgrade.
What should you expect if you've never been? Knights battle for honor, showing off impressive jousting skills (on horseback!) and getting into life-or-death sword fights. You'll be on the edge of your seat, waving your flag and cheering on your knight and his allies. There's also falconry (seriously, there's a royal falcon in the show!)
Of course the castle still offers the staples fans have come to know and love, like a utensil-free four-course feast (with a vegetarian option). And this feast is tournament-quality: garlic bread, tomato bisque soup, oven-roasted chicken, herb-basted potato, sweet buttered corn and a pastry. Our plates were piled so high we couldn't finish our meals (but we wanted to!).
Other bells and whistles include the dungeon, where you can check out historical torture devices; the bar, where you can get novelty mugs, beer and cocktails; and merch like light-up swords, crowns, stuffed dragons and more.
In honor of the new show, we're giving away a family 4-pack of tickets. Follow us on Instagram to find out how to enter. For the month of January, New Jersey Family readers will get $35 general admission tickets by entering the code VIP35 at checkout.
More From New Jersey 101.5 FM