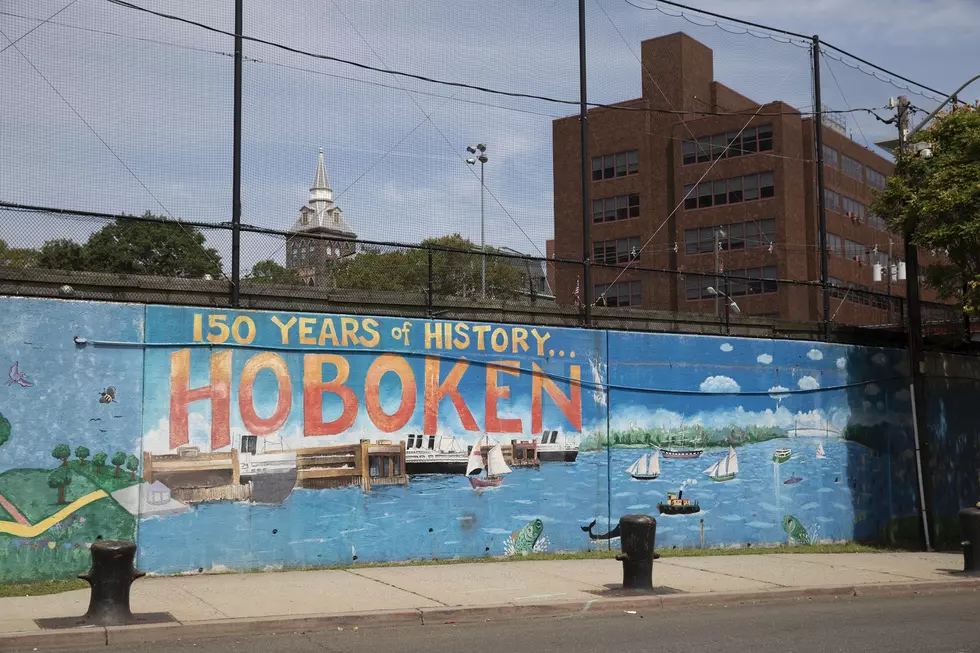 Hoboken council delays vote on fines for indoor gatherings
A mural on the Hoboken waterfront (AP Photo/Mark Lennihan)
HOBOKEN — A special City Council meeting to vote on an ordinance that would impose a fine for violations of Gov. Phil Murphy's indoor gathering mandates was canceled because of a lack of a quorum going into one of the biggest party weekends of the year.
The fines are part of two measures proposed by Mayor Ravi S. Bhalla to slow a potential second wave of coronavirus cases after a recent spike tied to indoor gatherings. An executive order by Bhalla mandating all bars and restaurants close at midnight went into effect on Thursday.
Councilman Phil Cohen told New Jersey 101.5 that he's not sure why the quorum wasn't reached for the online meeting to consider the ordinance, which would impose fines of $250 to $1,000 for indoor gatherings that both have more than 25 people while violating other ordinances such as noise regulations or disorderly conduct. Both owners and tenants would be subject to the fines.
The governor's executive order on indoor gatherings carries a potential fine of $1,000 and imprisonment up to six months.
The ordinance would have taken effect immediately in time for Halloween weekend, which Cohen said is "notorious" for parties in Hoboken.
"(Police chief Ken Ferrante) was at the meeting to speak in support of it. He emailed all the council people who supported it because he thinks it make his job and that of Hoboken police easier," Cohen said. "He doesn't want to put his people in a position where they're walking into a super-spreader event. Our contact tracing that the number of people who tested positive for COVID-19 attended these house parties,"
Cohen said during the last three weekends there have been major house parties identified by police.
The City Council in August voted down an ordinance also sponsored by Cohen that would have imposed a $250 fine on those who don't wear a mask outdoors in cases of "chronic disobedience or disorderly conduct." Members at the time cited concern about police enforcing local law.
"This one police are already going to be on call going to a house party, seeing a situation where there's either loud noise or drunken disorderly misconduct going on. Police return to the scene to address an ongoing ordinance violation and when they get there if they see more than 25 people there then they could have had the ability to hand out a $1,000 fine," Cohen said.
Municipal Deputy Clerk Jerry Lore told New Jersey 101.5 that five members are required for a quorum. The ordinance will now have a hearing on at the next regularly scheduled meeting on Wednesday.
Airbnb on Friday said it would take legal action against guests who violate their rules prohibiting house parties. The policy was put in place during the summer after complaints about large parties including one in Jackson that attracted nearly 700 people.
Cohen and Bhalla on Friday morning did not respond to New Jersey 101.5's request for more information.
NJ's lives lost to COVID-19 — Loved and Lost
More From New Jersey 101.5 FM