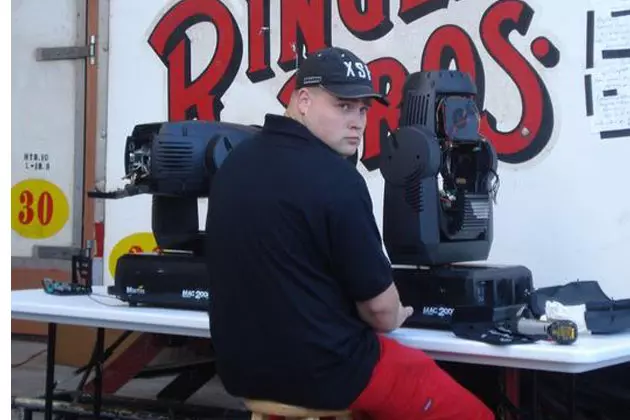 Former NJ Ringling Bros. worker shocked at circus closing
Chuck Weber when he worked for Ringling Bros and Barnum & Bailey Circus (Chuck Weber)
ORLANDO - The Ringling Brothers and Barnum & Bailey Circus survived two World Wars and the Depression but not the shrinking American attention span.
Former Jackson resident Chuck Weber, who was head of lighting for one of the circus' touring companies from 2007 to 2011, was among the first to hear the news that the 146-year-old circus was folding up its tents. He was meeting with friends in Orlando who still work for Ringling Brothers when they learned during a meeting Saturday night that the circus would close. Weber said the news came as a shock.
"Some of them were expecting some type of change to be coming soon but none of them expected this to happen," Weber said. "The company tried out different things with their current 'blue' show. They tried to do something a little bit different and put the circus on ice. It didn't sell quite as well as they hoped it would."
Feld Entertainment, the company that owns Ringling Brothers and Barnum & Bailey Circus announced on Saturday it would perform its final shows in May.
CEO Kenneth Feld said in a statement it was a "difficult business decision." He blamed the closure on high operating costs and a "dramatic drop" in ticket sales after elephants were removed from the show.
"The circus and its people have continually been a source of inspiration and joy to my family and me," Feld said in a statement on the circus' website.
Weber said that in recent years the shows had changed from being a three-ring format to an open floor, and tried to "change with the times and keep people engaged with the show." He said that a more modern style of circus such as Cirque du Soleil, with "feats and acrobats" and an overall more artistic approach is more relatable to today's children. Ringling's big selling point, he said, was its animals with elephants, camels and horses that appealed more to families.
"If it was to tie in to a Vegas atmosphere where it could be part of a big resort," Weber said he believes Ringing Brothers could survive, but he added that it would also need to look at cutting its overhead and changing the way its operates.
The Jackson Memorial graduate, who also worked briefly at Six Flags Great Adventure, said he learned skills at Ringling Brothers that he uses at his current position as a lighting crew chief at Disney World's Magic Kingdom.
"I owe a lot to the circus — a lot of my lighting abilities, being able to repair things, being able to troubleshoot issues," he said. "At the circus we go city to city. Every city would bring a new challenge, something different that I would have to overcome. Being able to adapt and change to those things ... with my job for Disney I'm able to able to do a lot of those things" and quickly solve problems.
Ringling Brothers' final "Xtreme" show is scheduled for May 7 in Providence, while its "Out of this World" show will perform for the last time at Long Island's Nassau Colosseum on May 21. The circus' final New Jersey performances will be the "Out of the World" show March 8-12 at the Prudential Center in Newark and March 17-19 at the Sun National Bank Center.
More from New Jersey 101.5
More From New Jersey 101.5 FM