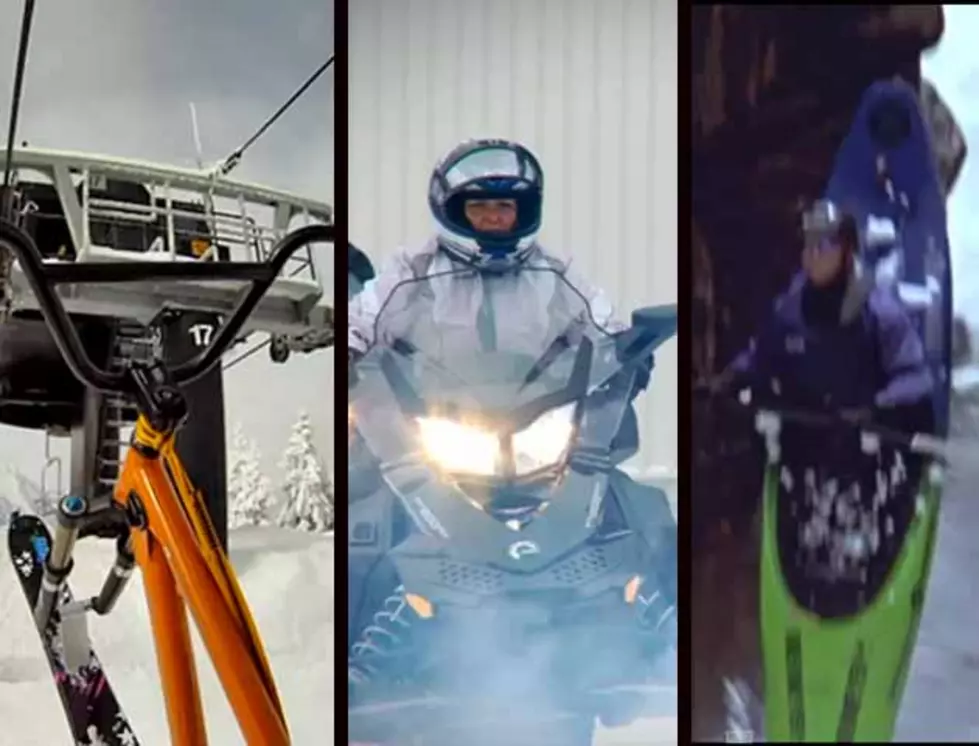 10 Fun Activites to Help Beat the Winter Blues
YouTube
When the temperatures are frigid and snow is falling on the ground, sure you can stay inside the house, make some hot cocoa with marshmallows and hibernate until spring. But what if you turned a negative into a positive?
If you're bored of having a snowball fight or building a killer snowman, there are some really cool snow sports(?) or activities that may you want to find a way to try that could get you through the doldrums of the long, cold winter months. We took into account winter sports like hockey, snow boarding and skiing are already staples  for any fan of Old Man Winter, so they were not included in the list below.
We created a list of 10 fun and sometimes extreme activities that will keep you having fun throughout the winter season.
---
Igloo Building
Anyone can go out and build a little happy snowman, or if they are somewhat skilled, they may be to erect a fort. The really adventurous snow fan will take it one step further and build a snow igloo. It may take you a while but everyone's going to want to come hang in it once it's completed.
---
Snow Tubing
Sometimes just finding a good hill and bringing the snow tube can be the quick fix to the winter blues. It's easy to do and the whole family can share in the fun.
---
Snowmobiling
Want to get around fast in the snow? Take a ride on a snowmobile. They're fun, fast and can bring hours of enjoyment as you ride over top of the white powder. While you want to have fun, also keep in mind that they are a fast machine and you should use caution with any trip on one of these.
---
Ski-Biking
Cant use that bike to go for a ride during the winter? Ever think of strapping some skis to it? Well, someone thought of it because there is a whole group of people who enjoy ski biking on trails or down the mountains.
---
Snow Kneeboarding
Ok, normally, this would be relegated to towing on the water, someone had the bright idea to try this on the snow and apprently it caught on.
---
Ice Fishing
Enjoy casting your rod and reel out during the summer? Why not try putting a new twist on the old sport  and try your luck at ice fishing? The added bonus with ice fishing is that you get to use power tools to dig your hole before you drop your line in.
---
Ice Kayaking
Rivers are frozen and you can't use that kayak? No problem. Ice Kayaking is just the antidote for the paddler who is stuck indoors because the temperatures are too low.
---
Sno-limo
Not really that adventurous or want to exert that much energy during the winter but would like to be outside? Then a snow limo is for you. It's basically the equivalent of having your own personal chauffeur ski you down or across a mountain.
---
Curling
While it may not be the most exciting activity on the list, curling actually is like playing shuffleboard on ice. Curling is an Olympic Event, so if it's good enough for the Olympics, you may want to give it a try and have some fun with it.
---
Polar Bear Plunge
If you're looking for something fun, adventurous and don't mind the cold temperatures whatsoever, than you may want to think about participating in a polar bear plunge. While it may not be for everybody, may of the polar bear plunge clubs raise money for great causes like the Special Olympics, so you'd be having fun and helping out those in need at the same time.
---
What other activities do you look like to do during the winter months to keep yourself busy? Keep the list going by commenting below.
More From New Jersey 101.5 FM