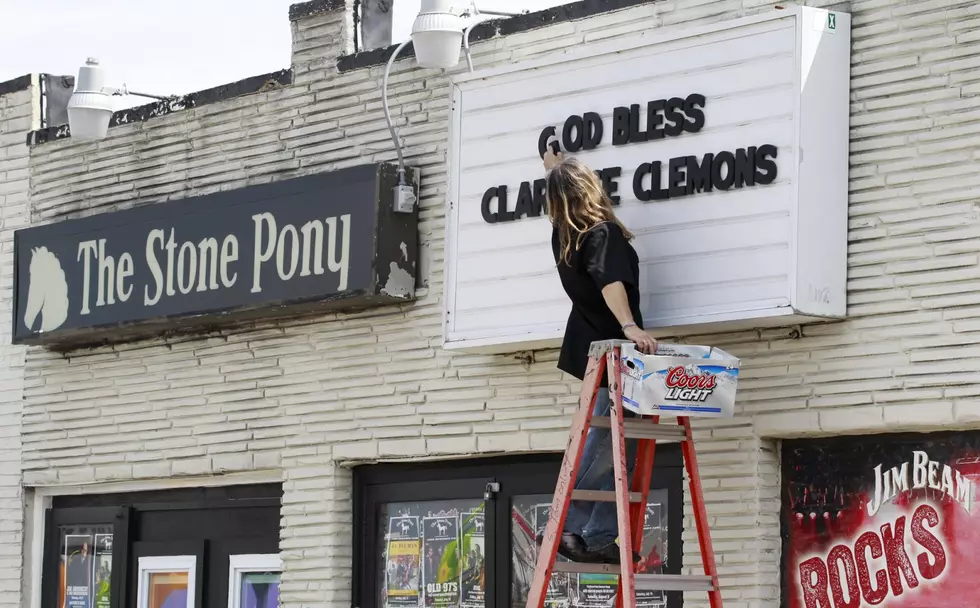 Together we were trouble: Big Joe's wild time with sax icon Clarence Clemons
ASSOCIATED PRESS
This week would have been Clarence Clemons' 81st birthday. He was taken from this Earth way too soon in June of 2011. It seems that it was just yesterday when I deeply regretted hearing that news.
The "Big Man" was known as one of the best sax players in the business. You'd be surprised at the volume and variety of music to which he lent his talent, including Jackson Browne, Aretha Franklin even the Grateful Dead. He showed up on TV shows, Different Strokes, The Simpsons, Nash Bridges and The Wire, just to name a few.
In describing Clarence, Bruce Springsteen said it best when he and the E Street Band were inducted into the Rock and Roll Hall of Fame in 1999, describing meeting the Big Man for the first time. Here's the quote from Bruce:
"That night we first stood together, I looked over at C and it looked like his head reached into the clouds. I felt like a mere mortal scurrying upon the Earth, you know. But he always lifted me up. Way, way, way up. Together we told a story of the possibilities of friendship, a story older than the ones that I was writing and a story I could never have told without him at my side."
Clarence played every gig like the world was coming to an end; it didn't matter if it was in front of 100 people in a bar in Asbury Park or 120,000 at Wembly Stadium in England.
He started playing the sax at the age of nine, raised in Norfolk, VA to the son of a fish man and the grandson of a preacher who disdained Rock and Roll. He was gifted in sports and played football in college and then semi-pro. He moved to the Jersey Shore and played with a few bands until he met Bruce Springsteen on that faithful night in 1971.
I interviewed Clarence when the band was on the final leg of their Born to Run tour in 1976.
They were appearing at the Northrop Auditorium in Minneapolis and I was working at the campus radio station. I had so much fun talking with Clarence that I literally forgot that we were recording. The stories were many and filled with the antics and tribulations including multiple situations of racism that he experienced on the road in Europe. I became a big fan of his that night.
My favorite Clarence Clemons moment was in 1984 back in Minneapolis for the kick-off to the Born in the USA tour.
We were all staying at the same hotel. It was an off night for the band and Clarence and I ended up at the annex hotel bar, empty except Clarence and I. Clarence asked me if I ever tried Metaxas. Unfortunately, I said I hadn't.
Three bottles later and major payoffs to the bartender so he would continue this insanity we stumbled off the bar stool at 3:30 in the morning. The next morning I felt like I had been embalmed. I ran into the Big Man and his wife at breakfast and she told me to stay away as together we were trouble. Clarence smiled that big grin at me and shrugged his shoulders. She was right. We would hang out again but never to the degree that we did that epic night in Minneapolis.
He was the best, whether you saw him at his club Big Man's West or driving around Sea Bright or you were a fan at any of the shows, he was an icon, and we will all miss him. There are many songs that he played that brought each to a life that only he could. The song 'Jungleland' off the Born to Run album is probably one of the best sax solos ever played and remains one of my favorites.
Happy Birthday, Big Man! Thank you for your talent, friendship and that big grin — I miss that the most.
The post above reflects the thoughts and observations of New Jersey 101.5 weekend host Big Joe Henry. Any opinions expressed are Big Joe's own.
Click here to contact an editor about feedback or a correction for this story.
Top 200 '70s Songs
Ultimate Classic Rock counts down the Top 200 '70s Songs.
Rock Stars Who Walked Away and Never Looked Back
Sometimes you've just got to move on.
More From New Jersey 101.5 FM