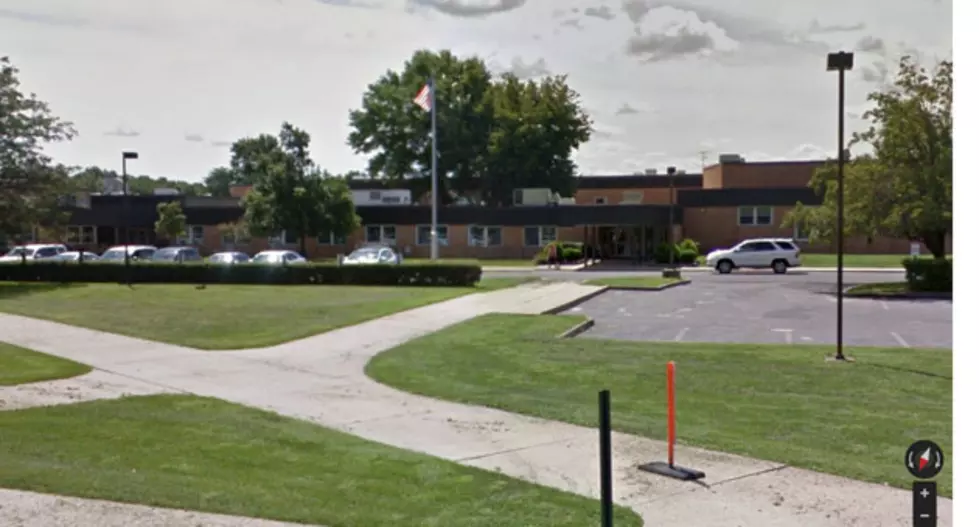 Prieto offers new map for school funding reform, rejecting Sweeney's
Freehold Township High School (Google Street View)
The school-funding approach favored by the Senate president has been blocked in the Assembly, which intends to pursue a somewhat more traditional path to a new school-aid formula.
It's not exactly back to square one, since the issue would at least be on the table. But Senate President Stephen Sweeney's plan of having a commission come up with alterations to the current formula that would be guaranteed an up-or-down vote without change will not proceed.
Instead, Assembly Speaker Vincent Prieto and Assemblywoman Marlene Caride, D-Bergen, who heads the Assembly Education Committee, are introducing legislation Thursday to create a Joint Legislative Committee on Public School Funding Reform.
The committee – four Democrats and two Republicans – would be able to propose any changes to the school-aid formula, without limits included in the Senate bill. It would propose legislation that could be amended, unlike the hands-off treatment that would be afforded the Senate-bill version of reform.
"It's worth looking at the whole funding formula and seeing what has worked, what has not worked and seeing how we can make it better, because obviously at the end of the day, this is one of the high driving costs of property taxes in the state of New Jersey," Prieto said.
New Jersey has the nation's highest average property taxes. Last year, nearly $27.7 billion in property taxes were levied, and more than 52 percent, $14.5 billion, was for schools. In 71 municipalities, school taxes accounted for two-thirds or more of the property tax bill.
Assembly Democrats said their committee is modeled after one created 10 years ago that devised the current formula 10 years ago. The 2008 formula was endorsed as constitutional by the state Supreme Court – but was soon tabled when the Great Recession ravaged revenues and hasn't been followed since.
"The main problem has been the state's failure to fund it. We believe this is still the model, but it's been 10 years since this committee adopted the plan, so we can now take a look back at what was right and wrong with that formula," said Caride, who also wants the committee to focus on preschool funding.
"The problem is economics and different ideologies that have not funded the formula," Prieto said.
In the current school year, the state is distributing a bit over $8 billion in formula-related aid to school districts. That would have been closer to $9 billion if the school-funding law was being followed – a gap of 12 percent, or $956 million.
Eighty-six school districts would see their state aid increase by 50 percent or more if the state budget followed, rather than overrode, the school-funding law. Thirty-nine districts actually get more aid than they'd otherwise receive.
A spokesman for Sweeney, Richard McGrath, said the state has failed to live up to the fair funding promised in the 2008 law and that 85 percent of districts are currently being underfunded.
"We don't need a new formula, we need to fully fund the current formula," McGrath said. "… The Fair Funding Commission … will provide its recommendations to the Legislature in enough time for us to take action in the next fiscal year. The Assembly should vote on this plan."
Some Republicans said the problem is the formula as much as the inability or unwillingness to fund it. They said lawmakers should come up with solutions, not study committees.
"Both parties recognize that the formula is broken," said Assemblyman David Rible, R-Monmouth. "What is the point of fully funding it instead of finding a solution?  This commission isn't charged with fixing the problem of favoring a handful of districts at the expense of all other schools."
"Unless this panel is the first to identify where the state can find another $2 billion to fully fund the existing formula, there is no reason for it," said Assemblyman Anthony Bucco, R-Morris.
The joint committee would have three senators and three Assembly members.
It would be advised by a 12-member 'working group' that would include various associations of education-related professions and advocacy groups, including the organization that brought a series of lawsuits challenging the unconstitutionality of past formulas:
New Jersey School Boards Association
New Jersey Association of School Administrators
New Jersey Association of School Business Officials
New Jersey Principals and Supervisors Association
Garden State Coalition of Schools
New Jersey Council of County Vocational Schools
New Jersey Education Association
American Federation of Teachers New Jersey
Education Law Center
Save Our Schools NJ
Statewide Parent Advocacy Network of New Jersey
Advocates for Children of New Jersey
The 29 'yes' votes included 18 Democrats and 11 Republicans. The six 'no' votes included three Democrats and three Republicans. Five lawmakers didn't vote.
Prieto said he's interested in working with the Senate on the bill but that he doesn't like giving a commission of outside appointees "sole discretion" to write legislation that couldn't be altered.
"And that would be a bill that theoretically I would have to introduce right into second reading into the floor for an up and down vote with no debate, no dialogue, no amendments," Prieto said. "That's not something that I could see myself supporting."
Neither the Senate nor Assembly plan to act on Gov. Chris Christie's school-funding formula, which would give all districts the same per-pupil funding from the state, around $6,600, regardless of their wealth. Currently, poorer areas get more funding. (Special education students would get extra aid.)
Prieto and Caride said Christie's proposal is unconstitutional and ignores the negative impact that poverty has on educational opportunity and success.
"The Legislature can craft a school funding plan that is fair, that can be embraced on a bipartisan basis and that can pass constitutional muster," Caride said. "Equally important, it can help control property taxes."
---
---
More from New Jersey 101.5: