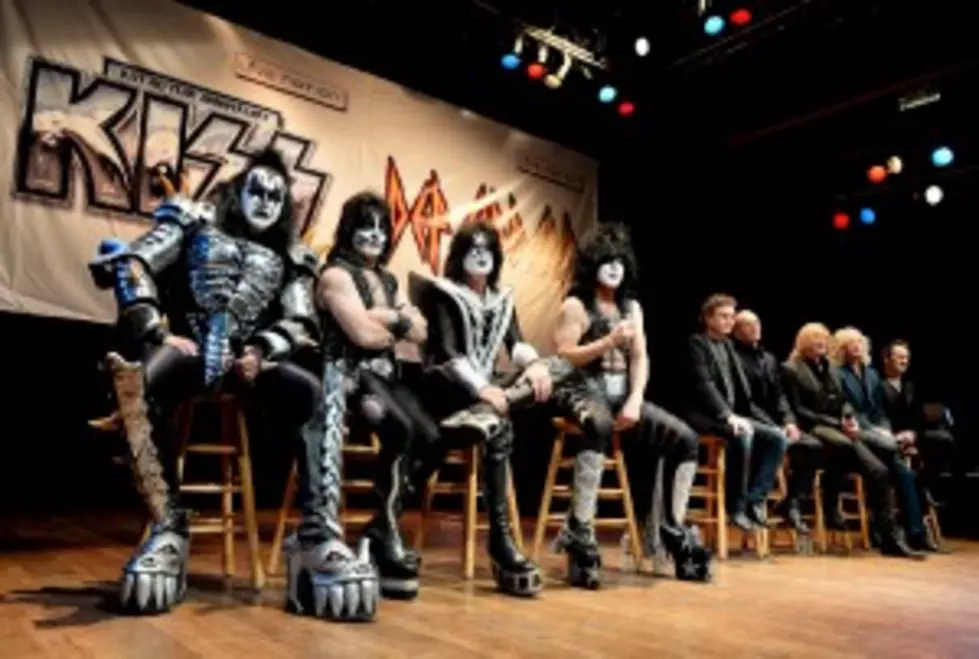 Kiss – and Def Leppard – to Rock New Jersey This Summer
Kevin Winter Collection: Getty Images Entertainment
So maybe the grey hairs have started to sprout a little; but you've never lost your taste for what you used to rock out to back in the day.
And that's what the promoters of the summer tour featuring KISS and Def Leppard are banking on.
It was announced just yesterday that Kiss and Def Leppard will be touring together this summer, and 3 stops on that tour will be in our own backyard.
Kiss and Def Leppard announced a summer tour on Monday which includes three Jersey dates, including Saturday, July 26 at the PNC Bank Arts Center in Holmdel; Saturday, Aug. 2 at Boardwalk Hall in Atlantic City and Saturday, Aug. 3 at the Susquehanna Bank Center in Camden.

Tickets, $36 to $175 for the Holmdel show, go on sale to the general public 10 a.m. Saturday, March 22 through livenation.com. There is an eight ticket limit per person.
A portion of each ticket sold will go to various armed services charities.

"Our proud military makes freedom possible," said Kiss band member Gene Simmons at the Monday press conference at the House of Blues in Los Angeles announcing the tour. "The least we could do is, No. 1, pay homage to them and, No. 2, make sure that a buck from every single ticket that's going to come in through the door is going to go (to armed services charities)."

The setting will be the will be the stage from the current Kiss Monster World Tour.
There are 42 dates scheduled for North America tour beginning June 23 in West Valley City, Utah and concluding Aug. 31 in Woodlands, Texas.

Kiss is marking the 40th anniversary of their first album, "Hotter Than Hell." The band will be inducted into the Rock and Roll Hall of Fame in April. Original members Stanley, Simmons, Peter Criss, who lives in Wall, and Ace Frehley will be enshrined but not current members Eric Singer and Tommy Thayer.
The fact that Singer and Thayer won't be enshrined in the hall is an issue with both Stanley and Simmons – who've noted that when the Grateful Dead were elevated, one of their writers was also given the high honor.
But certainly, not to take away from the anticipation of the show – what two super-groups have you seen in concert together – or would you love to see perform together?
My wife has always "hocked" me that she's always wanted to see Elton John and Billy Joel perform together.
Right now Joel's in the midst of a commitment with the Garden – but one can always hold out hope that he and Sir Reg will hook up again.
More From New Jersey 101.5 FM