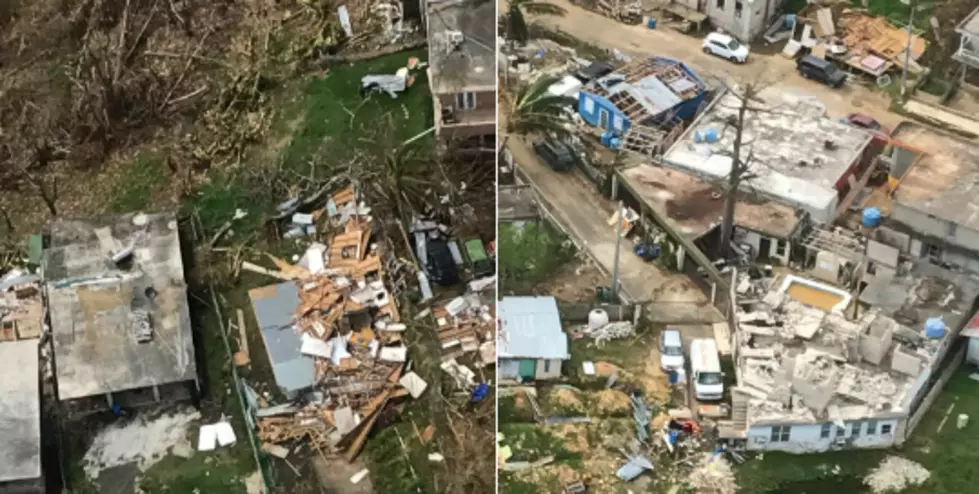 How NJ cities, leaders and volunteers are aiding Puerto Rico amid hurricane calamity
(U.S. Sen. Robert Menendez/Twitter)
TRENTON —  New Jersey continues its efforts to help Puerto Rico in its recovery from the destruction from Hurricane Maria.
U.S. Sen. Robert Menendez tweeted a series of photos of his visit on Friday to Puerto Rico. He described his helicopter ride as "bone chilling."
"It doesn't look like the Puerto Rico so many know and love. We need much larger action," he said. "Seeing devastation in Puerto Rico, it feels like the hurricane just hit yesterday. This federal response needs to double or triple right now."
He called for support of grassroots efforts to "clear roads and reconnect families."
"The WH needs ALL HANDS ON DECK. This is breathtaking damage & they need aid."
Christie coordinates
Gov. Chris Christie on Friday mobilized more than 1,100 New Jersey emergency responders and soldiers who will join personnel from the New Jersey National Guard, State Police and the State Office of Emergency Management.
"Additional members of the Advance Team are en route to San Juan on Saturday morning. The team will liaise with federal, state, local and military partners to coordinate an integrated strategic response to support disaster recovery efforts," OEM spokeswoman Laura Connolly said.
Christie also announced that New Jersey National Guard armories in Mount Holly and West Orange will open Monday as donation centers for specific items collected and organized through governing bodies, corporations, local institutions and recognized community-based organizations.
Those items include baby food, batteries, box fans, canned goods, cots, cleaning supplies, diapers, feminine hygiene products, flash lights, flood pumps, hand sanitizer, first aid items, leather work gloves, new underwear and socks, new bed pillows and blankets, toiletries, utility knives and high capacity generators to restore power for hospitals, water service, and flood pumps.
The armories will not accept any items dropped off by individuals.
Saving animals
St. Hubert's Animal Welfare Center accepted 33 dogs and 58 cats from shelters in Puerto Rico on a flight that arrived late Friday night at Morristown Airport, according to executive director Heather Cammisa.
Members of the Fairleigh Dickinson women's soccer team were among the volunteers that helped take the new arrivals off the plane.
As during the previous hurricanes this season, the animals are being taken elsewhere to make room for new strays. Vets from around the state will help St. Hubert's check the animals over and prepare them for adoption.
Cammisa said that this is the first of six flights from Puerto Rico. The planes will return to Puerto Rico filled with relief supplies for both humans and animals.
More From New Jersey 101.5 FM